The best part about yesterday's Whole Foods extravaganza is figuring out how to use it all!
Today I tried out the Fire-flavored Buchi.
Verdict?  I love it.
Warning: It has a kick that isn't for the faint of heart.  Drinking it tickled my nose.
I'm getting ahead of myself though.  Yesterday,  I used all of those Roma tomatoes…
One would *think* after being forced to eat soup for 6 weeks, it would be a long time until I ate it again.  That's what I thought.
Then I saw this post.  Roasted tomatoes?  Yes, please.
Roasting tomatoes is the way to go this time of year – it's still hard to find good ones to eat raw since they aren't quite in season.  Roasting gives them just the pre-season "umph" they need.
I loved my additions of red pepper flakes/habanero olive oil.  Feel free to leave out the spice if you like it mild, but I adored the salsa-inspired taste it brought to the soup.  Next time I'd also add some garlic (forgot about the roasted garlic in my fridge – doh!).
The soup's dinner appearance was begging for a grilled pimento cheese sandwich on the side.  I obliged – grilled pimento with with arugula on Ezekiel bread.
I forget how satisfying grilled cheese is.  Maybe tomorrow I'll remind myself how satisfying grilled PB&J is… 🙂
Not that the soup wasn't satisfying. It was. 2x.
Soup looks lighter at lunch.  Sunlight does wonders for pictures.
---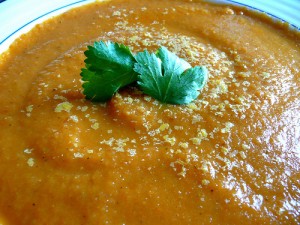 Roasted Tomato & Onion Soup
1 lb Roma tomatoes
2 tablespoons olive oil, divided (I used Sweetwater Growers' Habanero-infused)
1 medium yellow onion, chopped
2 C vegetable broth
1/2 tsp dried basil
1/2 tsp dried rosemary
1/4 tsp tarragon
1/4 tsp red pepper flakes
1/8 tsp turmeric
S+P, to taste
Preheat oven to 400 degrees.
Place tomatoes, sliced length-wise, on a foil-lined pan and drizzle with 1 tablespoons olive oil.  Sprinkle with salt and pepper then roast until tender and slightly brown, ~40 mins.
Heat remaining tablespoon olive oil in a large pot.  Add the onions and cook over medium-high heat until they become translucent, ~6-7 mins.  Add roasted tomatoes, broth, and herbs.  Bring to a boil, then reduce heat to a simmer.
Cook for 20 mins more, allowing flavors to combine and adding water if needed.  Using an immersion blender, puree soup until smooth.  Add salt and pepper, to taste.
***
What was the last thing you ate so often that you had to "quit" for a while?
Are there items you will never get sick of?
I ate so much bologna in college… *shudder*  Never again.