One of my favorite things to do is catch an improve show.  
Atlanta is lucky to have a variety of great places to see improv.
This naturally translates into my love of improv cooking.
During my Farmer's Market raid, I purchased a poblano pepper with the intention of trying my hand at stuffed peppers.  The whole jaw thing interfered with that plan, but I did have a red pepper, jalapenos, lots of fresh garlic, roasted tomatoes…
Whose line is it?  Roasted Pepper-Garlic-Tomato Soup!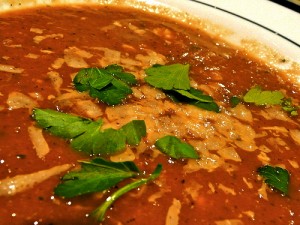 And a beer 'cause this smoothness is SPICY.  A cold one is tasty and refreshing with a little heat!
Rogue Hazelnut Brown Ale is awesome, btw.  Nutty, rich flavor without being too heavy.
________________________________________________________________________________________
Roasted Pepper-Garlic-Tomato Soup
1 red pepper
1 poblano pepper
2 jalapeno peppers
1 green pepper
2 heads of garlic
2 T EVOO
3/4 yellow onion, diced
1 C vegetable stock
28 oz can fire-roasted tomatoes
2 T balsamic vinegar
Fresh rosemary
Fresh parsley
S & P, to taste
Water, as needed
Pre-heat oven to 400 F.  Prepare garlic heads to roast (great "how to" here) and rubbing exposed top lightly with EVOO and wrapping in foil. Lightly coat peppers with EVOO.  Place garlic and peppers on foil-lined baking sheet and roast in oven for 45-60 mins, rotating peppers occasionally to be sure all sides roast.
Meanwhile, heat 1T EVOO in large pot.  Dice onion, add to pot, sauteing for 8-9 mins (until translucent).  Add tomatoes and broth, stirring to combine.
When peppers and garlic are done roasting, remove and allow to cool a bit.  Remove seeds from the peppers (if you like it spicy, leave some jalapeno seeds behind… I did) and remove their charred skins.  Chop peppers roughly and squeeze roasted garlic out of shells into the soup.
Add herbs and balsamic, stir, and cook 5-10 mins more before pureeing with an immersion blender or regular blender.  Add water as needed, depending on how thick you'd like soup to be.  Salt and pepper to taste.  Heat through and allow flavors to combine, adjusting as spices as needed.
Serve, garnishing with grated cheese of your choice, parsley, drizzle of olive oil, sour cream, etc.
It's also tasty with some hummus mixed in (and cuts the heat if you made it a teensy bit too hot – not that I did that).
***
Who has fun weekend plans?  Is the anything random your city has a lot of?
Atlanta definitely has the market cornered on improv!
.