Soup in August?
When you're sick, that's a must. 
The recipe I'm going to share today is for a hot soup often referred to as Jewish Penicillin… with my own special twist.  It's a roasted Garlic Matzo Ball Chicken Soup.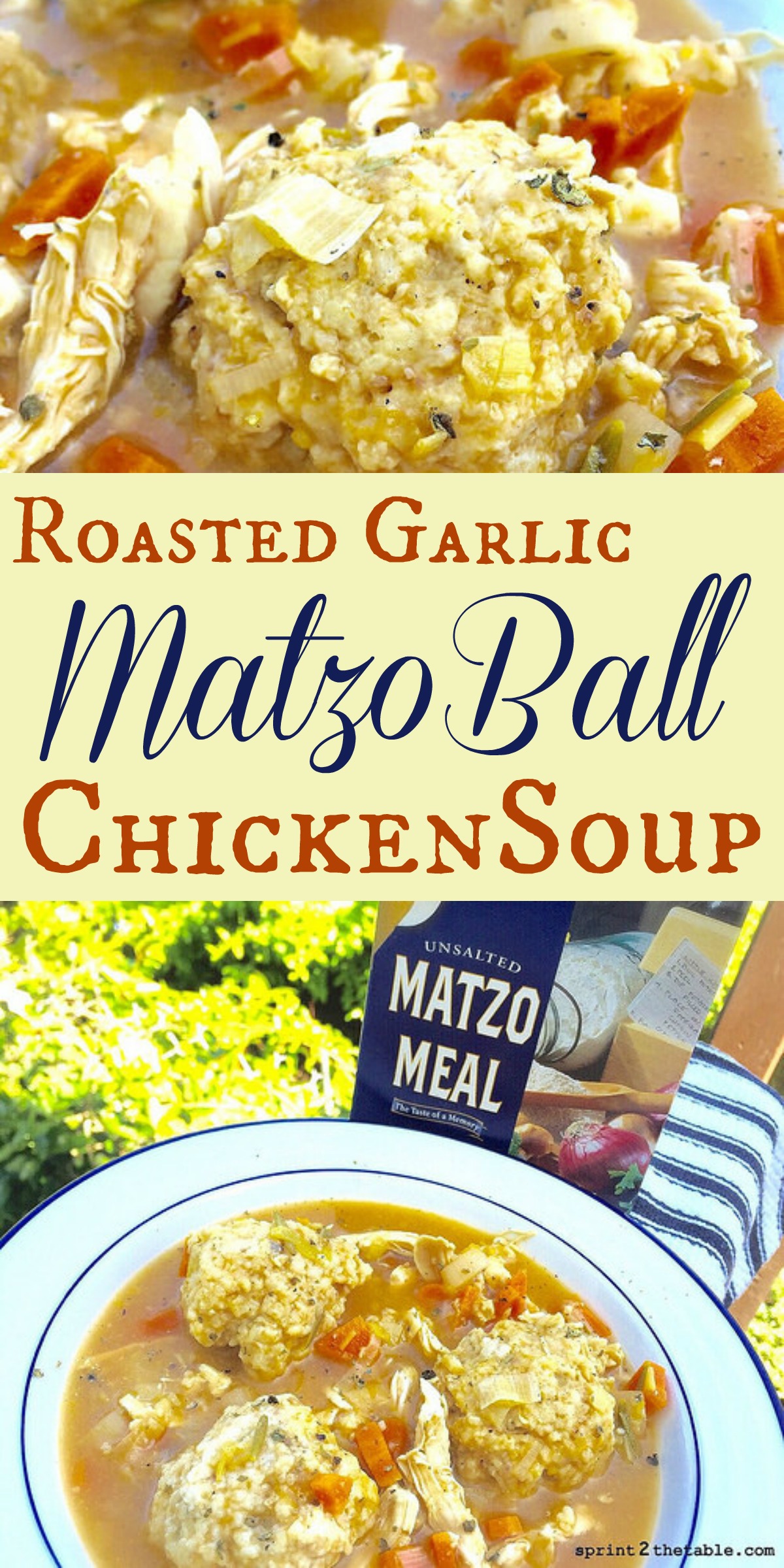 Vegas caught a summer cold.  How you can get a cold in the summer, I have no idea… but it happens to me about once a year.  And apparently to Vegas.  I decided to cure her with a big bowl of Matzo Ball Chicken Soup.
Matzo balls are made from Matzo Meal, which is ground matzo crackers.  Matzo is unleavened bread, which is the traditionally eaten by Jews during the Passover festival, when chametz (bread and other food made with leaven) is forbidden according to Jewish religious law.
It's not passover, but you can still locate a box of the meal in most major grocery stores.
Outside of Passover, it's also often made to cure a cold.  Like chicken soup.  So I decided to make a two-in-one cure for Vegas.  I added roasted garlic because garlic is also thought to be good for illness.  It's good for flavor too!  Matzo is actually pretty bland on it's own, so I like to amp up the flavors with garlic and rosemary.
Matzo balls, if done right, are light and fluffy.  When you roll the balls, they may seem sticky and dense.  Don't worry.  After dropping them in the boiling broth they poof up and rise to the top.  The soda water helps the achieve this and you'll also want to take care not to over-mix or roll your balls too tightly.
Bottom line: You want floaters, not sinkers.
(Side note: did you know soda water in pancakes make then fluffier too?)
Scroll down to the bottom for the full recipe!
---
I basically drank my way WIAW with slurpy, souper concoctions.  Check out Jenn's WIAW baby over at Arman's this week, and then check out everyone else's delicious eats!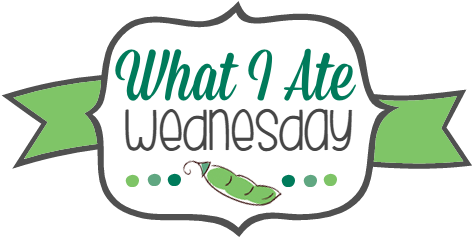 ---
Breakfast:
I had the usual morning cocktail and morning sludge.
Breakfast was a fun experiment.  Watermlon Gazpacho!  I'm typing up the recipe for Friday's Strange But Good.  Because cold watermelon soup is a bit strange, no?
Vegas and I gobbled it down with a few hefty scoops of Greek yogurt – after of course I took this pretty pic with a dainty dollop and a drizzle of honey.  Fo 'shizzle.
Lunch:
After a very sweaty and longer than expected workout, I dove for the blender to make an ice cold smoothie bowl.  This is basically my Strawberry Acai Protein Bowl, but with more spinach.
Snack:
Lindsay's balls.  Or – more politically correct but less funny – Cocoa Cashew Pretzel Bites.  I mostly followed the recipe, except I used almonds instead of cashews and my favorite Growing Naturals Chocolate Rice Protein Power.
Dinner:
Here's where the soup comes in.  Funny story about the soup…
You may have noticed from my blue eyes and (mostly) natural blonde hair that I'm not Jewish.  I'm Southern, raised in a Methodist home.  Despite this, we grew up on matzo ball soup thanks to a favorite Jewish deli called Sophie's.  My dad loved Sophie's soup.  When she closed the deli to retire, he asked if he might have the recipe.  She obliged and my mom has been making it ever since!
Mom also is a big fan of latkes.  I have no explanation for this.
Anyhow, this was Vegas' first time eating this soup and she told me she loved my balls.  #TWSS
---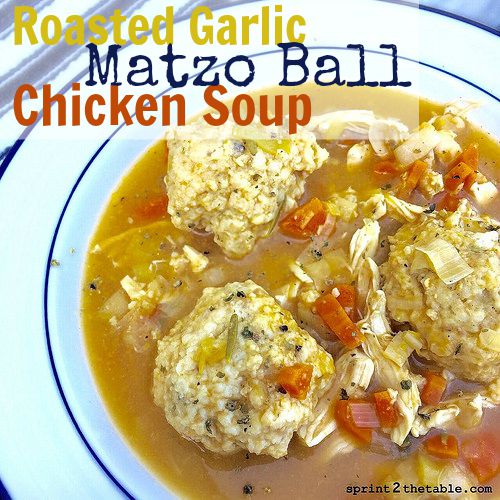 Roasted Garlic Matzo Ball Chicken Soup
6 cloves unpeeled garlic
1/4 teaspoon extra-virgin olive oil
4 eggs
4 T (1/2 stick) cold salted butter, cut into small pieces
1/4 C club soda
1 tsp ground black pepper (you may adjust to taste)
1 tsp finely chopped fresh rosemary
1 T extra-virgin olive oil
1 leek, white an light green parts only, thinly sliced
2 medium chopped carrots (~1.5 C)
1.25 lb chicken tenders, pounded*
7 C low sodium vegetable broth
2 cloves peeled garlic
2 thyme sprigs
1 rosemary sprig
Preheat the oven to 375°F.  Toss garlic with a 1/4 tsp olive oil and transfer to a baking pan.  Roast for 25 minutes, or until cloves are soft.
Peel garlic and place in food processor with eggs and cold butter, and purée.  Pour the mixture into a bowl.  Stir in soda, pepper, rosemary and matzo meal.  Combine well.  Cover and refrigerate for 30 mins to an hour.
Heat a tablespoon of olive oil in a large pot.  Add leeks and carrots, cooking until beginning to soften and become fragrant, ~5 mins.  Add chicken  and 1/2 of broth and cook over medium heat, flipping once.  When just done (~3 mins each side), remove from pot and set aside too cool.
Pout remaining broth into pot with garlic cloves and sprigs of rosemary and thyme.  While broth is heating, roll the matzo mixture into 1-inch balls and transfer to a piece of wax paper.  When broth comes to a boil, add gently add matzo balls.
Reduce to a simmer, cover and cook for 20 minutes.  Matzo balls should be tender, fluffed, and cooked through.  Meanwhile shred cooled chicken tenders and set aside.
Uncover, add shredded chicken, and let cook about 2 mins more until chicken is warmed.  Ladle soup into bowls and serve.
Makes 6-8 servings.
*Note: You could also use chicken breast or a roasted chicken.
***
Vegas is feeling better today.  She says the soup helped. 😉
Have you ever caught a summer cold?
Have you ever had Matzo Ball Soup?