This has been the LONGEST week.
Maybe because I know I'm 3 days from NUT BUTTER?!  That's really been the biggest hole in my life.  That and oatmeal, but going without oats has been a little easier since Atlanta has turned into San Diego with 65-70 degree temps.
As I think about what foods will and will not enter back into my life after Sunday, I am thinking more and more about what it means to eat clean on a daily basis.  Should I cut out meat completely?  Dairy products?  Eggs?
After the first Standard Process Cleanse I did in November of 2010, I drastically reduced my intake of red meat and sugar.  It has made a HUGE difference in the way that I feel.  Red meat and I don't process well together.  Does that mean I won't help myself to a bite of the tasty burger you ordered?  Nooooo… I quite like Sarah's concept of being "vegan with benefits." Maybe we can start a movement, Miss. Smart?
Sugar will remain an item I try to avoid.  There are so many great alternatives out there, you don't really need it!
Candy @ Healthy in Candyland just wrote a great post on sugar and my favorite alternative – Xylitol.  Apparently it could have anti-aging properties!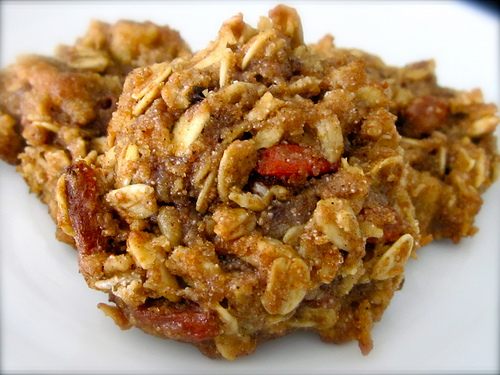 Check out my Chewy Granola Cookies for a great start to using xylitol in baking!
How will I eat on post-cleanse on Monday?  I don't yet know what the right answer is for me.  I do know that I will enter into the non-cleanse world by reintroducing one "new" food at a time, and pay close attention to what my body says about it.
---
Cleanse or no cleanse, I WILL be making many of this week's French vegan dishes again!
I ran into my friend and his partner in Whole Foods last night, and they shared with me that my Vegan Goat Cheese Stuffed Oven-Roasted Tomatoes were on their menu!  Keith (the "chef") posted this pic later: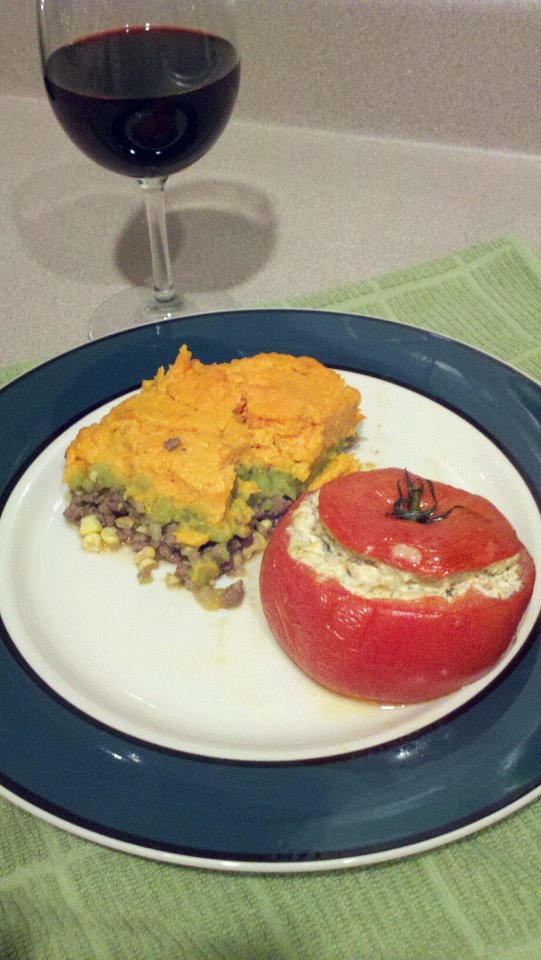 The two meat-eaters served vegan stuffed tomatoes with homemade organic Shepherd's Pie with grass-fed Georgia beef and sweet potatoes, paired with a Vintage 2008 South Australian Shiraz.
Keith's quote: "Props on the Vegan Goat Cheese girl! To die for!!!"
The next party dish I want to share is this Eggplant Bruschetta – installment #3 in the Vegan French Book Club Dinner Series (don't you love how I made it so official-sounding?).
It was created a traditional bruschetta in mind, only the eggplant replaces the baguette to create a light, flavorful finger food.
Healthy and full of flavor, it was also the easiest dish.
Remember this Provençal Tomato Spread?  I saved some and blended it with extra basil and olive oil to make a creamy sun-dried tomato-olive topping that was reminiscent of SDT pesto.  It took less than 5 minutes.  Wham, bam, thank you ma'am.
Topped with a little basil for color!
---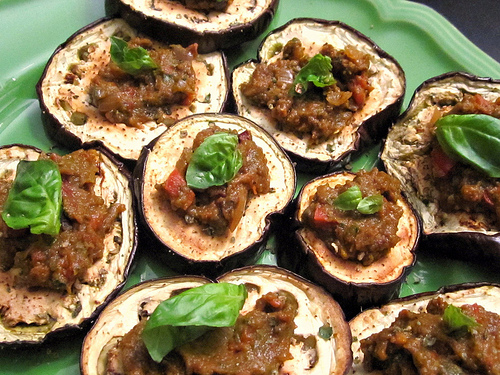 Roasted Eggplant Bruschetta
Olive oil
2 medium eggplants, cut in 1/2 inch slices
Salt and freshly ground black pepper
Garlic powder
1/2 C fresh basil
Preheat oven to 425 degrees.
Line a large baking sheet with foil.  Spray liberally with olive oil.  Place eggplant rounds in a single layer on sheet. Sprinkle with salt and freshly ground black pepper.
Roast for 15 to 20 mins. Flip each piece, checking to be sure the undersides have browned and become and a bit puffy.  If they're not, cook a bit longer.
Once flipped, sprinkle them with more pepper and some garlic powder.  Place pan back in the oven for ~15 mins, until the undersides brown to match the tops.
Meanwhile, blend 1/2 C of the Provençal Tomato Spread with basil.  Taste and adjust seasoning as needed. Add more olive oil (I added 2 tsp), if desired.
When the eggplant is cooked, arrange on a platter.  Top each disk with 1-2 tsp of the purred provencal spread and a small bail leaf.  Eat immediately.
Serves 8-10 as appetizers.
Note: Some people swear you don't have to do this, but I always lay my sliced eggplant out, sprinkle generously with salt, and allow to sit for 10-15 mins.  This helps remove some of the bitterness and excess moisture.  If you do this, wipe off the excess moisture with a paper towel and proceed to bake as instructed.
***
3 days to go on the Standard Process Cleanse – I can't believe it's almost over!  Like I said above, the idea is to add back one food at a time to see what you may be sensitive to…. I'm thinking nuts are coming back first!  That's what she said.
What would you add back first post-cleanse?
Have you ever considered a vegan or vegetarian diet?  What pushed you to do it or held you back?