We picked up an additional passenger.
He was begging to jump in the car with two women.
We had so much fun in Graceland we had to keep the party going all the way to Oklahoma.  You can follow his (and our) shenanigans on the Instagram.
Bobble Elvis has been a huge hit so far.  He was even recognized in Little Rock where we stopped to have lunch with the lovely Heather and her husband.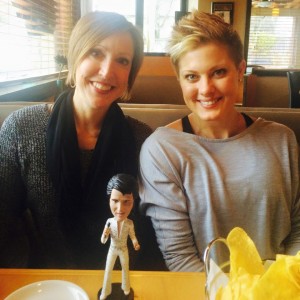 ---
This WIAW is a day of eats on the road.  We're embracing the impulsive life.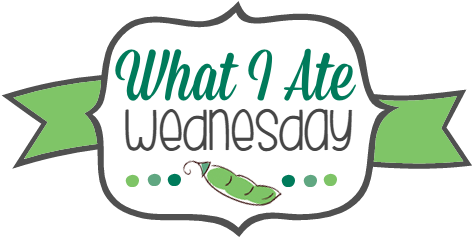 Read on for my eats, and then check out Jenn's blog for everyone else's delicious creations!
---
Breakfast:
The usual morning cocktail followed by my morning sludge.  Even on the road.
The Courtyard Marriott has a decent turkey-egg white breakfast sandwich.  Except for the runny cheese… I scraped that off.
Lunch:
Unpictured banana pudding, followed by a grilled banana and peanut butter sandwich from a Graceland tourist spot.  I ate some BBQ Quest chips too.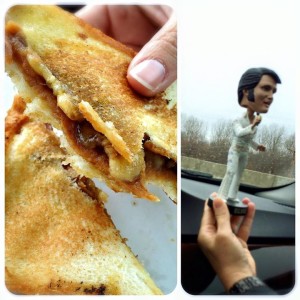 Dinner:
Vegas and I met Heather and her husband for an early dinner at Baja Grill in Little Rock.  I've never met Heather in "real" life before, so it was really cool to connect after reading her blog for years!  I love with bloggers are exactly the same in real life as they are on paper… errr… the web.
We had beers and some delicious Mexican-ish food.  I ordered the "Pig Sooey" burrito bowl.  BBQ pork that I had to fight Elvis for.  Mmmmm…. pig.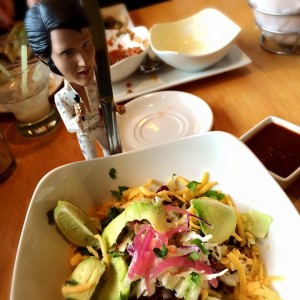 Snacks:
Too many M&Ms and Combos.  Vanilla Frosting Combos, specifically.  Don't buy them… they're like crack. 😉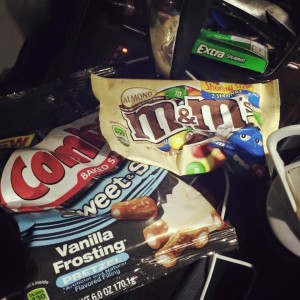 ***
This trip is actually flying by!  It's been fun… but my butt hurts from all the sitting!
Have you ever had a banana-peanut butter sandwich?  My mom used to make them for us with mayo.  #strangebutgood
What are your favorite M&Ms?  I love the peanut butter.  Vegas likes the peanut best.