As always, I have started out the new year running.  Between work, derby, training, and family stuff, I have been home long enough to sleep 4-5 hours.
Just like I like it.
I really do try not to be a glutton for punishment, but I just have to own it: I hate to be still.
Does anyone else schedule their life to the very limit?!
Some where in between all the running around with my hair on fire, I did manage to find time to perfect (IMHO) a dessert recipe to address any lingering holiday-fudgy-goodness hunger pangs.
_____________________________________________________________________________________
In the grand tradition of good intentions, many of us are beginning 2011 with renewed zeal for healthy living.
We are also coming off of a 2-month sugar binge.
Have we learned nothing from Intervention?  Addicts need to be weaned off of the juice! 🙂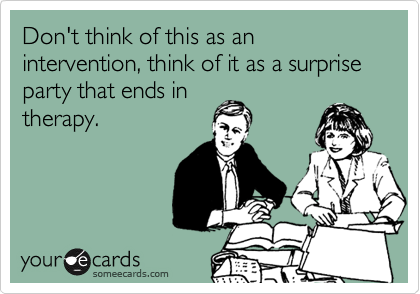 What better way to do this than with bean-filled desserts?!
Beans, beans… good for your heart…
You can't tell there are beans in these fudgy bites.  I even tested them out with a few discerning co-workers and my building's concierge.  No one suspected anything was amiss.
_____________________________________________________________________________________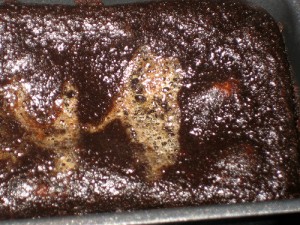 Black Bean Fudgy Brownies
3/4 C Cocoa powder
1/2 C Salted butter
1/2 C Applesauce (unsweetened)
15 oz Canned black beans (1 can, drained and rinsed)
1 C Walnuts (chopped)
1 T Vanilla extract
1 T Instant coffee
Shake of kosher salt
4 eggs
1½ C Light agave nectar
Preheat the oven to 325° F.  Prepare an 11 x 7 in pyrex dish by lining with parchment paper or lightly oiling with Baker's Joy/Pam/butter/etc.
Melt butter in a small bowl in the microwave.  Stir in applesauce and  cocoa powder until combined.  Place the beans, 1/2 C of walnuts, vanilla extract, and 3-4 spoonfuls of the chocolate mixture into a food processor.  Blend until smooth (~ 1 min).  It will be very thick.  Set aside.
In a large bowl, mix together remaining 1/2 C walnuts, the rest of the melted chocolate mixture, instant coffee, and salt.  Mix well and set aside.
In a medium sized bowl, beat the eggs with a mixer until light and creamy (~ 1-2 min).  Add agave nectar and beat well. Set aside.
Add bean mixture to butter mixture, manually stirring until blended well.  Then add the egg mixture (reserving 1/4 C to drizzle over top if desired), and hand mix until just combined.  Pour the batter into prepared pan.
Bake for ~45 mins, until the brownies are set.  Cool completely in the pan before cutting.  You may need to refrigerate first – these are extremely soft.
***
How curious are you about the nutritional info?!?! 🙂
I was.
If you cut them into 20 squares, here are the approximate
Nutrition Facts
Calories: 182.8
Fat: 10.0 g
Cholesterol: 49.6 mg
Sodium: 44.8 mg
Carbohydrates: 22.4 g
Fiber: 1.9 g
Protein: 3.0 g
There you have it.  Fudgy brownies that are under 200 calories and possess some redeeming qualities.
Try them out.  Guarenteed money back if you can taste the beans.*
*I'm not sending you any money, so don't even try it.  I know you can't taste the beans anyway, scammers. 🙂