All good things must come to an end.
Until I figure out a way to live in Europe.
I'm a firm believer in balance and enjoying life.  Enjoying is just what we did in Greece.  There were tons of good eats, alllll the drinks, and a nice break from the gym (though we walked a LOT).  Vegas and I had a blast and soaked up every moment.  Coming off of that I have no regrets, but feel ready to get back to a healthier diet.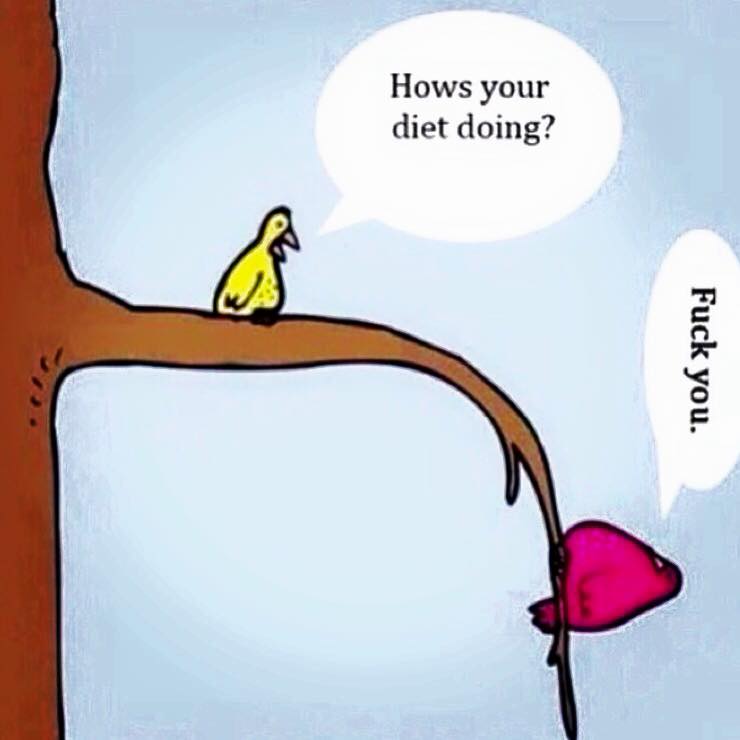 Some of you may remember my No Shit Diet.  I still 100% believe that eating right doesn't have to be fancy or complicated.  Don't eat shit.  Don't beat yourself up if you treat yourself.  It's that simple.
That said, we're going a little more extreme to detox after vacation.  Not only is it about losing that vacation bloat (ok, maybe its a little more than bloating), but it's also about resetting habits.  I'm dragging Vegas down with me. #marriedit
---
This WIAW is part one of our reset – all vegan and eliminating common allergens.  It's been fun to get creative in the kitchen!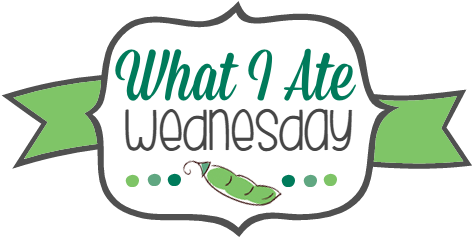 Read on for my eats, and then check out Jenn's blog for everyone else's delicious creations!
---
Breakfast:
I had the usual morning cocktail and morning sludge.
For breakfast I made green-ish protein shakes.  When I handed Vegas hers, I just said "don't be scared by the color."  It really was good (Vegas agreed).  I added avocado to make it extra creamy – you can't taste it at all – I swear!
Creamy Green-ish Shake
Handful of spinach
1/2 C strawberries
1/4 C blueberries
1/4 Avocado
1/2 tsp Cinnamon
Ice + Water, to desired thickness
I blended this in my Vitamix until it was nice a creamy.  Topped with hemp seeds for some extra texture.
Lunch:
Not enough veggies in the world on this reset!  Lunch consisted of roasted beets, Japanese sweet potato, red bell peppers, cucumbers with pico de gallo and avocado, and grapes.  I also made a quick tahini-based dip… because dipping food in stuff is more fun.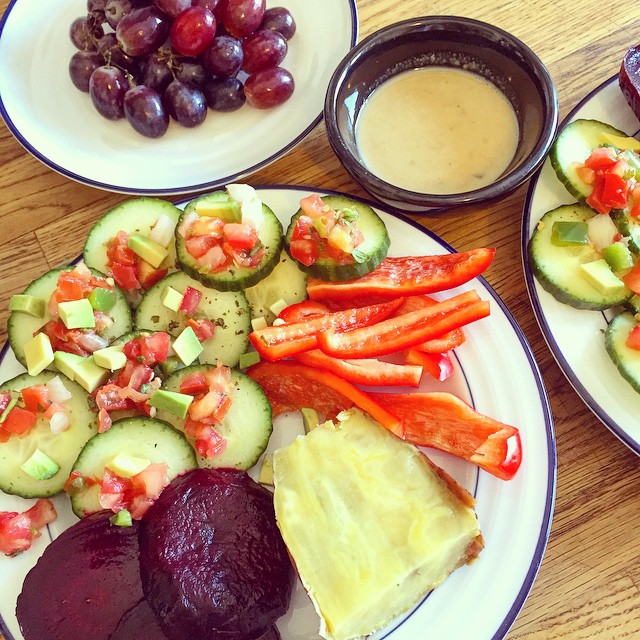 Pre-workout Snack:
Quick Mexican bowl.  I prepped some wild rice for the week, so I just tossed it with zucchini noodles, carrots, and pico de gallo before heated it in the microwave for a minute.  Topped with avocado.  Super easy!
Post-Workout Snack:
Another smoothie, but this one was eaten in a bowl… and I used a Japanese sweet potato to thicken it.  Totally normal.  Vegas didn't even notice.
Dinner:
Vegan pesto tossed with lightly sautéed zucchini and carrot noodles, asparagus, mushrooms, spinach, and beluga lentils.
I looked at Vegas while eating this and said "I'd actually eat this even if we weren't detoxing!"  She agreed… noting that she'd have added steak.  Le sigh.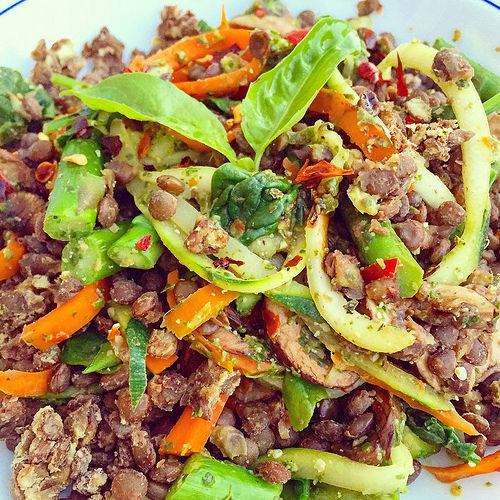 This recipe will be one the blog Friday for #strangebutgood!
***
I'm using us as guinea pigs right now.  I've done resets before, but this time I recording the specifics to share with you all! 
Have you ever done a reset or detox?
Would you ever put an avocado in a shake?  Sweet potato?