For those of you in the South (or who are lucky enough to have a Chick-fil-a nearby), I have 2 important news items:
1. Tomorrow is FREE FryDay.  All you have to do is go to Chick-fil-a between 2 and 4p and ask for Heinz Dip & Squeeze-free FryDay promotion.  You will be rewarded with a free medium order of yummy waffle fries.  Apparently all this is thanks to the new Heinz Dip & Squeeze Ketchup package, which holds 3x more ketchup than the packets.
2. While you're there… Chick-fil-a has a new Banana Pudding Milkshake.  This could be heaven.  Never mind the 780 calories and 104g sugar.  That's in the small size.
If the shake isn't on your diet, try out this guilt-free Overnight Banana-Cashew Pudding.  I've made it two days in a row.  This morning I heated my bowl and OMG was it good.
I also re-made my Mexican Black Bean Brownies.
I reduced the egg and sugar (they are even healthier!), took a new pic (why is dark-colored food SO hard to photograph?!), and improved the instructions.
The latest estimation is that they have around 150 calories per serving (makes 20 healthy-size brownies) 3g of protein!
In the spirit of repeats, I'm about to enjoy the last of my Garam Masala Daal for lunch.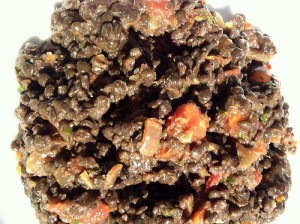 Lentils are still really good leftover.  They are not photogenic. Be sure to add some water when you re-heat to avoid drying.
Tomorrow I promise something more original.  And St. Patrick's Day worthy.
Get excited.
***
I'm taking a lunchtime run!  Being able to break up the computer-screen daze is a rare – yet welcome – treat.
Do you need a break midday?  How do you escape?