This weekend was relaxing.
My version of relaxing… which is active relaxed.
This was the first weekend in a long time where I didn't HAVE to do anything productive.  I still did lots of things, but it was nice to not have a set agenda.
Friday night I had an impromptu dinner with my mom at local Italian restaurant Double Zero.  We had a great time catching up and eating. I hadn't seen her since my competition!
My favorite dish was the grilled octopus with pancetta hash, asparagus puree, and citrus vinaigrette, but the lamb farro was a close second.  It was a smoke and braise lamb shoulder with apricots, figs, fresh ricotta, and a poached egg.  Next to all that the beet salad was underwhelming.
This next morning I woke up ravenous, so I threw together some quick pancakes.  I am not the Pancake Queen, so I was surprised when they turned out to be quite good!
I posted this Almond-Chocolate Pancake recipe here.  The topping was the icing on the (pan)cake. I used Lorann Oils Irish Cream flavor in it!
Then it was off to the gym for a glute workout with some of my teammates.  I normally workout solo and forgot how much fun it is to have a gym morning with friends!
After the workout we stood around talking about food (of course), and my friend Rachael revealed she hadn't been to Whole Foods before!   I suggested a post-workout trip and off we went.  2 hours later, we were full of samples and hot bar boxes and Rachael learned why we lovingly call it "Whole Paycheck."  She Instagrammed her finds – have you ever tried any of these items?  Black bean pasta and no-salt mustard are awesome!
Saturday night I had a friend date with Kat.  I've been looking forward to catching up with her for weeks!  We talked and laughed for hours. You know those friends who just "get" you?  That's Kat.
We ate at the bar at Kimball House.  Their cocktail program is incredible!  Their take on a Manhattan used cola bitters – coolest thing ever!  The food was ok… I'd go back for a pre-dinner drink or a nightcap.
I took an "artsy" shot!  Sort of: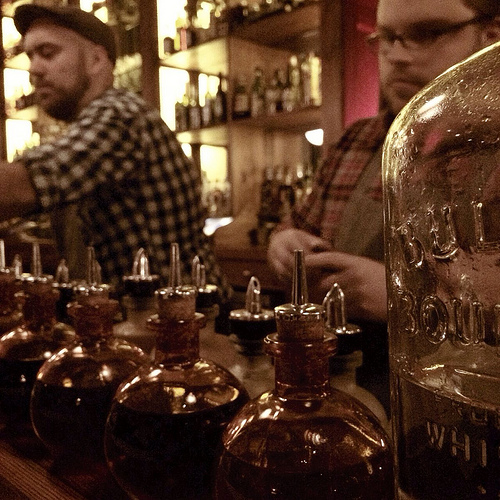 Sunday was a beautiful day in Atlanta.  It was sunny and there wasn't a cloud in the sky!  I decided to go for a run and enjoy the weather… as soon as I stepped outside I realized that – despite the sun – it was in the 30s.  About a mile into it I thawed out and enjoyed myself.
I love the trees with the red leaves.  They look like they're on fire!
When I returned I had a lot to do in the kitchen.  All fun creations!  It was kombucha-brewing day.  I have been brewing my own for over a year now.  It's really easy, especially if you have a starter kit (you need a "mother" called a scoby).  Mine was from Brooklyn Kombucha, but you could also beg a friend who brews for a scoby.
This week's flavors are cranberry-ginger-lemon and blackberry-lemon-mint.
I also did some baking for the Sunday evening end of season party at my training gym, House of Payne.  I'll share my #strangebugood brownie recipe next week. 😉
This is what happens when a bunch of competitors get together for a post-season party.  It's ok… we're bulking… 
There were plenty of green veggies, clean sweet potato casseroles, and protein.  That pic just wasn't as much fun.
I am so thankful to have found Steve and his gym.  This group of competitors is top-notch.  Everyone is kind and always willing to lend a hand.  They are funny, genuine people who I am proud to be associated with.
Linking up to Katie's MIMM again – I'd say this "relaxing" weekend was pretty marvelous!
***
I'm 100% enjoying food freedom again.  Bulking season is my favorite.
When was the last time you had an agenda-free weekend?
Have you been to Whole Foods?  Do you remember your first time?