Today I am in Alba in the Piedmont region.  This region produces my second and third favorite wines – Barbaresco and Nebbiolo.  Oh, and did I mention it's truffle season here?!
Claire is so sweet to say she gets recipe inspiration from me… I get so much from HER!  She has a knack for coming up with dishes that are healthy while still feeling/tasting decadent.  Check out her Plum Apple Crisp, for instance.  I can't wait to make it!
She is also recently got married and was a stunning bride! 🙂
 ___________________________________________________________________________
Hello Sprint 2 the Table readers!
My name is Claire and I blog over at Live and Love to Eat.  I'm a full time dietitian, but you might not know that with how much I love to bake and dine at different restaurants!  Laura's blog is my go-to site for good recipes and workout motivation – who wouldn't want her biceps?  I'm honored to be guest posting while she is enjoying herself overseas.
I used to be a cardio junkie, but I want to share my story about how I learned to love changing up my work out routine.
I was never a "runner" – at least not the type of runner who loved the treadmill, lived for a good 10-mile jog, or looked forward to lacing up their sneakers.  I started running on the treadmill during college purely for the calorie burn – I knew I was eating too much unhealthy food as part of my new life style, and wanted to avoid that "freshman 15."  I never struggled with my weight but knew I could be a few pounds lighter and running in my dorm's gym seemed to be the easiest way to burn calories.
Once I started running a few times a week, I noticed that it also helped to manage my stress.  I finally experienced the "runners high" that I'd heard my more fit friends talk about, even though I never did more than 2 miles at a time.  When I would come home for the summer I didn't run very often, and later  found that the elliptical was an "easier" workout, so I did that the majority of the time my junior year.  I took a one credit personal fitness class that taught me a basic strength training routine using the Nautilus equipment, and I fell into a workout rut that didn't challenge me very much.
By the time I was a senior, I was dating a guy who was really in to running – he started it for stress relief as well, but got addicted really quickly. We signed up for the Pittsburgh Great Race – a fantastic 5/10K combination course.  My first 5K was a great experience – I loved the atmosphere, the adrenaline, and the challenge of beating a time that you set in your head (again, not impressive enough to share) – and it made me want to do more races.  I started training for the Pittsburgh Half Marathon, but got a stress fracture from upping my distance too quickly and fell off the running wagon again.
During graduate school and my dietetic internship, I joined a local gym for the first time since I was no longer living on campus.  I fell in love with spin classes, which easily took the place of running as my favorite calorie burning option.  As time passed, my younger brother also started to run regularly – and long distances – so I signed us up for a 5K the day before his birthday in April.  The race was on a chilly morning, and I don't think I spent enough time warming up – and I got injured (after getting my 5K PR – the back of the photo with the gloves on).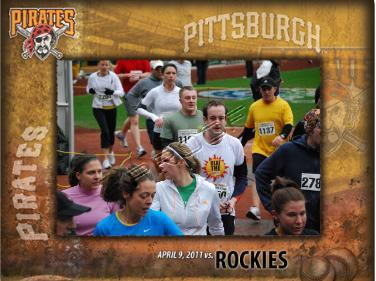 Long story short, I tore my perioneal tendon (graphic photos, sorry), had to wear a boot for 3 months, and my physical therapist told me that any distance running in the future would cause a flare up of tendonitis or possible re-injury.  I was months away from my wedding and petrified that I wouldn't be able to exercise at all – which I needed to maintain my weight to feel comfortable in my wedding dress and to manage the incredible stress that planning a wedding can bring.
I owned Jillian Michaels' 30 day Shred, which I used for quick strength training and toning at home, but wasn't even able to do that in the walking boot.  For weeks, all I could do was upper body and ab exercises – on demand workouts and exercisetv.tv became great resources! After the boot came off I was still in a lot of pain, and started looking in to other options.  Spin class was too painful (lots of pressure on the ankle joint) and running was out of the question.  I'd read other blogs where people raved over Bikram / Hot Yoga, so I tried hot yoga and really loved it (even though I was nervous to try it at first).  I also experimented with Pilates with kettle bells, as well as at home strength training with hand weights.
I had a strapless wedding dress, so I really concentrated on toning my arms – and loved the way I looked and felt!  It's great to know that I have a healthier body composition (in terms of muscle to fat ratio) even if the weight on the scale doesn't change much.  I love feeling powerful and strong, and even appreciate the soreness of a great workout the next day.  And I felt beautiful in my wedding dress.
I'm still nowhere close to Laura's figure ( 😉 ) and not able to run (I tried to make it a block while walking my dog and it was too painful right off the bat), but the injury was a blessing in disguise – I now enjoy strength training several times a week, have tried many new work outs, classes, and DVDs, and feel like my fitness routine is much more well rounded as a whole.  I'm not running marathons or triathlons, but I can appreciate working out for more than the calorie burn, and feel healthier overall.
***
As much as I love a good run, weights are my favorite!
Do you make an effort to balance cardio with strength training?
What move have you found to deliver the best results?