My shoe collection is out of control. 
The following post is sponsored by FitFluential LLC on behalf of Reebok.
I'm not complaining!  As someone who works out nearly daily, I actually use the 10 pairs of athletic shoes in my closet.  Dress shoes, notsomuch.
This is why I was so excited when I had the opportunity to try out Reebok's new ZQuick. I realized I'd been wearing Reebok apparel for a long time, but had never tried their shoes!
About the ZQuick
The fact that the ZQuick was inspired by the high-performance "Z-Rated" tires makes them even cooler than they look.  (Side note: I'm a BIG car person.)  Like the tire tread, The Z-Rated outsole provides top-notch handling and control.
The grooves in the rubber outsole provide flexibility and ground-gripping performance.  This was especially helpful when I went jogging after Atlanta's ice storm!  I was rocking my city's shady streets, which is a miracle given my reputation as a klutz.
Finding a shoe that fits well can be a struggle for me.  I found that these shoes ran a tad large.  When the size they sent over was too big, they replaced it so fast I was shocked (good customer service!!!).
Once I got into the right size, I fully appreciated the way Reebok considered the dynamics of the foot.  You know how your foot seems to spread out when you put weight on it?  That's not in your head!  It's about about 5mm wider than when it's in the air.  To accommodate for that natural spread, Reebok included slashes in the bottom unit that ensure the shoe spreads with you.  The Z-Rated outsole geometry is calibrated for control, traction and speed, while the no-sew upper and internal bootie (hee hee… bootie…) ensure you're locked in tight for the ride. I loved this video about the technology behind the shoe.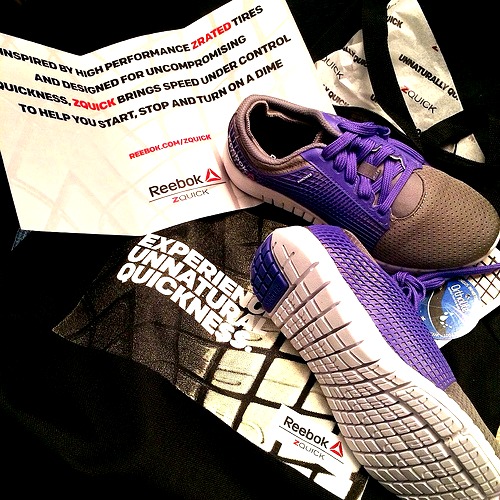 Reebok ZQuick Features:
No-Sew upper with light and flexible NanoWeb PU cast for breathable protection and support
Low-cut for mobility with lightweight Bootie fit system for comfort
Light, low profile EVA midsole designed with a radical new geometry for outstanding handling.
Medial and lateral underfoot grooves allow midsoles to flex and expand, increasing ground contact for a smooth, quiet ride
A sleek new last allows the foot to move naturally, while keeping foot stable on the platform
CRTek high abrasion rubber in key wear areas for lighter durability
My Point (and I do have one)
With my variety of shoes, the first thing I noticed when I picked up the ZQuick was how incredibly light weight they were.  Second was the bootie.  It gives a comfortably snug fit, which is perfect if you have ever struggled with your heel slipping like I have.  The fabric overall felt natural.  The material they used almost made it feel like the top of my foot was bare!  I mean that in a  good way – it was a very natural run!
In these shoes, I ran the fastest 5 miles I have in a long, long time.  I hated to stop to take a pic, but how could I pass up a shot of this painting of trees among trees?
Where to buy Reebok ZQUICK:
Price:  under $85
Online: Reebok.com
In Stores: Finish Line
Connect with Reebok on Instagram, Facebook, Twitter, and Pinterest. Learn more about the Reebok ZQUICK here!
***
I'm getting the run itch again… I signed up for my first race in over a year!
How many pairs of shoes do you have?  More athletic shoes or heels?
What's the strangest sight you've seen while running?