Apparently you can cook pasta in any liquid.
Why not choose a liquid you love?
Pasta is an easy go-to dinner, but you can make it extra fancy with a strange but incredibly good twist.  Why not boil the pasta in red wine?  This simple move makes a complex, beautiful pasta.
Seems appropriate for Valentine's Day, no?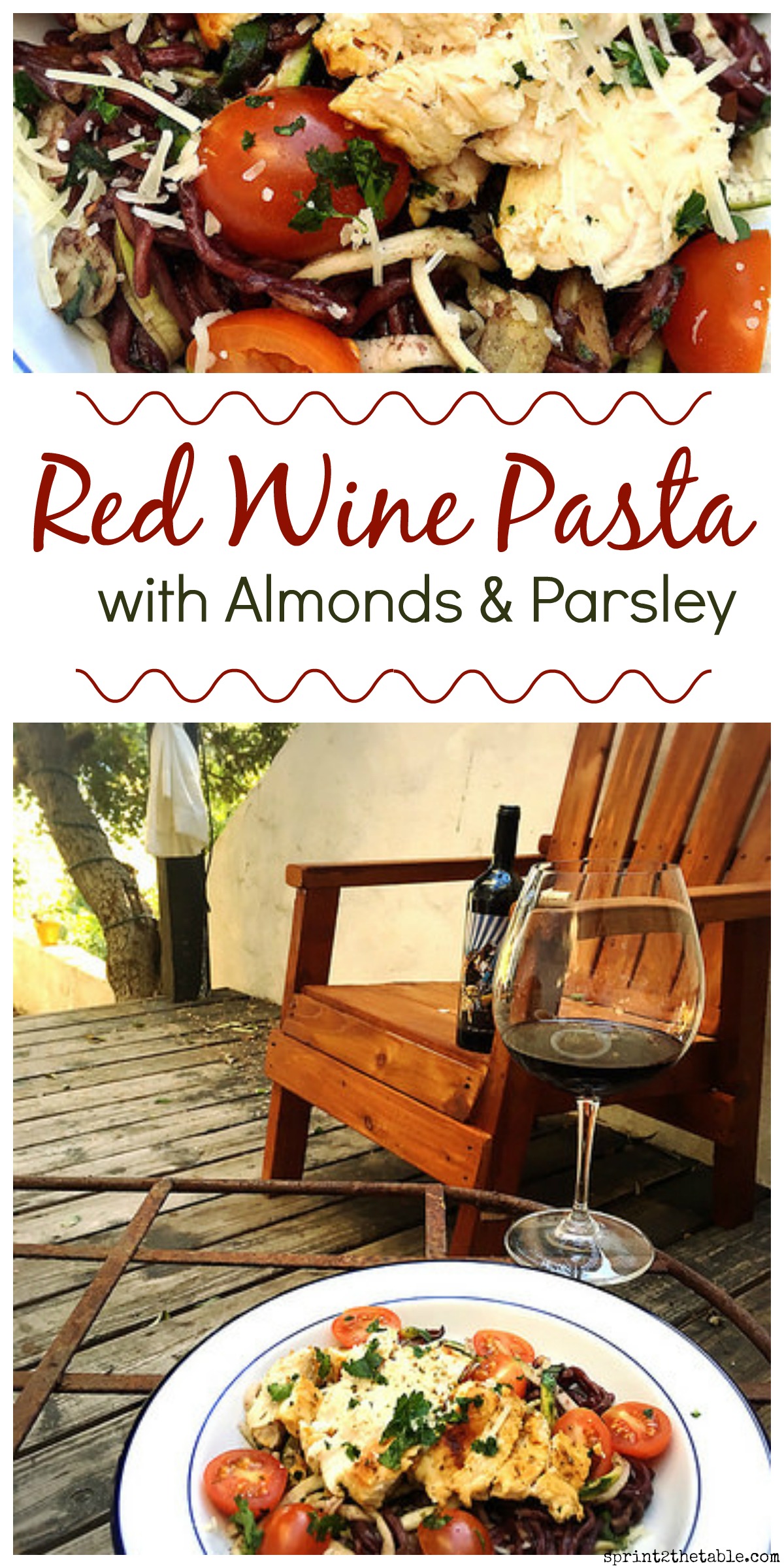 Despite my love of wine, my favorite part about this dish is the sautéed garlic.  It's rare that I thinly slice it and patiently wait for it to turn golden.  It imparts such a fantastic flavor and I love getting little crunchy bites of it as I eat my pasta.
I did try to lighten it up by mixing the red wine-soaked noodles with zucchini noodles.  It gives some diversity to the texture, too.  I think I'm slowly wearing Vegas down… she didn't complain about the veggies in her carbs!
I topped it with my Grilled Mediterranean Chicken.  You could eat it plain, or top it with your favorite protein.
Quick shouts out for two of my favorite kitchen tools:
Handheld Spiralizer – I had a big one.  I never used it.  Being able to pull this little handheld one out of a drawer and noodle up a zucchini in less than one minute means that I'll actually DO it.
Herb Mill –  I have terrible knife skills.  There's nothing I find more annoying than trying to verrrrry finely cut herbs.  This mill does it for you with a twist.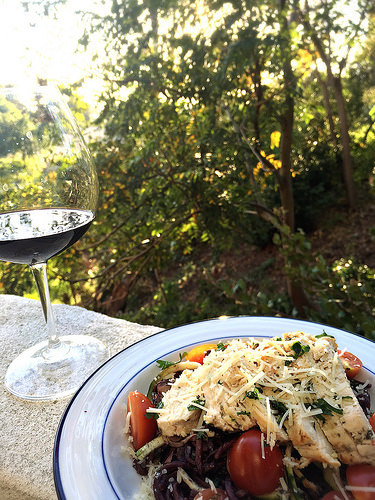 Best served on a patio with a glass of wine while watching the sunset.
---

Red Wine Pasta with Almonds & Parsley
3 C dry red wine
2 C water
Pinch of salt
3/4 pound spaghetti
2 T extra-virgin olive oil
4 garlic cloves, thinly sliced
1/4 tsp crushed red pepper
1 zucchini, spiralized
1/2 C finely chopped parsley
1/4 C slivered almonds, toasted 
1/2 cup shredded Parmesan cheese, plus more for serving
Cherry tomatoes
Freshly ground black pepper
In a saucepan, combine the wine and water with a generous pinch of salt and bring to a boil.  Add the spaghetti and cook, stirring, until al dente.  Drain the pasta, reserving 1/4 C of the cooking liquid.
In a skillet, heat the olive oil.  Add the garlic and red pepper.  Cook over low-medium heat for 2-3 mins, until garlic begins to brown.  Add the reserved 1/4 C of the reserved cooking liquid and bring to a simmer.  
Stir in the pasta.  Add the zucchini, parsley, nuts, and cheese and toss.  Season the pasta with freshly ground pepper and top with tomatoes, grilled chicken, and additional grated cheese.
Makes 4-6 servings.
---
How have you enjoyed making co-workers, friends, or family stare with strange but good creations this week? The link up rules can be found here or by clicking on "Strange But Good" in the menu bar above. In short, I want to see what concoctions have earned you weird looks from co-workers, family and friends! Post your Strange But Good creations, grab the logo below for your blog, and link up here.
Remember to use #strangebutgood in any Tweets and Instagrams of your creations. 🙂


***
Check out my Red Velvet Pinterest board for more Valentine's Day ideas!
Are you a red wine fan? Vegas and I are junkies.
What are your plans for Valentine's Day?