Chocolate and red wine were born to be paired together.
Like peas and carrots.
These boozy balls combine red wine and chocolate to make one deliciously decadent dessert.  Chocolate Red Wine Cake Balls are perfect for a party, or just to keep around for a little bite of sweet after dinner.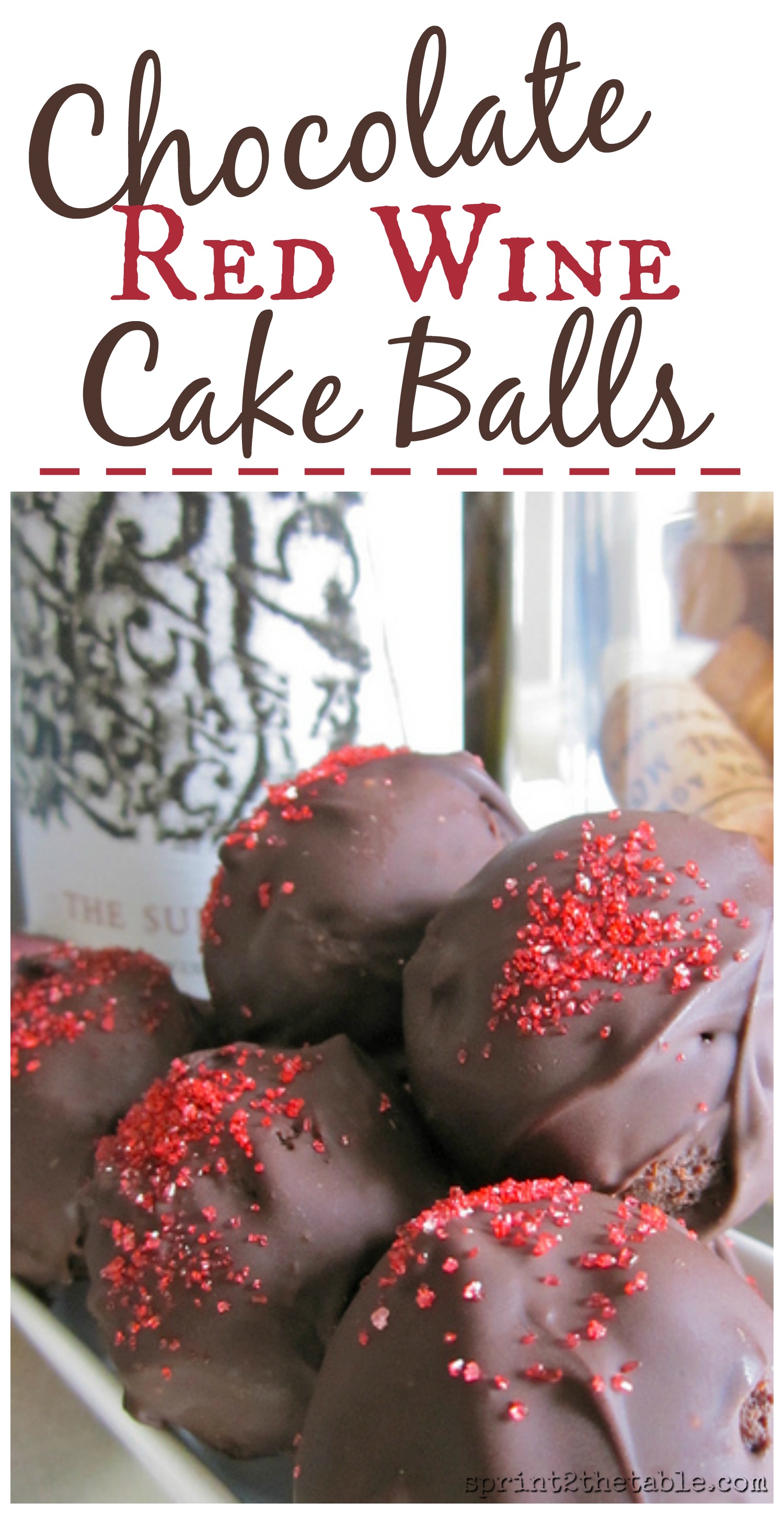 Last week I wrote a post with the following "mystery" picture and asked you to guess what it was.
It wasn't cranberry sauce… it was red wine!  The above reduction was used in the red wine icing below.
After making Sparkling (Wine) Cake Balls, it dawned on me that red wine would also make a tasty dessert.
Red wine and dark chocolate are two of life's greatest pleasures.
When I drink half a bottle a glass with dinner, I often save a sip or two to enjoy with a chocolate-y dessert.  The tannins and notes of dark fruit possessed by bigger reds (think Cabernet or Zinfandel) bring out the bittersweet richness of dark chocolate.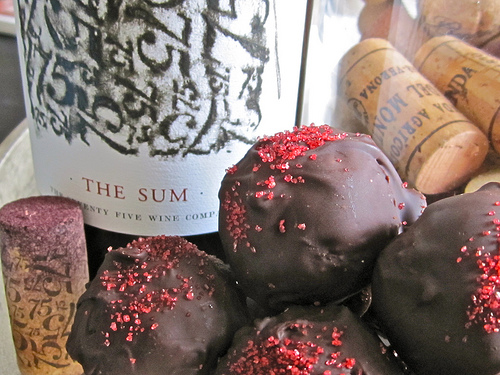 A few rules of thumb for pairing chocolate and wine:
The darker the chocolate, the bolder the wine (ex: Riesling with white chocolate, Cabs with dark)
Never choose a wine that is sweeter than the chocolate
Don't be afraid to experiment; there are no "rules" – everyone's palate is different
Branch out!  Port, sherry, and sparkling wine pair exceptionally well with chocolates too.
Now that the seriousness is out of the way, let's talk balls.
Admittedly, the process of making these cake balls isn't quite as "easy" as it was with the Sparkling Cake Balls. The extra effort is well-worth it though.
These balls were actually inspired by a kitchen fail.
I decided to try out Smitten Kitchen's Red Wine Chocolate Cake.  It came out dry on the bottom with a thin top layer that was too moist – weird!  I had just been rolling Sparkling Cake Balls and had already made this red wine frosting from Sprinkle Bakes, so it was a sort of happy realization that cake balls were the only way to save the cake.
The result was a fantastically fruit-forward, fudge-like cake ball.  #winning
These will be making an appearance on my Thanksgiving dessert table and in heavy holiday-party rotation.
You could try to make a simpler cake with the boxed cake + booze method I used here with the Sparkling Wine Cake Balls or here with the S'mores Brownies; however, I'm not sure it will work without the carbonation.  If you try it, let me know!  Bonus points if you also use boxed wine. 🙂
---
Chocolate Red Wine Cake Balls
30BALLS
adjust servings
These boozy balls combine red wine and chocolate to make one deliciously decadent dessert.
Ingredients
1

red wine chocolate cake

1/2

C red wine icing

8

oz dark chocolate, melted

Sprinkles
Notes
Instructions
Preheat oven to 325.
Prepare chocolate cake according to the Red Wine Chocolate Cake recipe here. Bake ~20 mins and allow to cool completely.
Meanwhile, prepare red wine icing according to instructions for this red wine frosting from Sprinkle Bakes.
Crumble the cooled cake into a large bowl. Add 1/2 cup of frosting and stir to combine (feel free to use your hands).
Roll into balls approximately 1T in size. Place on wax paper-lined cookie sheet and allow to firm up in the fridge.
Once chilled, melt chocolate and dip cake balls until covered. Dust/roll in sprinkles, if desired, before chocolate hardens. Return to refrigerator on wax paper lined cookie sheet to harden.
You can use any prepared chocolate cake or icing you happen to have laying around.
The red wine I used was a 2008 California blend called The Sum from Seventy-Five.
***
I tried to make the cake one more time with the same result.  No sadness – when life hand you dried cake, roll with the punches ball-style.
What was your last kitchen fail?
Do you like to pair red wine and chocolate?