There are few things I love more than cake.
Actually, I can only think of one…
One of the best things about waffles is that they are like cake… but with crevices for icing sauce.
My favorite cakes include: chocolate, carrot, red velvet, and banana-peanut butter-bacon.  In that order.  The only thing to do is to make all of these in protein waffle form (in no particular order).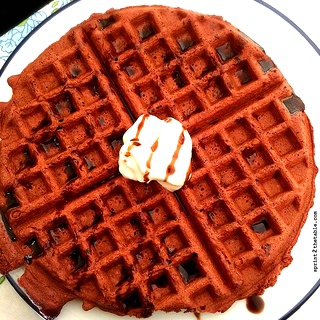 Red velvet is an easy one to make healthier… and stranger.  Rather than use all that red food coloring, I just used beet powder!  I order Cocoa Cardio, a cocoa-beet powder from iHerb (use discount code USO924 for $5-10 off your order).  
You can also use a tablespoon of cocoa powder, plus a teaspoon of beet powder.  If you don't have beet powder, you can use the real deal like Arman did in these pancakes.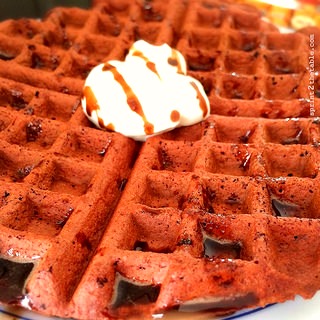 This fluffy, cake-y waffle won't disappoint.  It's protein packed, delicious, and appropriately colored.  I even went with a "cream cheese" icing… Greek yogurt with a little cheesecake flavor and vanilla liquid stevia.  Plus a drizzle of chocolate.
The only thing more perfect would be having them fed to you in bed.  With champagne. 
---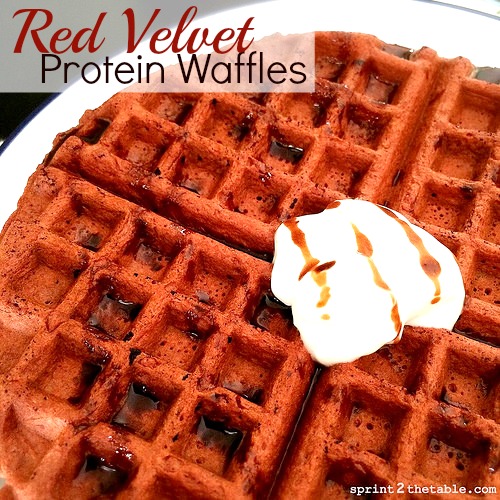 Red Velvet Protein Waffles
2 T (17g) chocolate protein powder (I used Growing Naturals Rice Protein)
1 T coconut flour
1 scoop Cocoa Cardio (or 1 tsp beet powder + 1 T  unsweetened cocoa powder)
1 egg
3 T (1 large) egg white
1 T almond milk
Mix wet ingredients in a small bowl.  Add wet to dry and stir to combine.
Pour into greased waffle iron and cook according to your maker's specifications.
EAT.
No waffle maker?  Well… you should get one.  But you could use this batter for pancakes.  Or, if you like other cakes, try a protein mug cake in Carrot, Chocolate, or Zucchini.
---
How have you enjoyed making co-workers, friends, or family stare with strange but good creations this week? The link up rules can be found here or by clicking on "Strange But Good" in the menu bar above. In short, I want to see what concoctions have earned you weird looks from co-workers, family and friends! Post your Strange But Good creations, grab the logo below for your blog, and link up here.
Remember to use #strangebutgood in any Tweets and Instagrams of your creations. 🙂



***
 I just realized this is the 100th #strangebutgood link up! That's a whole lot of odd. Rock on.
What is your favorite cake?
When was the last time you had breakfast in bed?