I ran down the street in my underwear this weekend.
It was Christmas underwear…. which makes it totally acceptable…
Atlanta holds a Santa Speedo Run every year.  I've always been curious and had friends who've run… but this year curiosity killed the cat.  I paid money to run down Peachtree Street in my undies.  Thankfully, it was a pretty warm day and the "race" was only 1.5 miles.  And it was for charity!  It was a fun way to stay active and donate to a good cause on the holidays!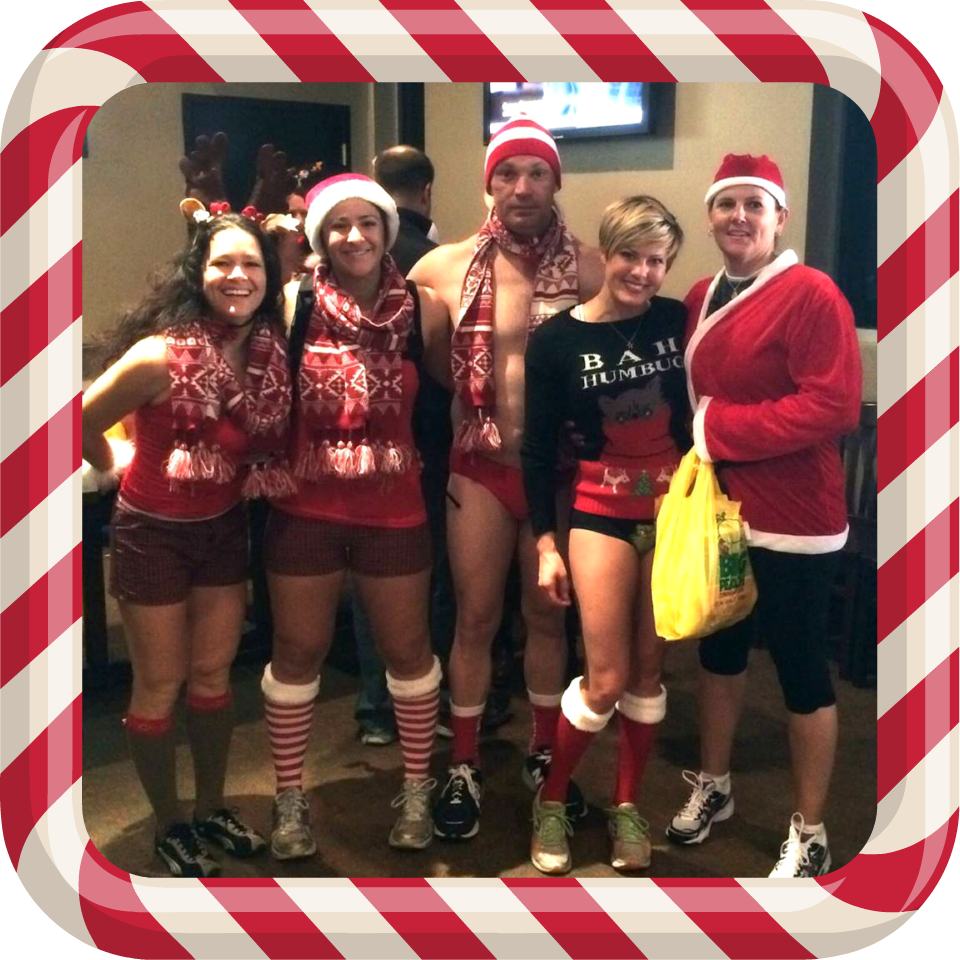 Prior to the race, Vegas and I went to my gym for glute camp and upper body.  After 2 hours of exercise, we needed a quick refuel!  That's where GNC and their new PUREDGE line come in to play.  That and a little pre-planning.
I've mentioned before that Vegas has an affinity for Red Velvet.  It just so happens that one of my favorite post-workout treats is a healthy take on a red velvet-flavored delight.  I mixed these up before we left for the gym and stored them in the freezer there while we worked out.  We were glad to have them for the ride home when about half an hour before we were done we both looked up and said "I'm hungry!"
With their new PUREDGE line, GNC is making it easier make the most out of those holiday workouts we're all pushing to fit in… and you can still be festive!  The nature-based product line includes: Complete Protein powdered formula, Complete Protein bars, Energy powdered formula, and Complete Amino powdered formula.
I've been leery of brands like this in the past, but I was legit impressed with the recognizable ingredient list in these products!
So how's the powder?  First and foremost, it smells (and tastes) like brownie mix.  Mixed in with my veggies and some additional cocoa, you'd think you were eating a brownie mix shake.  Complete with the creamy texture!
Nutritionally, it has great stats.  It provides 20g protein and one full serving of fruits and vegetables to help meet daily nutritional requirements.  It also packs in over 5g of amino acids including the branched chain amino acids (BCAAs) leucine, isoleucine and valine, essential for protecting, repairing and fueling muscle.  All of this makes for one fantastic post-workout, pre-speedo run snack.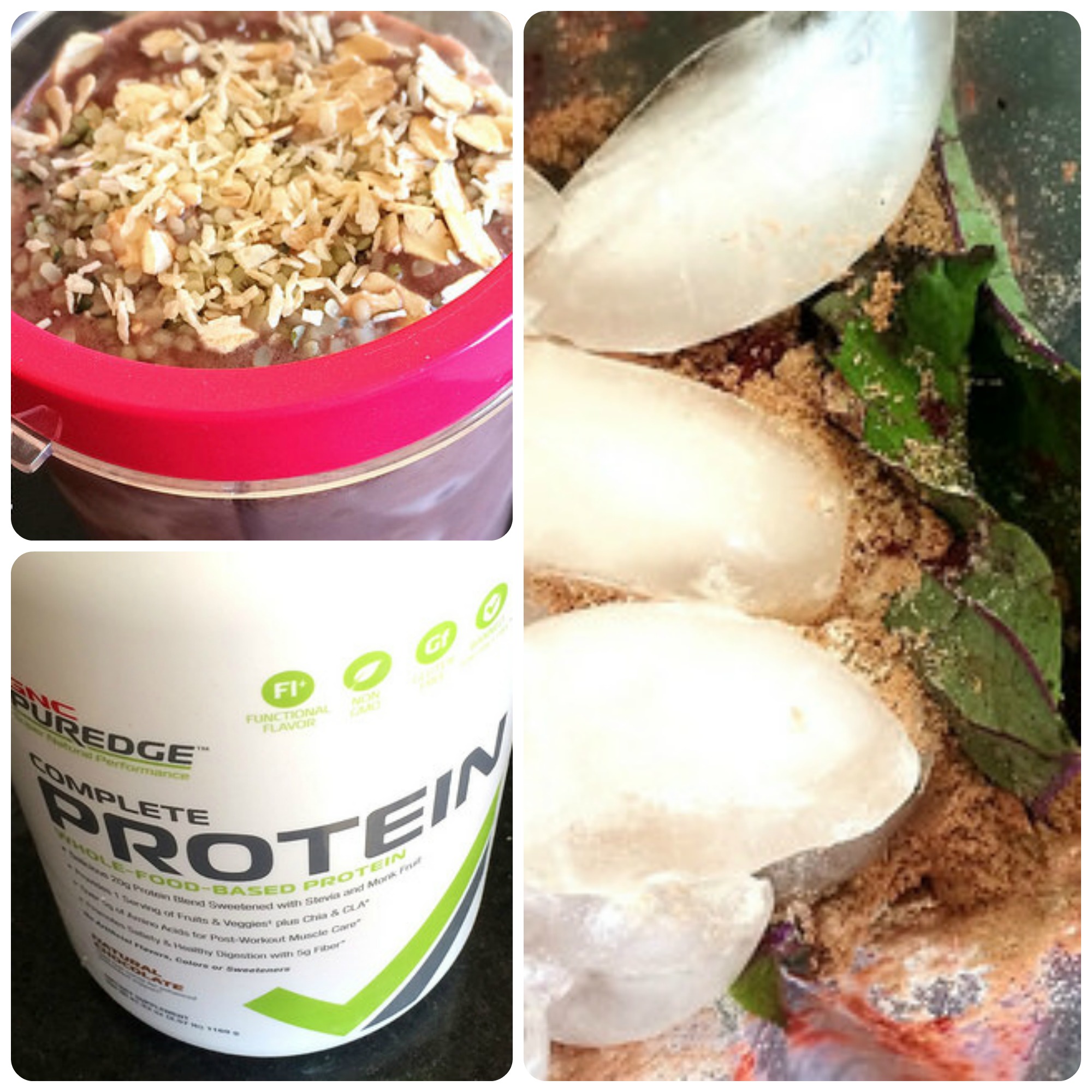 I made ours even more healthy by adding a serving of greens.  Just add a cup of kale or spinach to any shake for an easy, taste-less way to add greens!  It's also topped with hemp seeds and raw oats for some healthy carbs and fat.
GNC was also kind enough to send some of their new Daily Energy, which naturally energizes with a combination of carbohydrates, herbal teas, fruits and vegetable extracts. I liked using it in my morning cocktail for a boost first thing (I'm not a big coffee drinker).  Their protein bars were also included in my special delivery.  Check out the chunks in the peanut butter cookie dough!
PUREDGE products are now available nationwide in GNC stores and at GNC's website.
---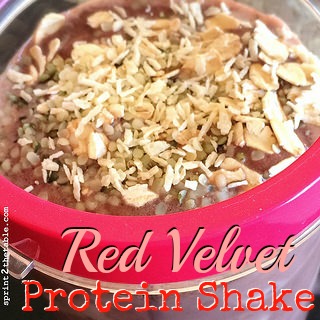 Red Velvet Protein Shake
1 scoop chocolate protein powder
1/3 C beet (or 1 tsp beet powder)
1/2 T cocoa powder
1/2 tsp cinnamon
1 C kale (optional)
Orange liquid stevia, to taste
Ice and water (adjust according to thickness preference)
Toss it all in the blender and mix until smooth.
Inhale. But not too fast or you will get an ice cream headache. Not that I would know. 
***
Thanks to GNC sending me their new PUREDGE line to try! As always, all opinions are my own.
Would you ever do a speedo run?  It's a marvelously festive run.
Do you add greens to your shakes?