Here comes the rooster.
Bonus points if you can name that song..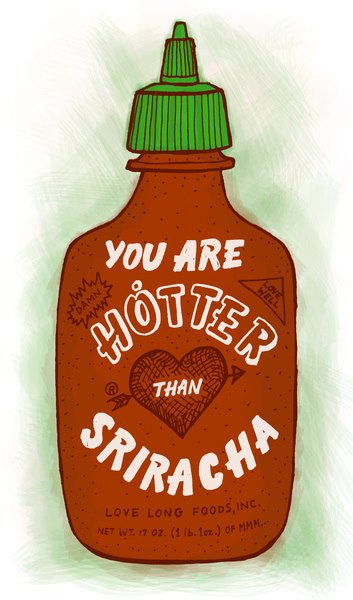 Many of us have fallen in love with the spicy sauce, but did you know it has an interesting back story?  Yesterday I came across this article explaining  the history of "the world's coolest hot sauce."
It's inventor and CEO, David Tran, came to the US from Vietnam in 1980 homeless.  Unable to find a hot sauce to satisfy him in the States, he simply made his own with hybrid red jalapeño peppers, vinegar, sugar, salt, and garlic.  He only hoped to make a sauce worthy of a traditional Vietnamese pho.  He just discovered that sushi chefs have been using it for years to make spicy rolls!  His use of a specific fresh chili is what sets him apart – and manufacturing is dictated by their 10 week, 100 million pound harvest.
Even more mind-blowing is that he has never hired a single salesman, spent any money on advertising, or used social media.  "It's all been word of mouth," Tran says.  As a marketing professional, this blows my mind!
---
I don't know where my brain was last week when I said 3 weeks.  THIS WIAW I am 3 weeks from my next competition!  Just a couple of diet tweaks so far, and we added 15 mins of HIIT cardio.  Anticipation of asparagus is high…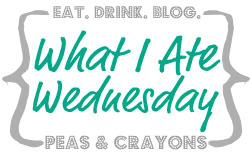 Read on for my eats, and then check out Jenn's blog for everyone else delicious creations!
---
Breakfast:
As usual, I started the day I with my Aminos and ACV morning cocktail.  I swear it's more energizing than coffee.

My breakfast was warm and comforting one on a chilly, rainy morning.  Pumpkin pie-esque oatmeal, with a serious protein punch.  I really like adding eggs and TVP for texture as well as protein; it makes this into a custard-like bowl of oatmeal.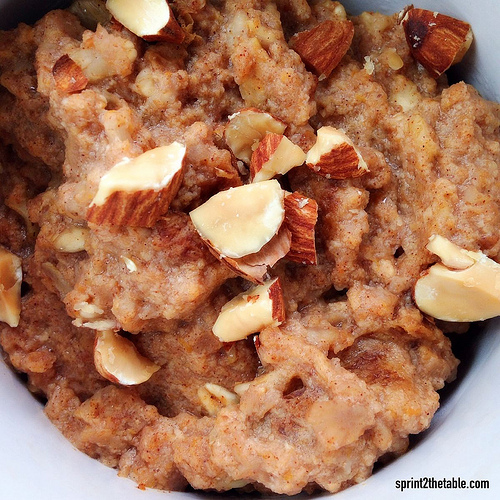 Pumpkin Pie Spiced Oatmeal
1/4 C TVP
1/4 C rolled oats
1/2 C water
1/2 C egg whites
1/4 c pumpkin purée
1.2 tsp cinnamon,
1/4 tsp ginger
Pinch of ground cloves
Stevia or other sweetener, to taste
In a small pot prepare oatmeal and TVP as normal.  
When just done, add remaining  ingredients, stirring rapidly to incorporate eggs before they scramble.
Pour into a bowl (or coffee mug) and enjoy!
Mid-Morning Snack:
Leftovers from this Sheepshead fish I prepared over the weekend, along with some roasted veggies.  And a few unpictured rice cakes.
Lunch:
Cod, hummus, red pepper slices, cucumber, and sweet potato doused in cinnamon.  Standard fare for Gantt chart reviewing.
Mid-Afternoon Snack:
I love that I can get salmon sashimi from the massive international market here.  It's fresh and it's cheap.  Often I eat it plain, but I saw Jenn's cucumber rolls and had to give it a go.
I only had 4 survivors (I need more practice), but they are so much fun to eat!  I rolled them up with red peppers and asparagus, and dipped it all (including that sweet potato) in wasabi.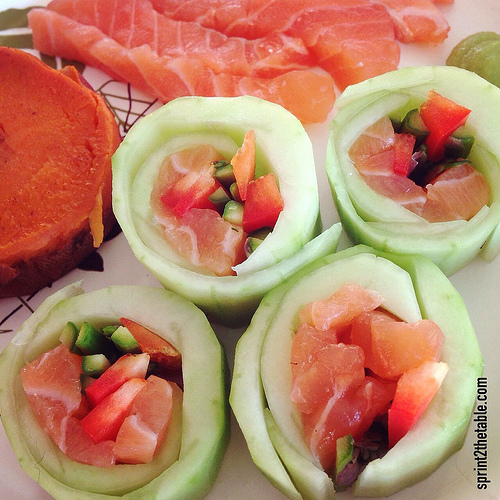 As delicious as it was, the best part was that my pancake-on-stick-eating coworker said it was so "pretty" that he wanted one.  I handed it over and he loved it!  Our food comparisons have become a running office joke… I love these guys.
Dinner:
Dinner was a super-quick saute of bok choy, green onions, sugar peas, and garlic in lime juice, coconut oil, and an Indian spice blend.  It turned out so well that the rest was just details – chicken (made during Sunday food prep) and injera (Ethiopian teff bread).
Dessert:
I've been on a giant Greek yogurt bowl kick lately.  That has to stop.  3 weeks out from my competition my trainer sad no more.  The idea is to eliminate foods that could bloat.  Dairy is one of them.  No worries.  I'll just have Red Velvet Cake.
The deliciousness below is basically my 150 Calorie Chocolate Protein Cake, but I used Cocoa Cardio* instead of cocoa powder.  Topped with popcorn, cacao nibs, and Nuttzo.
 *Cocoa Cardio from iHerb. Use discount code USO924 for $5-10 off your order!
---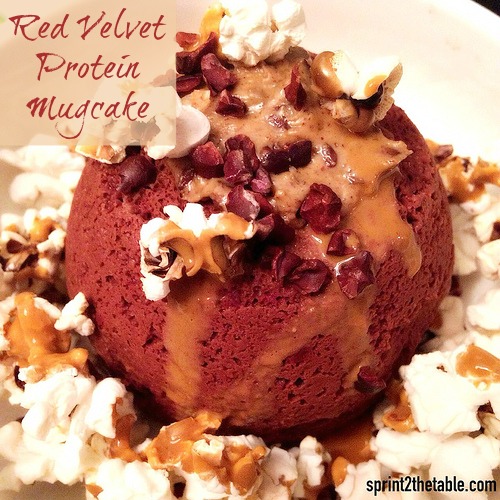 Red Velvet Protein Mugcake
22g chocolate protein powder (I used 2/3 scoop

Growing Naturals

)
1 scoop (7.5 g) Cocoa Cardio*
1/4 tsp cinnamon
1/4 tsp no sodium baking powder
3 T unsweetened vanilla almond milk
1 egg white (or flax egg)
2 T pumpkin puree (can also use applesauce)
~8 drops NuNaturals orange pure liquid stevia
Optional toppings: popcorn, cacao nibs, nut butter
Place dry ingredients in a small bowl and stir to combine.  Add wet ingredients to dry and mix until smooth.
Transfer to a large, greased (I use coconut oil) coffee mug and microwave for 1:30 mins.
Tip the cake out onto a plate and top as desired.  My cake was topped with nut butter, cacao nibs, and popcorn.
Makes 1 cake.
 *Cocoa Cardio from iHerb. Use discount code USO924 for $5-10 off your order!  You can also leave it out or use cocoa powder and 1/8 C beet puree to keep it red. 
***
Thank you all of all of the kind comment on yesterday's post.  It's sometimes hard for me to tap into the more emotional side – I use humor more often than not. So thank you for being empathetic and kind.
Are you a sriracha fan?  What's your favorite thing to add it to?

Have you ever attempted a homemade Asian roll?  Oddly, I found the cucumber easier than dealing with rice paper or seaweed.