Cake is my favorite.
It's my Achilles heel.  And wine.
I can pass on candies all day long.  I don't like process packaged "treats."  I'm not crazy for chocolates (though those are tasty).  Baked goods – homemade cakes and cookies – get me every time.
My favorite cake is Carrot Cake – which is why I had to make a healthy protein microwave version.  I did the same for my beloved Chocolate Cake.  That chocolate cake was the last meal I ate before the pre-surgery fast:
The last on my list of cake "favorites" to re-create would be red velvet.  Kammie must have been in my head, because her guest post today does just that!
I'm really excited Kammie volunterred to post.  Every time I read her blog I am inspired.  I don't know how she comes up with post after post of healthy food porn!  Read on for Kammie's latest tasty, protein-rich cake creation.
---
Homemade Red Velvet Protein Bars
Hey Everyone!  I am so glad to be here posting for the lovely Laura!  I've been following Laura's blog ever since I started my own so this is a huge honor.  Thank you, Laura!  Hope you are feeling better!
Let me introduce myself – my name is Kammie and I am the blogger behind Sensual Appeal.  I have gone through many ups and downs in my life and finally I have adapted the Intuitive Eating approach in the last couple of months. It has allowed me to finally begin accepting myself for who I am and learning to trust and love my body.  I gave up on dieting in March and I haven't looked back since.  My blog and life mantra ever since has been that everything in life should be: Delicious, Mindful, and Happy!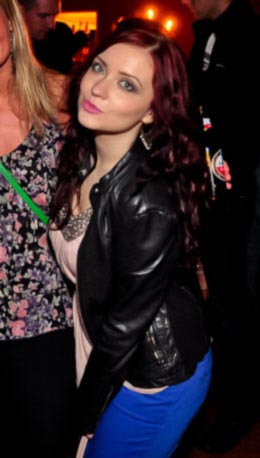 If you do know me as a blogger, you know I've always had a slight infatuation with using protein powder in my recipes.  I had a phase where I used protein powder ALL the darn time.
I don't use it as much anymore but it does find its way into my meals here and there.  For example, my guilt-free Pumpkin Carob Chip Donuts, Strawberry Cheesecake Protein Shake, Chocolate Chip Protein Cookie Pancakes, or my favorite Double Chocolate Microwave Mug Cake!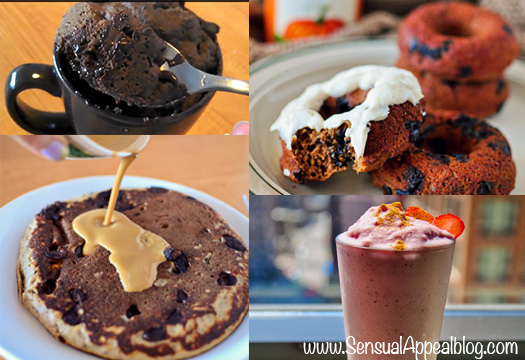 If you are confused by all of the varieties of protein powders that are out there – check out this handy guide I created Protein Powders 101: Which is the best Protein Powder for you?
Anyway, I knew right away that a protein-rich recipe would be perfect for Laura and Laura's readers!  So a protein-rich recipe it is!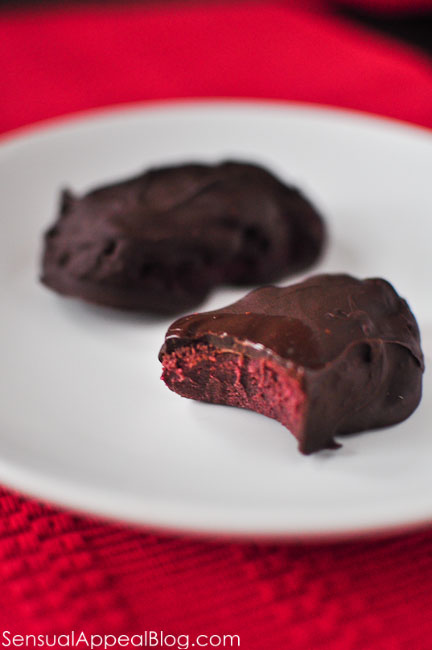 I realized I haven't ever actually made protein bars but I do eat them frequently. So I bring you this easy, no-bake, VEGAN and full of protein snack.
The reason why this is red (and called Red Velvet) is because I used Cocoa Cardio instead of cocoa powder – it's basically cocoa powder with dehydrated beet juice for extra nutrients.  You can use regular cocoa powder to make this a regular chocolate protein bar instead.  I am not affiliated with Cocoa Cardio, btw.  It's just a cool product I found recently.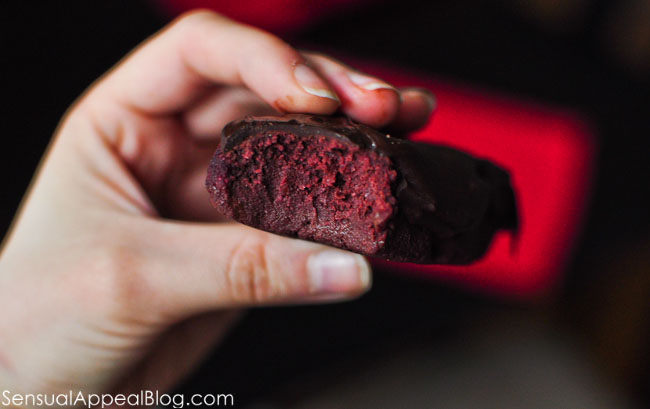 Homemade Red Velvet Protein Bars, ladies and gentlemen. Enjoy!
---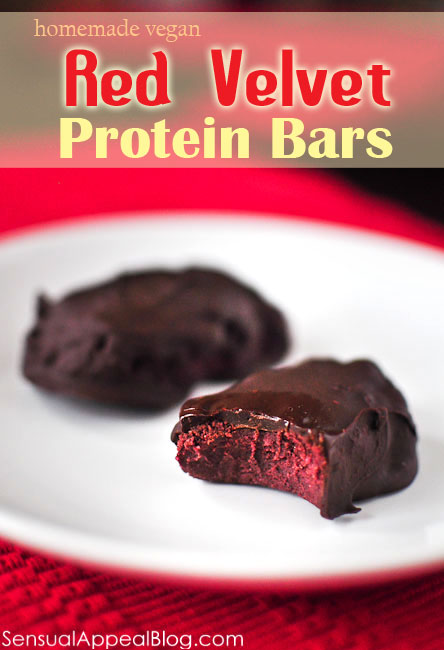 Homemade Red Velvet Protein Bars
¼ C vanilla protein powder
2 T + 2 T coconut flour, separated
2 T almond flour
2 T Cocoa Cardio* (or cocoa powder)
½ C almond milk
¼ tsp vanilla extract
¼ C dark chocolate chips
 Add the dry ingredients in a bowl and mix. Add almond milk by 1/4 cupful and mix. Add the rest of the milk and vanilla in the bowl and mix still. If the batter is still too liquid-y add the other Tbsp of coconut flour. The batter is supposed to be thick enough to mold into shapes.
Take a little bit of the thick batter and shape into balls. Once you've formed them into balls, press and mold them into the shape of bars and put on parchment paper. Put the bars in the fridge for a couple of minutes to harden.  
Melt the chocolate chips in a microwave or on the stove and once it's melted dip the bars into the chocolate to coat.  
Scoop the rest of the melted chocolate onto the bars with a spoon.  Put in the fridge for at least an hour.
Remove from fridge and enjoy!
*I order my Cocoa Cardio from iHerb.com.  Use my discount code USO924 for $5-10 off your order!
So what do you think? Easy enough?
If you enjoyed this recipe, I'd love for you to check out my blog for more recipes, healthy living musings and other posts over at Sensual Appeal Blog. Show me some love by liking my Facebook page and subscribing to my YouTube channel!
xo, Kammie
***
I read this post when Kammie sent it and almost begged her to deliver.  
Do you like candies or baked goods better?  What can't you turn down?
What is your favorite health-ified treat?