Summer is here in earnest.
Convenient since I'm not supposed to get hot.
I am a sun baby, so not being able to be outside playing makes me sad.  The follow-up with the surgeon is July 1st… I have a leg day scheduled with my trainer that night.  If the Dr. doesn't clear me to do it, I may cry.  Restlessness is in FULL force.  I do take walks, but have to be careful to keep them to the early morning or late evening when it's (supposedly) cooler.
A few (more) fun post-augmentation updates:
Shaving your armpits is really, really hard when the girls are in the way.  Hopefully this will get easier as they drop… there was a forest growing there until yesterday morning.  Gross, I know.
I can now drive a car comfortably – at first I knew that if I had to make a fast maneuver I was a goner.  I was very, very careful.
A lady at the mall looked right at the twins.  Their first stare.  Awwww!
Getting dressed is interesting.  At time its frustrating because don't look right while I'm still "settling," but this weekend I was really excited to be able to wear 3 tops I (stupidly) bought and never wore because I lacked the chest to keep the tops from sliding down and showing my bra.
Insomnia has returned.  I had it bad in my younger days, but once I started working out that changed.  I guess I wore myself out!  Now that I'm "resting" I'm just NOT sleepy.  Also, I can no longer sleep on my stomach which makes it harder to fall asleep.
---
This WIAW marks my first day back in the office post-surgery.  I actually was working last Monday, but there was NO was I could get dressed and be in an office all day.  Thankfully, being a consultant means it's really easy to do your job from anywhere – including the couch.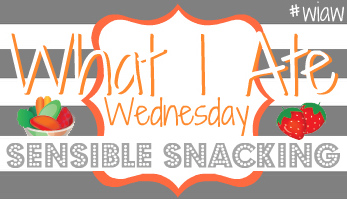 Read on for my post-surgery eats, and then check out Jenn's link up for everyone else's snack-y ideas.
---
Breakfast:
My morning cocktail (apple cider vinegar, water, Glutamine, and Fitmixer Aminos) remains a staple.  I've taken to adding a shake of cayenne too.  Because I'm hard-core.
I took my walk in the early morning coolness.  Walking should be relaxing, but really all I could think about was breakfast.  Inspired by Kammie's guest post last week, I decided to turn Red Velvet Cake into a breakfast item.  In the form of a cheesecake bowl.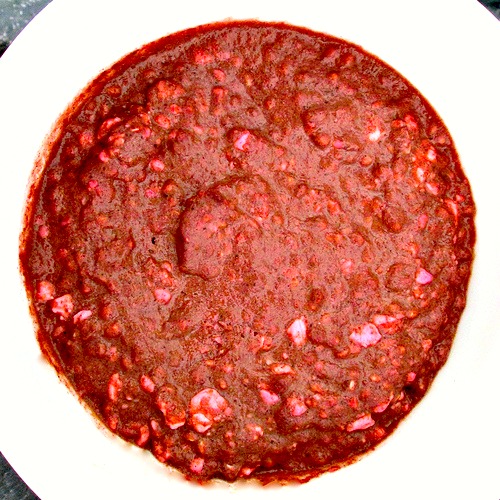 I found beet powder at Whole Foods which gave this its red tint.  If you can't find that, you can use beet puree or simply omit it (Red Velvet cake is just cocoa cake with red food coloring anyway).
This high-protein, low carb, sugar-free bowl of cheesy cake is guaranteed to put a smile on your face to start the day.  I've had it 2 days in a row.  I used cottage cheese to cream it up, but Greek yogurt would work too.  Make it vegan by using almond or coconut yogurt!
Mid-Morning Snack:
I love my seafood and fruit combos.  This was salmon baked with lemon juice and fresh rosemary, then mixed with blueberries and red pepper flakes.  Sweet with a little heat and hint of citrus.
Lunch:
Meal prep Sundays make it possible to bring food that my coworkers openly stare at.  I was asked to explain what everything on my plate was, and then was told I bring "elaborate" foods.  I was flattered.
Doesn't everyone eat spinach shirataki noodles topped with ground turkey, broccoli slaw, and a sauce of nutritional yeast, spices, and apple cider vinegar?  No?
Mid-Afternoon Snack:
I ordered these Keto Slim bars from iHerb.com after reading the good reviews they received.  I'm pretty pleased!  the sodium is a bit high (200mg), but the sugar is low (2g) and it contains 21g of protein!
It does have sugar alcohols.  I don't watch that too closely (it's pretty rare I eat processed foods), but if you have problems with them you won't want this bar.  It also has fun stuff like almonds, spirulina, kelp, and beets greens!
Note: iHerb is also where I get my peanut flour and a lot of fun extracts/vitamins/random other things.  Use my discount code – USO924 – for $5-10 off your order!
Dinner:
It was a long day at work.  I struggle with one co-worker in particular and it was a major source of stress today.  I wanted a drink.  To sooth my nerves, I made pizza and took a twilight walk. 

The pizza crust was my cheese-less cauliflower recipe.  For a sauce I mixed together beer mustard, nutritional yeast, cayenne, and liquid smoke.
To top it, I sautéed onion and garlic, and wilted some arugula briefly at the end.  I put than on the crust with crab and my sauce.  Back in the oven to warm before adding cilantro and a drizzle of fig balsamic glaze to finish it.
It looks like a lot of effort, but I had dinner on the table in under 30 mins.  AND I made a second crust to keep in the freezer.  Who needs store-bought frozen pizza?!
Dessert:
Still wanting to treat my nerves, I broke out my Quest bar stash!  I cut half a Chocolate Brownie bar into squares and baked it on a piece of parchment paper at 350 for 12 mins.  I added a schmear of peanut butter to each bite before adding them to part 2 of my dessert.
Part 2 was a bowl of cinnamon–raspberry cottage cheese.  I mixed no salt cottage cheese, cinnamon, almond extract, vanilla Stevia, and mashed raspberries together in a bowl.  Then I microwaved it for ~15 seconds to warm it a bit.
Yes, I'm on a cottage cheese bender.
---

Red Velvet Chia Cheesecake
1/2 C no salt cottage cheese
1/4 C almond milk
1/2 scoop chocolate protein powder
1 T chia seeds
1 T cocoa powder
1 tsp beet powder
1/2 tsp cinnamon
1/4 tsp vanilla extract
8-10 drops vanilla stevia
In a small bowl, mix all ingredients together.  Cover and place in the fridge overnight (or at least an hour).
In the morning, remove from fridge and stir again.  If too thick, you may add more milk.
Enjoy!
***
Don't forget! Click here to enter the giveaway for a FRS Healthy Energy trial kit.  Winner announced tomorrow. 🙂
Do you have to wear yourself out in order to go to sleep?
What is your favorite protein bar?  Did you try Kammie's Red Velvet Bars from last week?