This week is a lesson in endurance.
"Prolonged endurance tames the bold." – Lord Byron
When I was playing roller derby, we used to have Monday night endurance practices.  After 2 hours of balls-to-the-wall skating until you wanted to puke, Coach Jim would line up up for 30 more laps.  He'd always announced the little "surprise" at the end of practice by saying "30 to go!"
I always started out going as fast as possible to get it over with, but by the last 5 my legs were shaking and the only reason I was still moving was so I could go home.
Today I only have "5 to go."  My first figure competition is Saturday.  I'm tired.  Each day I'm pushing myself as hard as possible with every workout, running sprints, doing 30 mins of posing practice, and keeping up with my 100 pull ups.  That familiar "if I can just push through this last bit, I can rest" feeling has returned.
Not to mention the diet changes… more on that Wednesday!
---
With those diet changes, I can't even eat this BBQ sauce.  I'm glad I did it when I did!
For those who aren't 5 days out from a competition, this is a great open for a clean BBQ sauce.  It has no sugar or sodium added… and it's actually good.
There are two schools of thought on BBQ Sauce – one likes a more ketchup-like sauce, and the other is a vinegar-based sauce.  I don't feel the need to choose!  My sauce is tomato-based and laced with that satisfying vinegar tang.
Thick and satisfying, this is the perfect topping for just about any protein.  You could even toss some red pepper and broccoli slaw in it for a quick BBQ veggie roast.  That was a really a really tasty combo.
In this photo shoot, I sliced tempeh into thin strips and coated one side with the sauce.  I baked it at 375 for 10 mins, then flipped and coated the other side and baked for another 8 mins.  Easy!
Served here with side of roasted winter squash, asparagus, zucchini, carrots, red onion and sage.  My leftover sauce is n the freeze for safe-keeping for when I can have this again!
Recipe after workout recap…
---
Workout Recap
There's nothing more disappointing than seeing a light at the end of the tunnel and having it suddenly shut off.  Friday I got my final workout plan from my trainer.  I thought Sunday was going to be a rest day… it wasn't.  Turns out you don't workout 2 days before a show, so there will be no rest until Thursday.  Lovely.
We took measurements at Saturday's workout.  I haven't gained much in terms of inches – my waist and chest are actually smaller – but my body fat is certainly lower!  I'd like to find one of those Bod Pods to get an accurate measurement at the end of the week.  I'd also like to have to time to actually go do it.
There will be pic ad nausea post-comp, but for now a little sneak peak…
Workout Recap (10/20 – 10/28):
Monday – Rest
Tuesday – Legs, 2 mile walk 100 pull ups
Wednesday – Back/Tris, Calf raises, 1 mile incline walk, 100 pull ups 
Thursday – Shoulders/Glutes, 1 mile incline walk, 100 pull ups
Friday – Chest/Bis, 100 pull ups, Calf raises, 2 mile incline walk
Saturday – Legs (with trainer), 100 pull ups, 2 mile sprints/incline walk
Sunday – Shoulders, 100 pull ups, Calf raises, 1.5 mile sprints/incline walk
---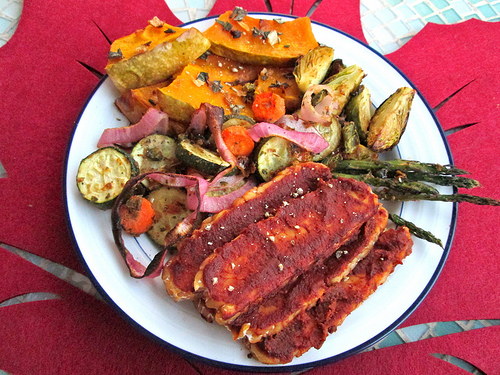 Healthy BBQ Sauce
15 oz can tomato sauce (no salt added)
1/3 C apple cider vinegar
2 T ancho chili powder
1 T smoked paprika
2 tsp garlic powder
2 tsp onion powder
1 1/2 tsp cumin
1/4 tsp black pepper
1/4 tsp cinnamon
Liquid smoke, to taste
Place tomato sauce in a small pot over medium heat. Add vinegar and spices, stirring and tasting as you go. Add the liquid smoke to taste. Start with 5-6 drops and add from there – a little goes a long way! Allow to simmer 5-6 mins more to allow flavors to combine. Taste and adjust flavors again before serving.
Note: You might add a bit of Stevia or other sweetener here if you like a sweeter BBQ sauce. I prefer the vinegar-based.
***
It sounds like I'm complaining… but I'm just tired.  I'm really excited/nervous/ready to get 'er done!!!
Do you prefer vinegar or ketchup-like BBQ?
What inspires you to push through?  Any good quotes or songs to share?