Injuries and soreness aren't fun.
Lately it seems like I can't stay well (thank you, knees), so I was particularly excited when BENGAY contacted me to review their new Zero Degrees product.
What makes it so cool?  It literally IS cool.  According to their literature it is "the first and only topical pain reliever tha can be stored in the freezer, combining the instant sensation of ice with the long-lasting, trusted pain relief of BENGAY GEL."
This weekend was fun, but pretty strenuous on my body.  If you've been reading for a while, you may know that I've had some trouble with my knee for the past few months.  I was in serious need of BENGAY Zero Degrees after a 7 mile hike Saturday followed up by a 3 mile run and 2 softball games on Sunday… and one lovely strawberry on my toosh:
No, I didn't put BENGAY on my open wound (NOT a good idea).  I DID slather it all over my aching knees after spending some QT with bags of frozen peas.
I loved that BENGAY Zero Degrees comes in a deoderant-like stick, making it easy to apply – no sticky hands or pain when you forget and stick you finger in your eye.  Another plus is that it doesn't stink like most other products out there.  My knees may make me feel like a granny, but I don't need to smell like a granny too!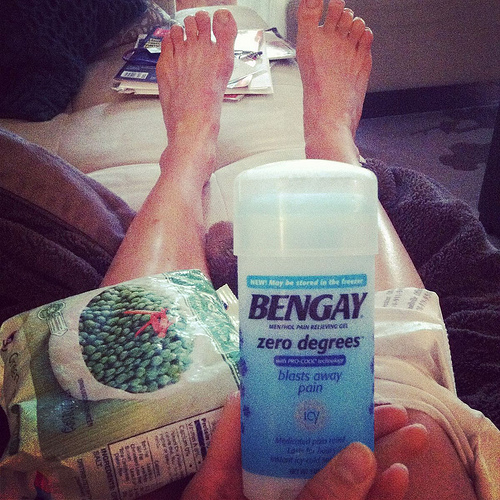 BENGAY has offered to send one of these cool Zero Degrees sticks along with some other fun goodies (I received a tote bag, hair ties, a workout towel, and Karina Smirnoff's dance-inspired workout DVD) to TWO readers!
Receive up to 4 entries by:
Subscribe to the Sprint 2 the Table RSS feed or email
Tweet: You could say something like: I entered to win 1 of 2 BENGAY Zero Degrees prize bags in the @sprint2thetable giveaway: http://wp.me/p16jDn-1hS  #giveaway #fitness

Comment: What do you do to help your body recover?
Please leave a *separate comment* for each entry!
Contest ends at 11:59pm EST on Thursday, May 24th.  The winner will be announced on Friday, May 25th.
__________________________________________________________________________________
This week's recap should explain why I need that BENGAY!  🙂
I've been incorporating more plyo/active rest into my weight workouts.  It's made a big difference in my appetite!  I feel like I'm getting more out of my workouts and I'm craving protein like a caveman.  Still not going too big on the meat, but I'm killin' some protein shake creations.  After Sundays games in 85 degree temps and direct sunlight I couldn't get to the blender fast enough!
Workout Recap (5/7 – 5/13):
Monday – Monday's Pinned workout, Carol's "Ain't No Rest for the Wicked" (LOVED it!), 100 push-ups
Tuesday – 4.5 mi walk, Bis/Back w/ plyo
Wednesday – 3.5 mi run, P90X Ab Ripper X, 100 push-ups
Thursday – Thursday's Pinned workout, Shoulders w/ plyo, 100 push-ups
Friday – Tris/Chest w/ plyo, 1 mi jog, 100 push-ups
Saturday – 3 mi walk, 7 mi hike
Sunday –  3 mi run, Softball x2, Hayley's 6 min plank rotation, 100 push-ups
***
I just realized this post is filled with pics of my legs from various angles.  I love an unexpected "leg day."
What is the last injury you had?
What is the best workout you've had lately?