Can eating too much orange food really tint your skin?
I think I may be in danger.  
Between the carrots and sweet potatoes I've been eating today, I'm going to look like a Jersey Girl.  GTL!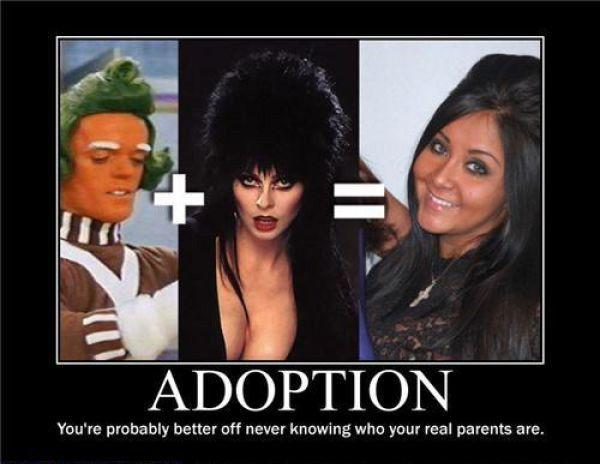 For real – it's called Carotenosis.
---
Luckily Jenn's What I Ate Wednesday doesn't go green until March.  Orange fits perfectly with the February vegetable theme.

---
Breakfast:
This morning I met my boss for breakfast a "famous" local breakfast spot, The Flying Biscuit.  While boss-man is used to my picture-taking, my stomach wasn't used to waiting so late to eat.  Totally forgot to take a picture.
No matter.  My tofu scramble wasn't that great.  I would have rather had my homemade Indian-Inspired Tofu Scramble: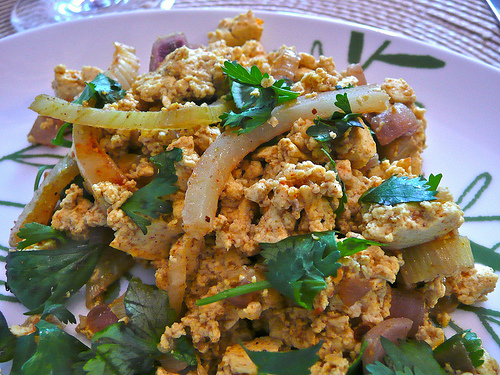 Lunch:
My Foodie Penpal, Laura, has created a monster.  I made another round of Bibimbap using the ingredients she sent me in this month's package.
It's an addiction.  That crunchy rice and  spicy sauce ain't whack.
Click here to check out the recipe I posted yesterday.  The only change today was that I served it with cucumber rather than carrots.
Snacks:
First us was my first juice creation in the Vitamix.  It was all veggie and all delish!  This was a post workout snack, so I added my Sun Warrior protein powder.  I was worried that would make it a weird consistency, but it was quite pleasant!
In my juice:
1 scoop vanilla protein powder
1 tsp maca
1 C spinach
Handful of wheat grass
1/4 C parsley
1 carrot
1 celery stalk
1 in piece of ginger
3-4 drops stevia
2 in piece of cinnamon (I tossed a real stick in and it WORKED!)
1/2 C water
Snack #2 was a recipe I've had marked from Rande @ The Vegetable Centric Kitchen.  Can you guess what this deliciousness is?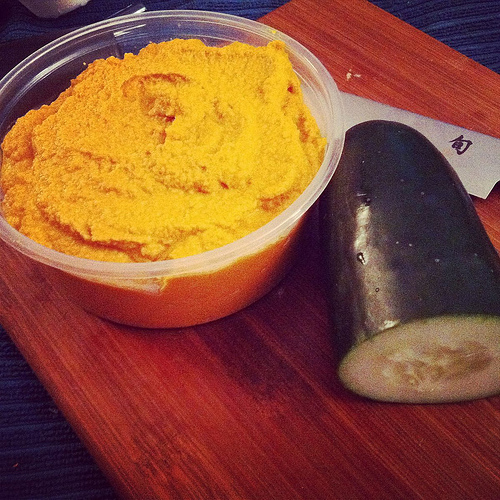 RAW Sweet Potato Hummus.  It was insanely good, and an embarrassing amount was consumed… much of it straight from the blender.  I made a few modifications (recipe at the end of this post).
The only difference in using a raw sweet potato is that it isn't quite as sweet as it would be if it had cooked and caramelized a bit.  To me, this makes it a perfect hummus candidate.
The liquid smoke added a neat dimension with the nutty-sweet tahini, and the spices were just enough to give it a kick on the end.  Even cooler was the addition of Meyer lemon and miso.  These added some sweetness, along with a little tang and saltiness!
Of course, I also had my daily Kombucha!  Served from my growler of Buchi Fire from Whole Foods.
Dinner:
The orange didn't stop at snack time.  Even post-cleanse I have been craving an increasing amount of raw food.  For dinner I ate the rainbow in the form of this giant salad.
In my salad:
Spinach
Broccoli and radish sprouts
Shredded red cabbage
Cucumber
Carrot
Celery
Tomato
Onions
Sweet Potato Hummus Dressing (1 T hummus + 1 T apple cider vinegar + 2 drops stevia)
Angela @ Oh She Glows' Endurance Crackers
Angela's Endurance Crackers have been on my list to try for a long time as well.  I needed something to go with all that hummus, so today seemed the perfect day to try them out!  My only modification was to use 2 tsp of the Ras al Hanout spice blend made for my Babaganoush Soup rather than her onion-salt-herb blend.
If you haven't tried this recipe, I highly recommend it.  I'd love to try a sweet-cinnamon version in the future!
Dessert:
Cinnamon-Vanilla Ice Cream.  The Vitamix was me on a wintertime ice cream bender.  I was working late and felt yet another treat bowl was in order.  Thank god it can be made healthy!  This purple bowl inefficiently hides a "secret" ingredient.
The ice cream blend is really easy – unsweetened vanilla almond milk, vanilla, stevia, cinnamon, and ice… and the secret ingredient.  Purple Cabbage.
I know you think I've lost it, but I swear on my shoe collection that not a trace of cabbage taste could be detected.
---

Sweet Potato Hummus
Modified from this recipe from Rande @ The Vegetable Centric Kitchen
1 medium sweet potato (raw and unpeeled)
2 T tahini
4-5 drops liquid smoke
2 cloves of garlic
1/2 Meyer lemon
1 T water
1 tsp yellow miso
1/2 tsp cayenne pepper
1/2 tsp paprika
1/2 tsp cumin
2 T fresh thyme
Toss everything in food processor or blender and until smooth.
Note: If using Vitamix, toss the whole lemon in; otherwise, only use the juice of the lemon.
Make 1.5 cups.
***
Spicie Foodie's "Your Best Recipe" for the month of Feburary is up today!  Hop over to her site to check out my Vegan Goat Cheese Stuffed Tomatoes and everyone else's awesome contributions!
Do you ever intentionally try to eat more raw food?
Do you watch Jersey Shore?  I'm amazed at how passionate people are about it!