Merry Marvelous!
Are you ever so cheerful you annoy yourself?
It's false cheer.  Sort of.  I'm not in a bad mood… but does anyone really look forward to a Monday like they do a Saturday?  Yet another reason to love Katie's Marvelous Monday link up. 🙂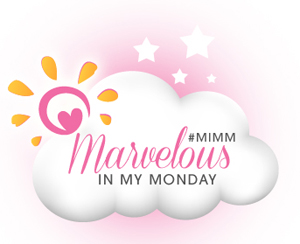 First up in the world of marvelous is this #vitamixporn.  That's a legit hash tag, no?
This deliciousness is a Chocolate-Beet protein smoothie.  It was so thick and creamy I ate it with a spoon… like I do with just about every smoothie.  It's the only way to go after a hot, sweaty romp in the gym. 😉
You can make this in a regular blender, it just might not be quite as ice cream-like.  I posted the recipe here on Facebook.
Marvelous item #2 involves one of my favorite movies – Grease!  Saturday it was playing it on the big screen at a the Fox Theatre… it was done like a sing-along!  The words to every song were scrolled across the bottom of the screen and they handed out little props for people to use throughout the movie.
The less-then-marvelous part is that I was supposed to go with my best friend, but at the last minute she got the stomach flu!  So I went by myself.  It was a little awkward due to the interactive nature, but I sat back and enjoyed the show and the people watching.  It was rich – the over 50 crowed came out in full-force dressed like Pink Ladies and T-Birds.
In the end, I was happy.  I was in a loner mood for some reason anyway.  When I got home there was more marvelous = clean sheets!  I put myself to bed with a book and a handmade mason jar candle.
This next item is more hilarious than marvelous.  I was in the gym, minding my business, when I came upon a full spread of beauty supplies in the locker room.
The pic doesn't even show it all.  I couldn't fit in the towel wrap, 2 pairs of shoes, flip-flops, bobby pins, comb… and dirty clothes on the floor.  I chuckled… and then I Instagrammed.  (She was in the shower… I'm not quite that ballsy.)
I had to take a picture.*  If I had to bring THAT much crap to shower at the gym, I'd just go home.  (I have never showered at a gym, actually.)  If I hadn't been in a hurry, I would have waited to see what she looked like after getting all dolled up.
*Nothing shocks me anymore at my gym – last week there was a girl there carrying a dog around in her purse.  In the weightroom.  While using the leg extension machine.
Lastly, I have to include food in the weekend marvelousness.  This happened before I made it to the market.  you can always tell when it's the end of the week because I'm eating a random hodge podge of protein.  There are 3 types of fish on that plate.
The real marvelous part was the salad.  I managed to end the week with a lot of veggie goodies left over, and throw together a fresh, raw salad.
If you haven't had corn raw before, check out this #strangebutgood Berry Corny Salad too.  It fabulously sweet and crunchy!
_____________________________________________________________________________________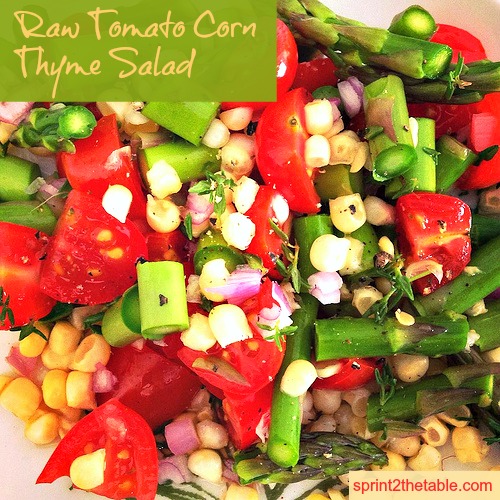 Raw Tomato Corn Thyme Salad
1/4 C sweet corn kernels
1/4 C cherry tomatoes, sliced
1/2 C raw asparagus, sliced
1 T diced shallot
1 tsp fresh thyme
Drizzle champagne vinegar (or other vinegar)
Freshly ground black pepper 
Mix together veggies and drizzle of vinegar.  Finish with fresh black pepper.
Note: You could also add olive oil, nuts, or other herbs!
***
It must be the crazy humidity, but I'm craving raw foods lately… which simply means I'm (re)learning you can put just about anything in a blender. 🙂
What is the strangest thing you've ever seen in the gym?
Would you go to a show at a theatre by yourself?  What is your favorite character from Grease?  Mine's Rizzo!