Groundhog Punxsutawney Phil was full of you-know-what.
I woke up this morning to this:
Pretty.  But COLD.
The other downside (for school kids) is that the snow didn't stick enough cancel school.  Boo hiss!
News flash: For the first time, I was glad snow didn't leave the city crippled.  I'm getting old. 😉
_____________________________________________________________________________________
Most people love apple pies, baked apples, applesauce, etc.  I do not. I do love apples, but once they are cooked the flavor changes and they just don't seem "right" anymore.
Not being able to chew, apples are definitely off-limits.
Or so I thought.
I owe Leanne @ Healthful Pursuit a HUGE thank you.  She shared her recipe for Raw Raspberry Applesauce with me yesterday!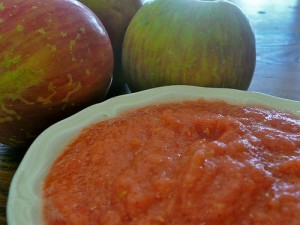 Of course I had to make it immediately… if not sooner. 😉
It's perfect.  You could eat if for breakfast or snack or dessert.  In a box, with a fox…
In fact, I'm going to eat it with some greek yogurt later today.
It is amazing how much this has the consistency of applesauce, yet retains the crisp, fresh apple taste.
It's saucy, and it's just my type. (Please read the previous sentence to the beat of the Beastie Boys' "Crafty.")
Here's my version of Leanne's brilliant creation.
____________________________________________________________________________________
Raw Raspberry Applesauce
1 medium apple (use a sweet variety, like Gala)
1/4 C raspberries
1/4 C water
1/4 packet Stevia (add more as needed)
1/4 tsp cinnamon
1/8 tsp ginger
Juice from 1/4 of fresh lime
Pinch of salt
Combine all ingredients in blender and blend until smooth.
Notes:
You may have to scrape down/stir a few times in between blends.  Don't add to much liquid or you will have apple soup instead.  Which is fine, but would be disappointing if you wanted the sauce.
Depending on the sweetness of you apple or berry, you will need to adjust Stevia amounts.  You can use honey or agave instead (Leanne did).
You could use any berry here, or none at all!  I'd love to try it with blueberries.
***
Check out the new buttons!  Someone share me on a fancy social networking site!