Thank you, everyone for all of the nice comments yesterday.  Your kind words and thoughts were definitely felt. 🙂
Today I have not one, but TWO new items to share!  One I received to sample and the other was a new way to eat my kale.  Get excited.
As part of the FoodBuzz Tastemaker Program, I received the following frozen "Steamfresh Chef's Favorites" products from Bird's Eye:
Mushroom and Green Bean Risotto, Roasted Red Potatoes and Green Beans, and Primavera Vegetable Risotto.  There was also a Creamed Spinach, but it busted during shipping.  Too bad – I LOVE spinach!  🙁
I selected the Mushroom Risotto to review first.
Do take this review with a gain of salt – it is frozen food.  But – for frozen food – this was not too shabby!
The good: I actually went back to look at the fat content because the risotto was so rich and creamy (only 2.5g!).  The mushroom taste was just right – earthy and rich.  The green beans are still slightly crunchy, which was awesome.  It nearly tasted fresh.
Another big plus was how easy it was to make in the microwave.  You just pop the whole bag in for 4 minutes and it's all done.  It also had stove-top instructions… but the point of a frozen meal is to be quick, right?  Nuke away!
The less-than-good: it is a small serving (1 bag serves 2).  This is NOT a stand-alone meal.  You could easily add some protein to fill it out.
Frozen meals are often too salty.  This one came close – if you are sensitive to salt it may be a lot, but the average consumer would think it was perfect.  It did turn a little sticky.  This can be remedied by adding a bit of milk and re-heating as needed.
Nutritional info for for 1 serving (~1/2 C): 170 calories, 2.5g fat, 1.5g saturated fat, 430mg sodium, 33g carbs, <1g fiber, 2g sugar, 5g protein
Look for these in stores in September!
---
You can also serve it with a side of kale!
I made this to go with the baked Chili Nutty Tofu (as seen in yesterday's WIAW post).
This raw kale salad was fantastic with it's Asian-inspired flavors and marinated Oyster mushrooms.  I must be on a 'shoom bender.
The kale marinade is a simple one: rice vinegar, soy sauce or tamari, seasoning, sesame seeds, lime, and – the secret ingredient – avocado.  The flavors combine perfectly to make a delicious, taste-filled side.
My favorite part is the texture – the kale softens a bit in the marinade and the creamy avocado is balanced with the unexpected crunch from the sesame seeds.
It's all groovy… and then you reach the most satisfying part – biting into the meaty mushrooms, filled with the juicy goodness of their marinade of soy sauce, ginger, and sesame oil.
Added Bonus: the lime keeps the avocado fresh enough to eat the salad for lunch the following day!
---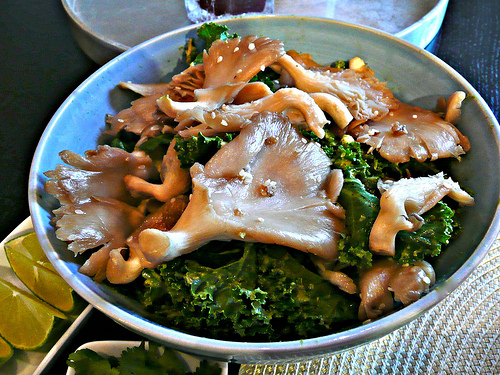 Raw Marinated Kale and Oyster Mushroom Salad
For the kale:
1 T rice wine vinegar
2/3 tsp soy sauce (or tamari)
1 tsp Bragg's Sea Kelp Delight (or other herb-y seasoning)
1/2 tsp red pepper flakes
1 T white sesame seeds
Juice from 1/2 lime
1 small avocado, mashed
S+P, to taste
1/2 bunch of kale, roughly chopped with stems removed
For the Mushrooms:
1 tsp soy sauce (or tamari)
1 tsp freshly grated ginger
1/4 tsp sesame oil
~10 oyster mushrooms
To prepare the kale: Mix all ingredients except the kale in a large bowl.  Add kale and massage into marinade until well-combined.
To prepare the mushrooms: Mix together all ingredients except the mushrooms.  Add mushrooms, tossing until coated.  There will not be any marinade to spare.  Not to worry – the 'shrooms will "juice" as they marinate.
For at least one hour, allow each mixture to marinate.
Toss to combine just before serving and enjoy!
Makes 4 servings (as sides).
***
Admittedly, there are prepared meals in my freezer… but I usually just take them to work in a pinch.
Do you ever resort to frozen meals?  Do you do them on the stove-top/oven or resort to wonders of the microwave?
What do you look for first on nutrition labels?  Calories?  Protein?  Sugar?  Fat?