Thanksgiving sides can get heavy and repetitive.
Stuffing, cranberry molds, green bean casseroles…
Truth be told, I don't even like most of the traditional Thanksgiving food.  This year, I decided to get creative with the seasonal veggies and create a light and easy raw salad.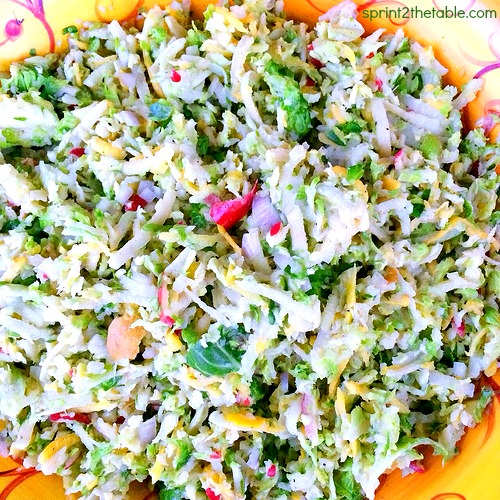 Coleslaw is thought of as a summertime picnic food.  I switched it up by using brussels sprouts rather than cabbage, and mixing it with a blend of sweet and tart apples and butternut squash.  Butternut squash is soft enough to be eaten raw, and it makes a great color addition!
The shallot and ginger add more dimension, and the light lemon-yogurt dressing doesn't weigh this salad down.  Recipe at the bottom!
---
I STILL haven't done a real grocery store run… it's been hard to do with my workload, catching up on life outside of competition, and holiday events.  That hasn't stopped me from doing lot of baking and having FUN with food.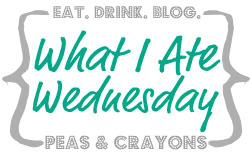 Read on for my eats, and then check out Jenn's blog for everyone else delicious creations!
---
Breakfast:
As always, the day began with my apple cider morning cocktail. 

Breakfast was a hot one on a cold morning.  It's taken me thing long to want oatmeal again after all the competition prep, but this pumpkin creation hit the spot with its pie-like combo of pumpkin puree, cinnamon, ginger, and Stevia.  Topped with bacon.  Because I can.
Mid-Morning Snack:
Soooo… this happened:
A leftover #strangebutgood brownie is legit lunchtime workout fuel.  As my trainer likes to say, "It's ok. I'm bulking."
What makes it strange?  That recipe is come next week. 😉
Lunch:
I'm steadily working my way through my stash from Sizzlefish.  Lunch was a new-to-me fish: Sable.  It was SO good!  Buttery and meaty, fully of good omega 3s!  I ate it with a side of my Raw Brussels Slaw and roasted buttercup squash.
Mid-Afternoon Snack:
I'm still loving my Think Thin stash.  They are really, really good frozen too.  Someone on Instagram told me to try that… I can't remember who, but thank you!
Dinner:
Dinner was Swordfish with roasted broccoli slaw tossed in hot sauce.  I had a chocolate craving, so I turned my roasted buttercup squash into dessert, tossing it in a sauce of cocoa powder, cinnamon, Stevia, and almond milk.
Dessert:
Pumpkin Pie midnight snack!  I mixed Greek yogurt and pumpkin purée with cinnamon, ginger, cloves, and Growing Naturals vanilla rice protein powder.  Then topped with a cocoa powder and peanut flour sauce, part of a peanut butter Design Whey bar, and cacao nibs.  #faceplant
---

Raw Brussels Slaw with Apple & Butternut
1/2 C non-fat plain Greek yogurt
3 T extra-virgin olive oil
3 T fresh lemon juice
1/2 tsp cumin
Freshly ground pepper
2 Granny Smith apples, cored
2 Gala apples, cored
1/2 Butternut squash (~1 C)
1/2 pound brussels sprouts
2 inch piece fresh ginger
1 small shallot, diced
In a small bowl, whisk the yogurt with the olive oil and lemon juice and season with cumin and pepper.
Using the shredder attachment of your food processor,* shred the apples, squash, brussels, and ginger.  Transfer to a large bowl and toss with shallot.
Add the dressing and toss to coat.  Taste, adjust seasoning as needed, and serve.
The slaw can be made ahead and refrigerated overnight.
Makes 10-12 servings.
*Note: If you don't have a food processor, you could rough-chop the fruit and veggies, or pulse in a blender to shred.
***
I'm taking the rest of the week off for Thanksgiving.  I hope you are able to do the same… even if you're not in the US. 😉  Wishing everyone a happy holiday – Thanksgiving and Hanukkah!
Have you ever had raw brussels sprouts?  How about butternut squash?
Are you making a special dish this year?  What is it?