It seems that the whole world is on the running train lately.
The whole world also continues to be on the weight-loss train.
Yes, running is a great way to shed some lbs… but it has other benefits!  In addition to the obvious (weight-loss and heart-health), running can also prevent bone/muscle loss and boost the immune system.
It can make you happier!  Exercise in general produces endorphins.  It also has a goal-achievement component.  Working towards and accomplishing a goal builds confidence.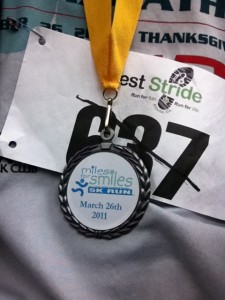 Every time I have a new PR or run a little further than before, I'm proud of myself!  That's a great feeling.
My favorite point the article make is that running is a social activity.  Often times running is boxed in as a solo sport.  It is to some extent – you can do it anywhere, anytime.  No special equipment or teammates required.  (Yet another benefit.)
However, as the popularity of running continues to grow, it is becoming an activity for friends/significant others/family to take part in together.  What better way to build friendships with other health-conscious people than by working out together?
And you have a great excuse to share a well-deserved post-run beer with a new running buddy as it gets warmer. 🙂
---
While we're on the healthy train, how about a healthy cookie?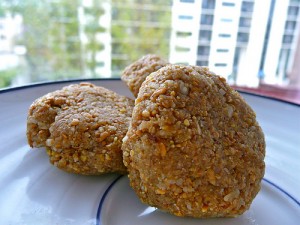 Raw.  Vegan.  Brazilian (sort of… they  contain Brazil nuts!).
These cookies are filled with yummy "good" fats.
Averie made these @ Love Veggies and Yoga.  After seeing hers, I knew they had to be MINE.
---
Raw Brazilian Flax Cookies
Prep Time: 15 mins
Keywords: blender raw snack dessert gluten-free low-carb vegan vegetarian Brazil nuts flax seeds coconut butter healthy
Ingredients (5 cookie bites)
1/2 C flax seeds
1/8 C maple syrup
1 T coconut butter
1 tsp cinnamon
1/2 tsp chili powder
1/8 tsp butter extract (mine is super-concentrated)
10 Brazil nuts
Instructions
Place flax seeds in blender and run until well-ground.
Add the syrup, coconut butter, spices, and extract to blender. Run until mixed. Then add Brazil nuts, blending until small-ish chunks are left (just enough to leave a little crunch).
Scoop out 1 HEAPING tablespoon at a time, forming into little cookies.
*I used toasted flax seeds, which a fantastic nuttiness to the cookies.
***
I'm ready for this grey weather to end so the SUN can be my motivator again!
Do you run?  If so, what is your motivator?