I am not a morning person.
After hitting snooze too many a few times, I'm forced to race through my morning routine.  I squeeze in a quick workout, shower, try to make my face look presentable for work, and inhale breakfast.  This means I NEVER have time for something a decadent as baked oatmeal.
That is until now.
In honor of National Nutrition Month I was contacted by a representative from Driscoll's Berries to share a recipe I use to fuel up.  I was not compensated in any way; the only stipulation was that the recipe must use fresh raspberries as an ingredient.
Berries are one of the seasonal spring items I most look forward to.  Aside from the deliciously sweet taste they add to dishes, they also pack a ton of nutrients.  Raspberries have a high fiber content and are rich in antioxidants, which can fight inflammation and degenerative disease processes in the body.
Baked oatmeal is a favorite breakfast in my house.  Until recently it was also a rare breakfast.  Who has time to bake in the morning?!
Then light bulb went off.  Pre-Baked Oatmeal.
These baked oatmeal bites were made in advance to be frozen.  All you have to do is grab one or two from the freezer and pop it in the microwave to defrost.
Baking these in muffin liners is especially convenient for shoveling delicately eating your oatmeal on the run.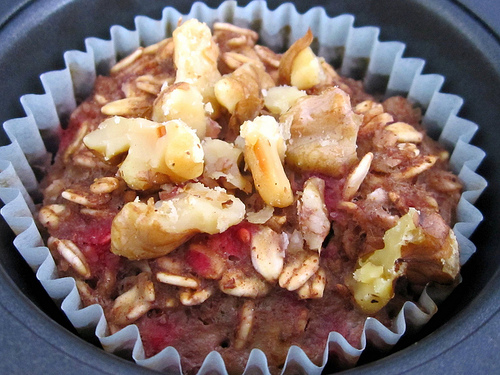 Bananas help to bind these together; and those bananas with the pieces of raspberry provide pleasant bites of sweetness.  Depending on your berries and bananas, you may not need to add any sweetener!  It's still early in the season, so I added a bit of liquid Stevia.
These also make for a great snack while cheerleading. 🙂
Not in the mood for berries?  Check out the Sweet Potato version!
---

Raspberry Baked Oatmeal To-Go
2 ripe bananas, mashed
1 C raspberries, lightly mashed
1 egg (I used a flax egg – 1T ground flax + 3T water)
1 tsp vanilla extract
1/2 tsp maple extract
2 C rolled oats
1 T cinnamon
1 tsp baking powder
1/4 tsp salt
8 drops liquid stevia
3/4 C unsweetened almond milk (or other liquid)
Topping ideas: Walnuts, pecans, chocolate chips, shredded coconut
Pre-heat oven to 350 degrees.  Line a muffin pan with cupcake liners, or grease with cooking spray
Mix together banana, raspberries, flax egg, and extracts.  Stir in oats, cinnamon, baking powder, salt, and sweetener.  Mix in milk and stir until combined.
Pour batter evenly into tins.  Sprinkle with desired toppings, pressing lightly into batter.
Bake 20-25 mins, or until a tooth pick comes out clean.
Enjoy a few fresh, and allow the remaining to cool completely before placing in a freezer bag for storage.  For a quick breakfast, remove muffin from the freezer and microwave ~30 seconds (until warmed through).
Note: Depending on the size and ripeness of bananas, you may need to adjust amount of liquid used.  Don't worry if you don't have maple extract; you can also use maple syrup (be sure to adjust sweeteners) or omit.
Makes 12 muffins.
***
Warning: these muffins won't last very long. 
What is your favorite spring produce?
Do you take time of a nice breakfast, or eat on the go?