It's my birthday week!!!
So I made myself a cake.
Actually, I made this cake on the 4th of July… but I consider the whole month my birthday.  Therefore, this was a marriage equality-4th of July-birthday cake.
Regardless of the occasion, there's no better show-stopper than cutting into this Rainbow Layer Cake at a party and revealing the vivid layers of color.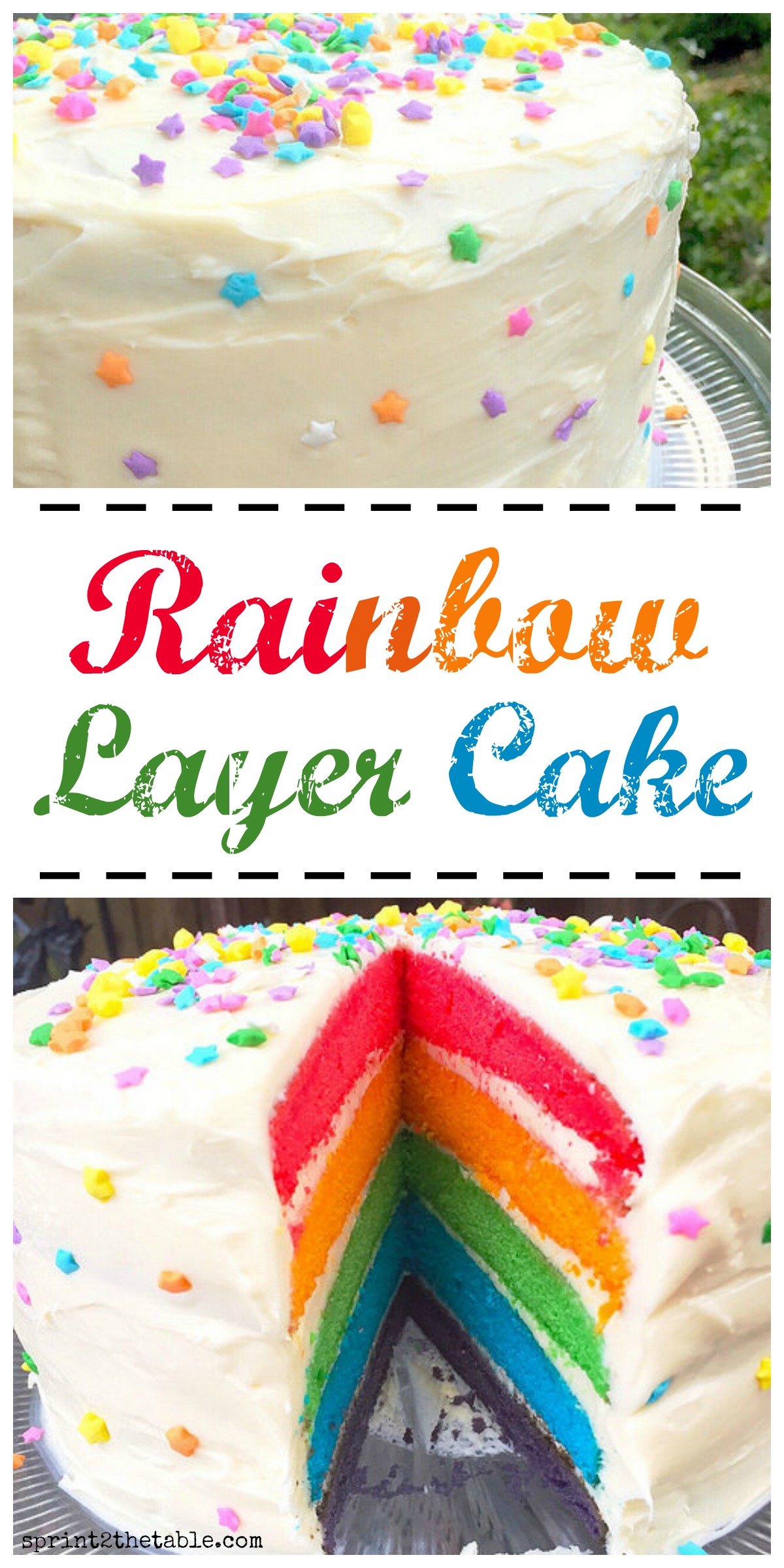 Baking is relaxing to me.  The more complicated, the more fun.  I think it's like playing music of painting for some people.  if I can come home and bake after a long day, I'm a happy (birthday) girl.
This cake wasn't super easy… but it wasn't terrible either.  It's more time consuming than anything.  I made a homemade cake, but you can make this even easier with a couple of boxes of white cake.
Here's one thing that will make your life SO MUCH easier: weigh the batter.
Using a kitchen scale, weigh your mixing bowl before you add anything.  Write the number down.
After the mixing the batter, weigh it again.
Subtract the original number (the weight of the bowl) and divide it by 5.
Use that number to evenly distribute the batter into smaller bowls before mixing in the food coloring.
I made the cake from scratch, but I cheated with the icing.  I hate making icing.
I didn't know Duff had canned icing, but was happy to see it at Target!  It was delicious.  Plus it doesn't taste like Betty Crocker so people will still think you made it yourself. 😉
Add a schemer of icing to the cake stand before adding the first layer to prevent sliding.
When you begin to compile the cake, add the first layer (the purple) top-down.  By putting the bottom of the cake on top, you have a level surface to ice and it will have fewer crumbs to navigate.  I added about 1/3 of a can of frosting to each layer.
That brings me to another tip for cake-making: do a crumb layer first.  This way all your beautiful rainbow crumbles won't shine through the white icing.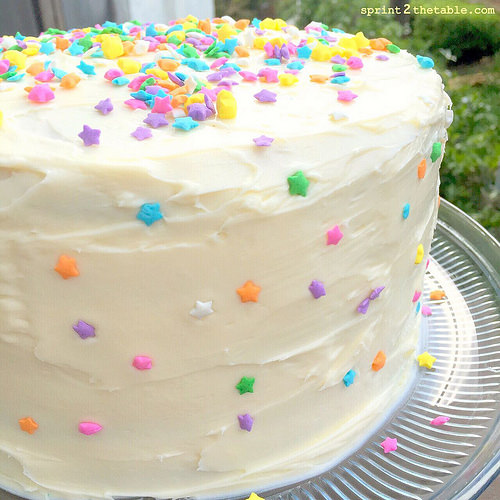 You can decorate your cake any way you like.  I'm not skillful with making icing flowers or anything like that, so I went a bit abstract with some rainbow star sprinkles.  Make sure you son't add sprinkles until the day you're serving the cake.  They tend to meld and bleed all over your pretty white icing.
Then comes the terrifying fun part – cutting the cake and seeing the layers.  I literally held my breath as I cut the first slice.
It worked!!!  I laughed when I saw it.  People oooooh-ed and ahhhhh-ed.  The skies parted.  A rainbow and unicorns appeared.
Maybe not… but that's how it went in my head.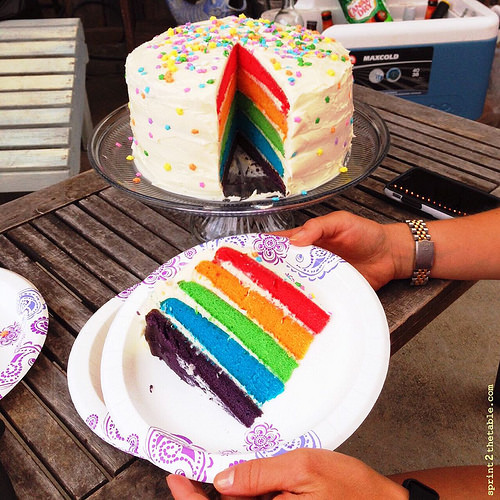 ---
1CAKE
adjust servings
Ingredients
1 1/2

C (360 ml) whole milk, at room temperature

7

large egg whites (210 g), at room temperature

1

whole egg, at room temperature

1 1/2

T pure vanilla extract

3 3/4

C (420 g) cake flour, sifted

2 1/4

C (450 g) sugar

1 3/4

T baking powder

2 1/2

sticks salted butter, at room temperature and cut into cubes

2

cans of icing
Instructions
Preheat oven to 350°F. Grease, then line with parchment and flour two round 8-inch pans (you will be using them multiple times), or five 8-inch pans (if you're crazy enough to have that many on hand).
In a medium bowl or measuring cup, combine and stir 1/2 cup of the milk, stir the egg whites, whole egg, and vanilla extract. Set aside.
Sift cake flour twice. In the bowl of an electric mixer fitted with the paddle attachment, combine the dry ingredients, including the sugar, together on low-speed for 30 secs.
Add the butter, blending on low-speed for about 30 seconds.
Add remaining 1 cup of milk, and mix on low-speed until just combined. Increase to medium speed and mix for 1 1/2 mins.
Scrape the sides of the bowl and begin to add the egg mixture in 3 separate batches; beat on medium speed for 20 seconds after each addition.
Pour 1/5 of your batter (for me a fifth was 384 grams, or about 1 1/2 C) into each prepared pan (if you have 2 pans, you will bake 2 layers first followed by the remaining), spreading it evenly. If possible, weigh the batter to ensure even layers.
Bake cake layers in center of oven for ~15 mins or until a toothpick comes clean when inserted into the center. Be careful to not over-bake – these are thin layers. Check cake at 15 mins, but not before.
Let cool on racks for 10 minutes before loosening the sides with a small spatula, and invert onto greased wire racks. Gently turn cakes back up, so the tops are up and cool completely.
Wash the 2 cake pans and line, grease and flour again and repeat.
Wrap tightly and store at room temperature for up to 2 days, refrigerator for up to 5 days, or frozen for up to 2 months.
Ice the cake in layers no more than one day before serving. Be sure to do a crumb coat first. Decorate as desired. I used star sprinkles.
***
I don't care how old I am, the birthday week will always be marvelous.
What the most difficult thing you've ever made?  Mine is still this Sweet Potato-Toasted Marshmallow Cake.
Do you celebrate your birthday all month long?