I can't be satisfied with simply being right.
No, I have to drive the point home over and over and over again.
It's no secret that Vegas thought she didn't like quinoa.  She did.  And then she did again.  But the third time really is the charm.
Anyone with a sweet tooth can get on board with something sweet.  I proved that point, so now it was time to go savory.  I couldn't see Vegas eating a giant quinoa bowl, so I went with her favorite food group: pizza.  For breakfast.  It's a little strange but I swear it's good – for breakfast or dinner!
You could probably call these pancakes too, but pizza is more fun.  The key to getting them right is the liquid ratio.  Make sure you squeeze the excess water out of the shredded zucchini before you mix everything together.  The grating and squeezing may seem like a process, but it's really fast.  I just use a little hand grater for the zucchini; since it's so soft, it only takes a second.
To save more time, I make a giant pot of plain quinoa on Sunday so I can use it in different ways throughout the week.  It's amazing what you can do with a giant container of quinoa.
Topping these like a pizza just adds to the fun.  We went with #yolkporn, bacon "sprinkles," and tomato sauce.  Get creative with it!
---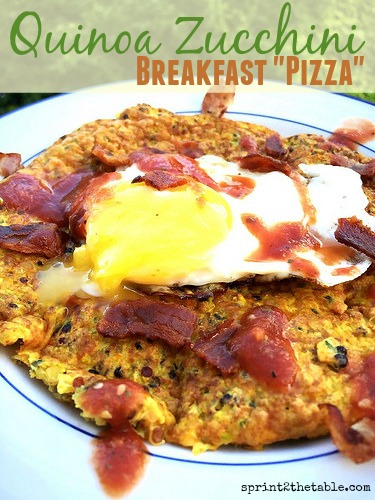 Quinoa Zucchini Breakfast "Pizza"
1/4 C cooked quinoa
1/4 C shredded zucchini
1 egg white
1/2 tsp Italian herbs
1/4 tsp turmeric
1 egg
Bacon sprinkles
Tomato sauce
Heat a small, greased sauté pan over med-high heat.  
Grate zucchini and squeeze out excess water.
In a small bowl, combine quinoa, zucchini, egg white, herbs, and turmeric.  Stir to combine and pour evenly into pan.  Cook for 6-8 mins, flipping half way (like a pancake).
Meanwhile, prepare eggs and bacon to your liking.
Transfer pizza to a plate and top with egg, bacon "sprinkles," and tomato sauce.
Makes 1 serving.
Approximate Nutritionals: 200 calories, 16g protein, 13g carbs, 2g fiber, 2g sugar, 8g fat, 303g sodium
---
How have you enjoyed making co-workers, friends, or family stare with strange but good creations this week? The link up rules can be found here or by clicking on "Strange But Good" in the menu bar above. In short, I want to see what concoctions have earned you weird looks from co-workers, family and friends! Post your Strange But Good creations, grab the logo below for your blog, and link up here.
Remember to use #strangebutgood in any Tweets and Instagrams of your creations. 🙂



***
Technically I'd already gotten her to eat quinoa in this cauliflower crust pizza… but since it was flakes I thought we needed to do it again.
What's your favorite way to eat quinoa?
How would you top this breakfast pizza?