Sometimes I get a wild hair and do nutty things.
Like signing up for 8 hour races, totally untrained.
The good thing is that I'm just a stubborn as I am nutty.  If I sign up for a race, I'm going to do it!  Next to proper training, the most important thing you can do is fuel properly.
For last weekend's adventure race, I made absolutely sure I had what my body needed.  A big part of that was these bars.  If they won't keep you going, nothing will.
I've seen recipes for homemade granola bars, yet for some reason I was too lazy to make them.  But… I figured that if I could do a race like this, then I could muster the energy to make my own fuel.  After seeing Lindsay's Quinoa Breakfast Bars I knew mine HAD to include quinoa – good, filling carbs.
When I'm running, I don't like to take in massive amounts of protein because it can cause cramping.  The moderate amount in these bars helps keep you sated and energized.
They also include brown rice syrup for energy – endurance is not the place to try to sub with Stevia.  The chia seeds are great for hydration, and contribute healthy fats along with the nuts.  Lastly, I added ginger.  Ginger is known to help calm the tummy, something I was worried about having just recovered from the stomach flu.
Finally, the most important part: TASTE.  These are phenomenal.  Not so sweet as to exhaust your palate, but just enough to complement the peanut butter.  The way the oats and quinoa softened during baking bring to mind a fudge-y peanut butter.  I also loved having the bite from the larger pieces of nuts.
Bonus: They held together in a baggie during the race, and the extras have worked well frozen and reheated as a quick snack/yogurt topper.
---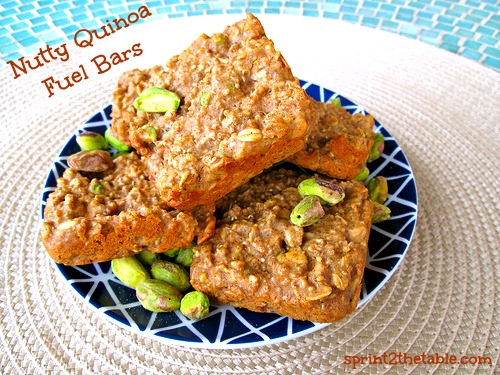 Nutty Quinoa Fuel Bars
1/4 C brown rice syrup
1/4 C nut butter (I used 2T almond and 2 T peanut, freshly ground)
2 T coconut oil (melted)
1/2 tsp vanilla
1 C quinoa, cooked
3/4 C rolled oats
1/4 C vanilla protein powder (I used Growing Naturals Rice-based)
1 tsp ground cinnamon
1/2 tsp ground ginger
1 T chia seeds
1 egg (or flax egg)
1/2 C nuts (I used crushed pistachios and walnuts)
Preheat the oven to 350 degrees.  Grease a square muffin pan or an 8×8-inch pan.  
Combine the syrup, butters, and vanilla in a small bowl.
In a large bowl, mix together the quinoa, oats, protein powder, cinnamon, ginger, and chia seeds.  Stir in egg, mixing well to avoid clumps.
Add the wet mixture to the bowl, again stirring well to distribute the ingredients and form a dough.  Fold in nuts.
Spoon the dough onto prepared pan, spreading into a flat layer. Bake for 18-20 mins, until golden brown on top. Remove from oven and let cool before removing from tins or cutting into squares.
Makes 11 squares.  (I must have eaten too much dough…)
Approximate nutrition: 183 calories, 9.5g fat, 21.6g sodium, 18.5g carbs, 3.2g fiber, 5.2g sugar, 7.g protein
***
I am all registered for the Blend Retreat!  Hope to meet /reunite with many of you there! 🙂
What is your favorite race fuel?
When was the last time you got a wild hair?  What did you do?