Time is scarce.
I'm sure that was a newsflash to everyone…
Lately I've been struggling with wanting to move forward in several areas of my life, but lacking the time it takes to make the necessary changes.
In the gym I've been rushing through workouts because I'm so busy at work.  I'm still putting in the effort, but my rest time suffers.  Last night I took the time to more thoughtfully move through my workout and take the rest I need between sets.  Lo and behold, it paid off!  I hit a new bicep curl PR for the first time in weeks.
I really wanted to tell all of the guys in the weight room, but I managed to bottle my 8-year-old-on-Christmas-morning excitement.  I did tell my concierge and he noted that I look bigger. 🙂
---
The next thing I'd like to do more with is developing recipes.  My Recipage still needs to be completed, and I have a few new recipes I need to share with you guys from 2-3 weeks ago.  I've been too lazy to edit pics.  Is that terrible or what?!
I want to get back to posting more food.  I'm still cooking a lot, but lately I've been rushing around too much and not bothering to measure/take "good" pics of anything I'm eating.
Tonight is a great example.  I was in a rush and made my cauliflower pizza crust again.  This time I used different spices that worked really well… but I didn't write it down.  I also didn't take a pic… which I really needed to do so I could join Heather's Meatless Monday A-Z link up.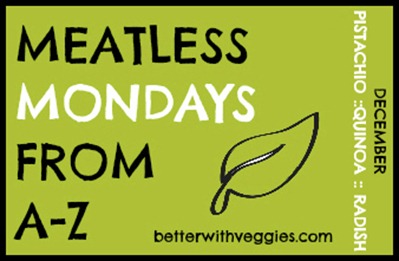 She might kick me out for this one, but I DID use this week's ingredient – quinoa – to make a vegan version of my Cauliflower Pizza.  The binders in the crust were a flax egg and quinoa flakes.  Check out the original recipe here.
---
Finally, I've been wanting to make forward progress on is this blog.  My goal is to make it more interactive.  I love all of your comments, tweets, and emails, and I wanted to find ways to be able to get to know you better and make sure I'm posting things you're interested in.  Step one was the Facebook page I created last week.  (Pretty please "like" me!)  Step two is what I want to share today.
For weeks I've been threatening to start a "Strange But Good" link up.  Now that I have a snazzy new logo, I have no excuse not to get it together and brave the Linky thing.  This Friday will mark the first ever Strange But Good Link Up!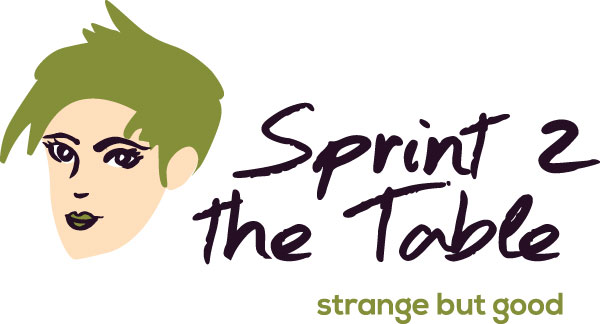 Here's the deal.  A lot of things healthy living bloggers/readers eat wouldn't be considered strange inside this community; however, your co-workers, friends, and families probably give the strange looks when you load up your sweet potato with almond butter, for instance.  Those things count as Strange But Good!
You get bonus points if it's a combo that this community would think is strange.  This could be something like my Vegan PB & Zeggs, or this Chocolate Protein Red Cabbage Ice Cream many of you thought was bizarre:
Want to play?
All you need to do is come up with a concoction this week that is Strange But Good.  Just add the Strange But Good logo to your post and link up to your recipe.  (Copy the code below.)  On the Strange But Good post each week, you'll see a link to add your own recipe and picture at the bottom of the page.
Not a blogger?  I still want to see your strangeness!  Send me an email with a picture of you food and a brief description by noon on Thursday and I'll include it in Friday's post.
It would be fabulous if everyone would use #strangebutgood in any Tweets and Instragrams of your creations. 🙂
***
I'm SO excited about this link up!!!  I've been thinking of how strange a concoction I can come up with to share.  Bwhahaha!
Do you struggle with finding time to make forward progress?  How do you do it?
 Is there anything specific you'd like to see more or less of on the blog?