Recipe inspiration can come from anywhere.
I like to think this excuses my aimless wandering in Whole Foods.
This particular meandering trip paid off!  It resulted in a copycat Pumpkin Tomato Sauce recipe that's a lot less expensive and *almost* as easy as the jarred version at Whole Paycheck.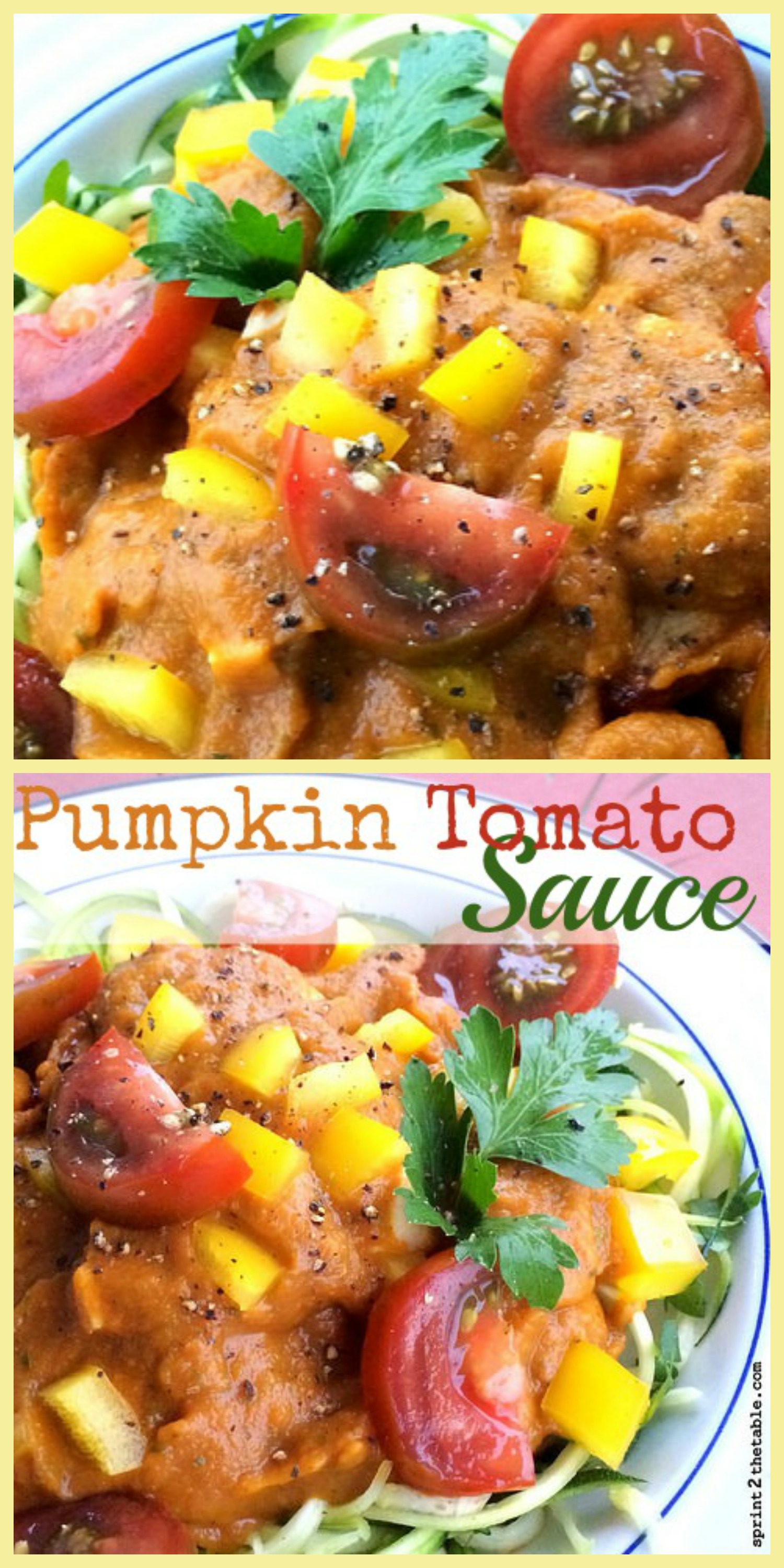 What had happened was… I wandered down the tomato sauce aisle and a bright orange jar caught my eye.  It was pumpkin tomato sauce!  I immediately put it in my cart… then remembered to look at the price.  For $9.99 I could certainly make it myself, and I had nearly all of the ingredients at home.
I took a quick picture of the back of the label and scurried off to execute.
Normally I'm too lazy to actually follow through with a sauce idea.  For some reason using a saucepan seems like a lot of effort.  It's really not.
You could use any winter squash for this one.  A sweet potato would even work.  I happened to have half a kabocha (Asia's "pumpkin") pre-roasted in my fridge so that's what I used.  Don't skip the carrot  or the cinnamon – they sound strange, but they're fantastic adds to any tomato sauce.  The carrot adds a bit of sweetness to balance the acid in tomatoes, and the cinnamon adds just a bit of hmmmmm…
It's just the right amount of sweet and savory for a entree, and I love the kick at the end from the cayenne.  The squash makes the sauce smooth and velvety, like a rich cream sauce.
I am enjoying this pumpkin-tomato creation on everything.  To take these lovely iPhone shots, I poured it over zucchini noodles and roasted swordfish, and then I did it again over soy bean noodles and pan-seared scallops from Sizzlefish.
---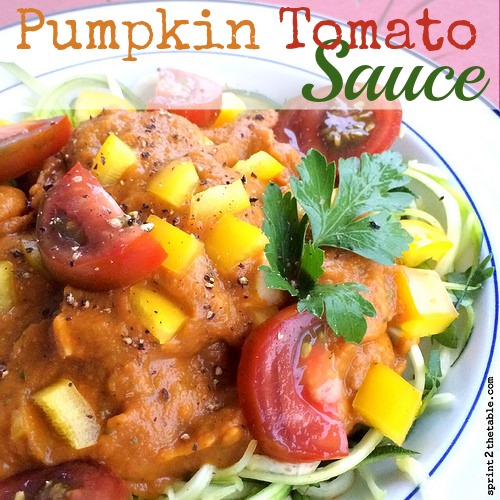 Pumpkin Tomato Sauce
1 shallot, minced (~1/3 C)
1 large carrot, chopped
3 cloves garlic, minced
1 can (14.5 oz) fire-roasted diced tomatoes
1/3 C unsweetened almond milk
1/2 tsp cayenne
1/4 tsp black pepper
1/4 tsp cinnamon
1.5 C pumpkin, roasted and cubed (or 1 C pumpkin puree)
1/4 C fresh parsley, chopped
1/4 C fresh sage, chopped
1/4 C fresh basil, chopped
1/4-1/2 C water, as needed to thin sauce
Heat large saucepan and lightly coat with oil.  Add shallot and carrots; sauté until it becomes tender and translucent.  Add tomatoes, garlic, black pepper, and cinnamon to pan; bring to a boil and then allow to simmer for 7-8 mins to reduce liquid and allow flavors to combine.
Transfer to blender or food processor.  Add remaining ingredients, and blend until smooth.  Taste and adjust spices and liquid as needed.
Makes 3.5 cups.
---
How have you enjoyed making co-workers, friends, or family stare with strange but good creations this week? The link up rules can be found here or by clicking on "Strange But Good" in the menu bar above. In short, I want to see what concoctions have earned you weird looks from co-workers, family and friends! Post your Strange But Good creations, grab the logo below for your blog, and link up here.
Remember to use #strangebutgood in any Tweets and Instagrams of your creations. 🙂



***
One day closer to achieving that orange glow.
Do you pre-roast squashes and/or sweet potatoes for meal prep? Such a time-saver!
What would you put this sauce on?