I am a wuss.
There is a reason I live in the South – cold weather and I are not friends.  I showed up to run the Thanksgiving Half Marathon wearing fleece-lined running pants, a long sleeve shirt, a jacket (with thumb holes!), a fleece scarf, fleece gloves… and a body warmer attached to the inside of my jacket.  I couldn't feel my toes until mile 4.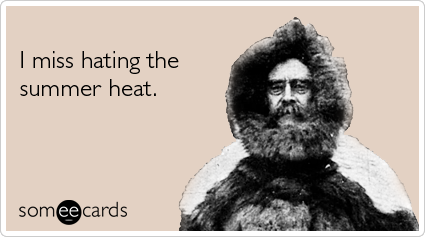 Suffice it to say that my soup cravings are now out of control.  Kind of like my pumpkin obsession.
The logical conclusion is to make soup with pumpkin.  Wait.  It's too cold for a simple soup.  I need a bone-warming chili.  Pumpkin chili!   (No, I haven't actually tuned orange.  Yet.)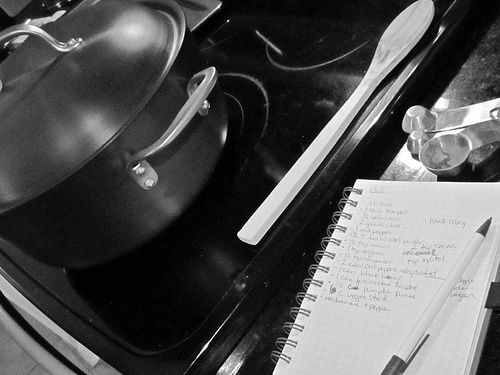 This was my first time ever making chili, so the recipe evolved as I went.  I thought the black and white photo would hide the fact that is was dark and I have poor kitchen lighting make me look classic like Julia Childs.
This chili is vegan – using tempeh rather than ground meat.  Even if you are accustomed to tempeh, I strongly advise you to steam or boil it before you use it in chili.  It removes the bitterness, allowing the other flavors to shine.
With the tempeh and black beans, this is one helluva a fiber-rich, protein-filled meal!
Bad lighting combined with brown food = picture of the year.
I like strong flavors in chili, and the slight sweetness combined with heat.  When creating my chili, I wanted to really feel the heat and the warmth from the cumin and cinnamon.  Cinnamon may seem like an odd choice, but try it out!  It gives savory dishes a fantastic depth and brings out the subtle fruitiness of the tomato.
Cinnamon also works well with pumpkin.  I had about 1/2 a cup of the canned stuff  leftover from my Pumpkin Rum Bread Pudding, and into the pot it went!  I loved the creamy texture it added… next time I may try using even more!
Cocoa also went into the post.  It was almost an afterthought… I tasted the cumin with the black beans and thought a mole twist would be just the thing to make the dish pop.
Top it all off with avocado and – if you really love fire – Sriracha.
Guaranteed to warm you right down to the toes!
______________________________________________________________________________________

Pumpkin Tempeh Chili
1 T extra virgin olive oil
1 package (8 oz) tempeh
1/2 large yellow onion, chopped
1 red pepper, chopped
1 celery stalk, chopped
2 garlic cloves, minced

2 dried arbol chili peppers, re-hydrated and minced
2 tsp cocoa powder
1.5 tsp ancho chili powder

1 tsp oregano
1/2 tsp cumin
1/2 tsp turmeric
1/2 tsp cinnamon
1 T apple cider vinegar
1.5 C (1 can) black beans, rinsed and drained
1.5 C diced tomatoes (I used fire-roasted)
1/2 C pumpkin puree*
1 C vegetable stock
1 tsp Xylitol (or sweetener of choice, if needed)
S+P, to taste
Optional toppings: avocado, sriracha, sour cream, cilantro
Steam tempeh 10-15 mins to remove bitterness.
Meanwhile, saute veggies over med-high in large pot (~10 mins).  Add garlic at the end to avoid burning.  Next add in spices, stir to combine, and saute another 1-2 mins.  Stir in apple cider vinegar to deglaze.
Add tempeh, beans, tomatoes, and  pumpkin.  Stir to combine.  Cover and allow to simmer for ~20 mins, stirring occasionally.
Remove cover and stir.  Taste and adjust flavors.  This is where I added Xylitol.  Allow to simmer 15-20 mins more until liquid is reduced and flavors have melded.
Makes 4 servings (4 cups).
Note: If pumpkin in chili creeps you out isn't available, try using a winter squash or sweet potato puree.  You could also omit.
Approximate nutrition: 320 calories, 9.5g fat, 36.2g carbohydrates, 13.6g fiber, 5.9g sugar, 17.1g protein.
***
I want to try white bean next.  Possibly orange white bean with pumpkin…
Are you a white or black bean chili person?
Do you make large pots of food to eat throughout the week?  What is your staple?