One Thanksgiving meal isn't enough.
It only comes once a year – why limit yourself to just one wonderful meal on that day?  Especially if you've just run 13.1 miles.
Friendsgiving part 2 occurred at one of may favorite local haunts – Diesel.  It's more of a bar, but does serve up some tasty food.  Except on Thanksgiving.  This holiday they were serving drinks and the feast was a potluck.  BYOF.
Potluck Thanksgiving in a bar = BEST idea ever.
We had 21 feet of food (yes, measurements were taken).  3 turkeys (the spicy dry rub was wonderful), a duck, soups, stuffings, collards, mac 'n cheeses, desserts… if you could imagine it, someone had brought it to share.
Incredibly, most of the food was homemade and quite good.  Better than average, in fact.  I went back for seconds thirds.
The most fun to look at dish of the night:
Despite being totally stuffed, dessert remained my weak spot.
My contribution was pretty tasty, if I do say so myself.  In fact, I made it twice over Thanksgiving.  Both times to an enthusiastic reception.
As soon as I laid eyes on chocolate chip Panettone I knew it was going into bread pudding.  Pumpkin bread is better with chocolate chips… why not pumpkin in chocolate chip Panettone pudding?  In the bar-potluck spirit, I added some booze – dark rum was made for sweets, IMHO.
The pumpkin made this pudding especially creamy and the dark rum brought out the sweetness of the Panettone.  Because it is a sweet bread, you don't have to add a ton of sugar to this recipe – just 1/2 a cup in total.
I'll even go out on a limb and say this is one of the best dishes I've ever made.  I don't say that about just anything!
My dish on display at Bargiving:
It's all I can do not to make it again right now…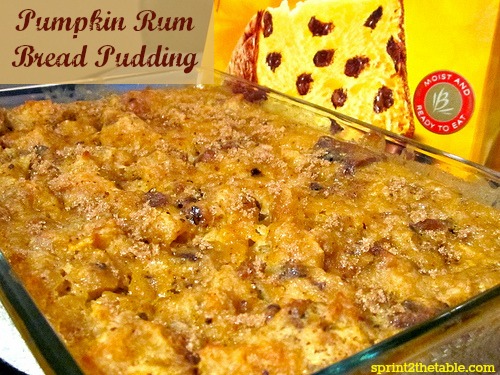 ---
Pumpkin Rum Bread Pudding
16SERVINGS
adjust servings
Ingredients
1

chocolate chip Panettone, cut to ~2 in cubes (~7 cups)

1

C heavy whipping cream

1/2

C milk

1/2

stick salted butter (melted)

3

eggs

1 1/4

C pumpkin puree

3

T dark rum

1

tsp vanilla

1/4

C brown sugar

1/4

C sugar

1

tsp cinnamon

1/4

C chocolate chips (optional)
Instructions
Preheat oven to 350 degrees. Place cubed bread in 9 x 12 pyrex.
In large bowl, whisk together wet ingredients. Add sugars and cinnamon and stir until combined. Pour evenly over bread and toss to ensure cubes are all covered.
Place in oven and bake for 40-50 mins, until pudding is set and top is beginning to brown. Allow to cool ~10 mins before serving.
Notes: You can use other types of breads, though you will want to increase the amount sugar (Panettone is a sweet bread). If you don't like rum, you can cut back or omit it entirely.
***
Coming back to work this week was a terrible shock after 4 days off!
Are you still eating leftovers?
What is your favorite variety of bread pudding?