Strangely enough, it does rain in San Diego.
Especially when I make something pretty that I need sunlight to take pics of.
Chia pudding, pumpkin… none of that is strange.  Adding quinoa to the mix may be a little odd, but it is quite good! (As is the occasional rain.)
Our anti-inflammatory diet experiment had led to a lot of creativity.  Since we are grain-free, I've been using sweet potato and quinoa as our main carbs.  Vegas claims to not like quinoa, so naturally I've been sneaking it into everything.  Like this pumpkin pie-inspired breakfast.

Vegas loves pumpkin pie.  My idea here was to make this taste like pie so she'd never notice she was eating quinoa.  A pie-inspired mix of cinnamon, nutmeg, and clove did the trick.  She cleaned her plate martini glass.  I'm sure the fact that it was reminiscent of a breakfast martini helped my case too. 😉
Quinoa and chia seeds have a good deal of protein, but I amped it up even further and added a nice vanilla flavor with my favorite vegan rice protein powder
.  Did I mention this is a vegan and gluten-free recipe too?  And it's good?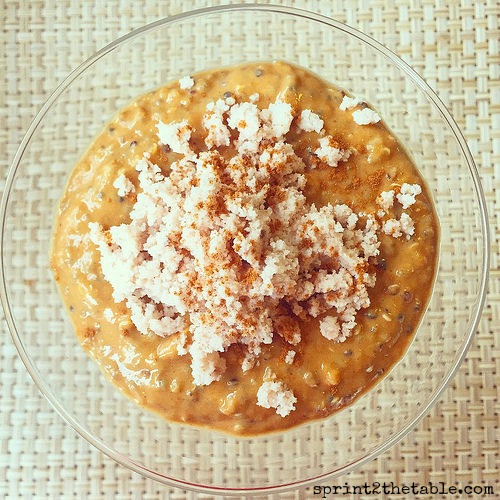 Chia pudding is usually done as an overnight recipe, and this would would work well if made the night before.  I have to be honest though – I haven't been the best planner lately.  I made this and let it sit and thicken 30 mins while we drank our coffee and checked email.
Worked like a charm.
---

Pumpkin Quinoa Chia Pudding
1 C almond milk

1/2 C cooked quinoa
1/2 C pumpkin puree
1 T chia seeds
1/2 tsp cinnamon
1/4 tsp nutmeg
Pinch ground clove
1/4 tsp almond extract
1 scoop vanilla rice protein powder

Stevia, to taste
In a medium bowl, stir all ingredients until incorporated.  Divide between two bowls (or martini glasses).
Place in refrigerator and let sit at least 30 mins or overnight.  Remove and garnish as desired; I used a mix of coconut flour
, almond milk, stevia, and cinnamon to make a coconut "fluff" topping.
Makes 2 servings.
Approximate Nutritionals (without topping): 200 calories, 19g protein, 23g carbs, 5g fiber, 6g sugar, 4g fat, 71g sodium
---
How have you enjoyed making co-workers, friends, or family stare with strange but good creations this week? The link up rules can be found here or by clicking on "Strange But Good" in the menu bar above. In short, I want to see what concoctions have earned you weird looks from co-workers, family and friends! Post your Strange But Good creations, grab the logo below for your blog, and link up here.
Remember to use #strangebutgood in any Tweets and Instagrams of your creations. 🙂



***
Don't forget to enter the NuNaturals giveaway!  It's what I used in this recipe. 🙂
Have you ever had breakfast quinoa?  I did it here too.
Do you like pumpkin pie?  I don't, but I love the spices in it!