Pancake accessories.
How did I not think of this??  
Caffeine and syrup is a natural morning pairing!
This is also a no-brainer.  I need a syrup-saving plate.
(Christmas will be here before you know it, people!)
Despite my apparent fascination with pancake accouterments, today's pumpkin pancakes needed none of that to be good.  These were near perfect (I say near because I believe in all things there is always room to improve).  And I thought I was just quickly throwing something together… don't you love a happy accident?
Disclaimer: dark orange food is just as hard to photog as brown food.  Especially when it's topped with dark red sauce.  Doh.
First let's talk about my favorite food feature – texture.  Pumpkin puree made these 'cakes decadently creamy.  Creamy in a good way, not in the "are these cooked all the way?" way.
Scent is right up there with texture.  My kitchen filled with the smell of fall as these were cooking thanks to the warm cinnamon, nutmeg, and ginger flavors.  A little vanilla for richness and I was ready to build a campfire… but I refrained, as that's prohibited by my condo's HOA.
These fall-spiced pumpkin pancakes were already so full of flavor that I didn't want to drench them in syrup.  My solution was to make a fruit syrup out of black cherries and sugar-free syrup.  I melted the cherries in the microwave and stirred in just a bit of the syrup for a topping that  added a sweet-fruitiness without overwhelming.
Now, if you'll excuse me I have to go make these for breakfast.  Again.
 ______________________________________________________________________________________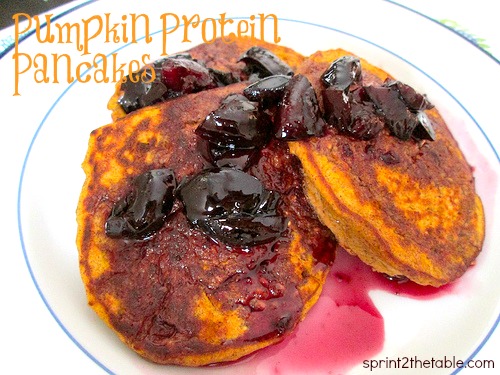 Fall-Spiced Pumpkin Protein Pancakes
1 scoop vanilla protein powder
1/4 C pumpkin puree
1 tsp chia seed
3 T egg whites (make it vegan with a flax egg)
2 T unsweetened almond milk
1/2 tsp vanilla
1/2 tsp cinnamon
1/4 tsp nutmeg
1/4 tsg freshly grated ginger
1/8 tsp no salt baking powder
Syrup (I microwaved 1/4 C frozen cherries and 1T of sugar-free syrup to make mine)
Mix all ingredients together in a bowl. Let the batter rest at least 15 mins (optional, but it will be better).
Cook in greased pan over med-high heat
Consume with reckless abandon.
Approximate nutritionals (without toppings): 148 calories, 2.9g fat, 151.8mg sodium, 11.6g carbohydrates, 5g fiber, 2g sugar, 23.2g protein
***
I think I could eat pancakes for every meal.
What is your favorite pancake flavor?
What was your last happy-accident?