Get "pumped" up.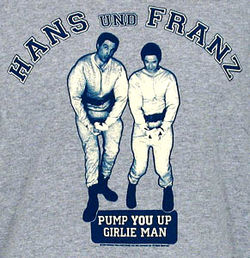 Maybe not quiiiiite as pumped as Hans, Franz, and Arnold.
Weights are my winter my focus though.  When you are lifting weights, you need to take in enough protein to build muscle and achieve that toned look.  (Click here for more on Building Muscle/Protein Intake) 
Getting enough protein is sometimes hard to do on a diet that is plant-based.  No worries.  I baked my way to getting protein… and it even involves pumpkin!  Bonus: they are low sugar.
These pumpkin bars are easy to make – just one bowl and you're done.  They are extremely moist (thank you, pumpkin).  If you like a more "cake-like" bar, just add more flour.
One of my favorite things about this recipe is that the bars freeze really well.  Unbelievably, I think they got even better post-freeze with a quick 20 seconds in the microwave.
I cut mine up in to pretty small squares.  I did the nutritionals for one square, but I eat 2 at a time.  That's 5g of protein for 100 calories and <3g of sugar.  Perfect for a little pre-workout fuel.
Recipe at the bottom!
______________________________________________________________________________________
My ankle has been jacked up (yep, that's the technical term) since the Thanksgiving Half Marathon so I've been loyal to my commitment not to run. 🙂  Of course, since I can't run I really WANT to go for a run.  *sigh*
I did try something new this week – spinning!  I did it once before in high school and my butt was so sore after I swore I'd never do it again.  10-ish years later, the pain is butt a memory (haha) and I got back in the saddle.  It was so much fun!  The hour flew by – we had sing-a-longs, did "hill" intervals, sprinted it out, and did something called jumps.  I can't wait to do it again!
Workout Recap (11/28-12/4)
Monday – 30 mins stationary bike intervals, Biceps/Back, 100 push-ups
Tuesday – My Favorite Intervals, Ab Ripper X, 100 push-ups 
Wednesday – Tris/Chest/Abs with trainer, 100 push-ups
Thursday – 100 Workout, Kickboxing 

Friday – Shoulders, Bike intervals, 100 push-ups
Saturday – Spinning, 100 push-ups
Sunday – Elliptical intervals (1 hour!), Glutes, 100 push-ups
 ______________________________________________________________________________________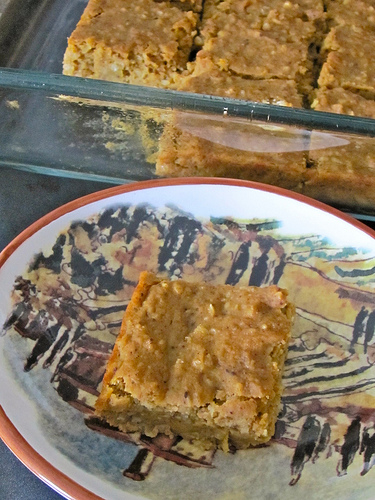 Pumpkin Protein Bars
Adapted from this Jamie Eason LiveFit Recipe.
1/4 C xylitol
1/4 C NuNaturals Baking Fiber Blend
1 – 4 oz. jar baby food prunes
2 tsp. ground cinnamon
1 ½ tsp. ground ginger
1 tsp baking powder
1/2 tsp baking soda
1/4 tsp salt
2 tsp vanilla extract
4 large egg whites
2 C pumpkin puree (or 1 can)
1 C quick cooking oatmeal
1/2 C chickpea flour
1/4 C coconut flour
2 scoops vanilla protein powder
½ cup almond milk
Preheat oven to 350 degrees and prepare large Pyrex (9 x 13).
Combine all ingredients in large bowl.  Spread evenly in pyrex and bake for 20-25 mins.
Makes 26 squares.
Note: You could use apple sauce or date paces in place of the prunes.
Approximate nutrition per square: 50 calories, 0.7g fat, 9.6g carbs, 2.5g fiber, 1.4g sugar, 2.5g protein
***
I have a case of the Mondays.
Do you spin?
What is your favorite thing to eat before and after a good workout?