Moral support is key to any new adventure.
Lucky me – I had my mom and my best friend with me for my venture into the land of food service.
Mom actually walked in 5 mins before the party began with a dish to bake the Jacked Up Brie.  The problem with starting out in catering (and being a minimalist when it comes to server-ware) is a lack of resources.
The second set of "appetizer-like" munchies was a white bean dip and endive boats.
No party is complete without a veggie tray and dips!  The dip I made was a rosemary-laced chickpea dip that used rosemary-infused olive oil and Greek yogurt.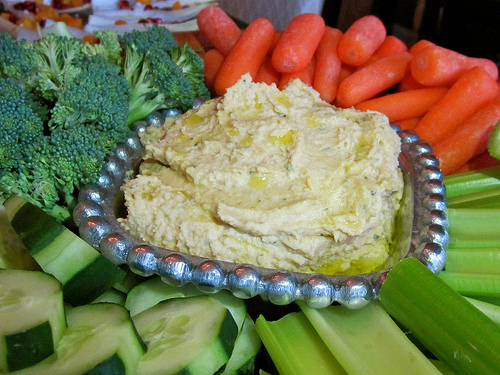 The best part about white bean dip is its simplicity – throw everything in the food processor and hit "start."  Lemon and garlic are must-haves in virtually any bean dip I make.  They keep the Mediterranean spirit of the hummus and were perfect with the rosemary.  You could use any olive oil here, but I liked the added punch of flavor achieved by using the rosemary-infused.
Next up were the endive boats.  Theses were voted the second favorite food item of the night!  It's funny how the simplest things can be so good!  Endive is a sturdy leaf perfect for creating bite-sized salads.  (This dish was originally going to be a giant salad with arugula, but the hostess didn't like the idea of a non-finger food.)
Into the boats went pumpkin bits (from a Sugar Pie Pumpkin I'd roasted and diced a few days in advance),  pomegranate arils (I found whole pomegranates on sale for $2 each!), and goat cheese.  After plating the boats, I drizzled them with a champagne-pomegranate vinaigrette.  It was amazing how much of a difference the dressing made – it was just the right amount of tang to bring the flavors together.
I'll be making these boats again for get-togethers at my house.  With the lettuce base, the possibilities for filling are endless.  These would make a great vessel for chickpea salads, tabbouleh, or even a deconstructed guacamole!
---
Rosemary Bean Dip
2 15 oz cans of garbanzo beans, drained
1/3 C plain Greek yogurt
3 T olive oil (I used rosemary-infused)
3-4 T rosemary
1 tsp lemon juice
2 garlic cloves
S & P, to taste
Place all ingredients into a food processor and blend until smooth, scraping down sides and adding more liquid as necessary.  Don't be afraid to let the processor run for several minutes – it will only make the dip more smooth and delicious!
Makes 2.5 cups.
---
Pumpkin-Pomegranate Endive Boats
Endive leaves
Crumbled goat cheese
Pumpkin, roasted and diced into even squares
Pomegranate arils
Champagne-Pomegranate Vinaigrette (see below)
Trim endives, separating leaves.  Fill with goat cheese, pumpkin, and pomegranate arils.  Drizzle with vinaigrette.
Notes:
– I didn't include amounts since there wasn't any real measuring going on, but 6-7 good-sized whole endives will make boats for at least 15.
– You could use any vinaigrette here, but I would recommend using one that is light in color if the boats will be on display for a while.  A deeper color will stain the endive and make it less visually appealing.
Champagne-Pomegranate Vinaigrette
1/2 C champagne pomegranate vinegar (found at Whole Foods)
1/4 C extra virgin olive oil
Juice of 1/2 medium lemon
2 garlic cloves
1 T sugar
S & P, to taste
Combine all ingredients in a small bowl and whisk to combine.
***
Tomorrow is going to be the "greatest hit" food item.  I'm a little in love with them.
What would your ideal endive boat be filled with?
Do you have the rest of the year off of work?  I'm counting down the days 'til Friday.