Just when you you're getting used to a "special" diet…
…you have to go on a business trip.
I actually like travelling for work.  Airports and hotels don't phase me one bit.  Unless I'm 17 days from a figure competition and have a diet more strict than I ever thought possible.  Between the protein, super-clean eating, and max of 500 mg of sodium per day the trip I'm taking today has been a lesson in food prep.
I'm hoping to put all this together for a fun post… but that requires me remembering to take pics tomorrow!  In the meantime, my friend Kat is going to write guest post for me tomorrow!  She's awesome – a rockstar endurance athlete, avid foodie, and law student.  I think she unlocked the secret to adding hours to a day.
Kat is going to be doing a bi-weekly feature, so please drop by and say hi to her tomorrow when she introduces herself!
_________________________________________________________________________________
We're still rolling with this month's Halloween-themed  What I Ate Wednesday.  I did alright for breakfast and meal 7…. I'm not sure if the rest ties in, but it was delicious and seasonal!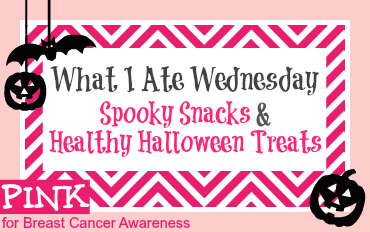 Check out my "special" low sodium, high protein, super-clean eats below, and then click here to head over to Jenn @ Peas and Crayons to get to see how festive everyone else got this week!
_________________________________________________________________________________
Meal 1:
After my morning cocktail (mix of Apple Cider Vinegar, Glutamine, and Fitmixer Aminos), I downed a grapefruit while I waited for some deliciousness to cook (not that the grapefruit wasn't delicious… but it can't compare).
TVP Protein "Oatmeal" has become a low-sodium staple, but I've had this particular version 2 days in a row so far.  It's vegan, gluten-free, protein-filled, and involves pumpkin.  What's not to love?
The fall spiced TVP "oats" with a creamy protein pumpkin pie mixture swirled in… I can't even describe.  It's the most decadent deliciouness!  Full recipe is at the bottom. 
Meal 2:
As much as I've been making salmon and fruit mixes lately, I don't know if I can still call them #strangebutgood.  Strange or not, this was a good mix!
In my not-so-strange but good mix: curried salmon, pepitas, blackberries, and arugula.
Meal 3:
It's the steak of the sea again!  Swordfish has become a weekly staple for me.  This one I grilled with onion, Herbs de Provence, pepper, and lemon juice.  Eaten with sautéed asparagus and shiitakes, and 1/2 a sweet potato.  On a hippo plate 'cause I was a hungry, hungry hippo yesterday.
Meal 4:
So I braved raw chicken again.  Last night I grilled a bunch to bring for lunch this week.  As much as I hate touching it, I do like the taste when it's cooked to perfection (read: not dried out).
I always prepare it 1 or 2 different ways.  That way I don't have  a pound of chicken that all tastes the same.  This piece had onion powder, pepper, oregano, cayenne, and lemon juice.  Eaten with cucumber and carrots. dipped in a quick sauce made of nutritional yeast, paprika, and cumin.  Yes, I recycled the plate.
Meal 5:
Apparently Tuesday night is pizza night.  I've become addicted to making a "crust" out of Kamut flour (no sodium, relatively high protein).  I make it just like socca crust, adding whatever flavors I'm in the mood for.  Lat night I added garlic, rosemary, and paprika.
My Indian-ish Pizza:
Curried chicken
Mint ricotta spread 
Red onion
Fennel
Zucchini
Arugula
The ricotta mixture  of the week was simply fat-free ricotta with fresh mint, paprika, and a little water to thin.  Like last week, I sautéed the veggies before topping the pizza and sticking it under broil for a few mins.  That mint in the ricotta was awesome with the curry chicken!
Meal 6:
For once I wasn't in to mood for something sweet yet!  Probably because I was up prepping food for a business trip.  (Holy mother of planning – travel on a "special" diet is interesting.  More to come on this strategic extravaganza.)
I made one of my favorite simple salads.  Arugula with asparagus tossed with lemon juice and freshly ground pepper.  The protein on top is swordfish (the same pre-grilled batch from lunch).  Three cheers for food prep.
Meal 7:
Guess who's still under her sodium for the day.  THIS girl.  Woo hoo!  Make that day 2 of successful sodium control.  My reward was a Butternut Squash Pudding.
I mixed no-salt cottage cheese, Greek yogurt, and mashed butternut squash with cinnamon, nutmeg, maple extract, and vanilla stevia.  Topped with melted cherries.  #strangebutgood
__________________________________________________________________________________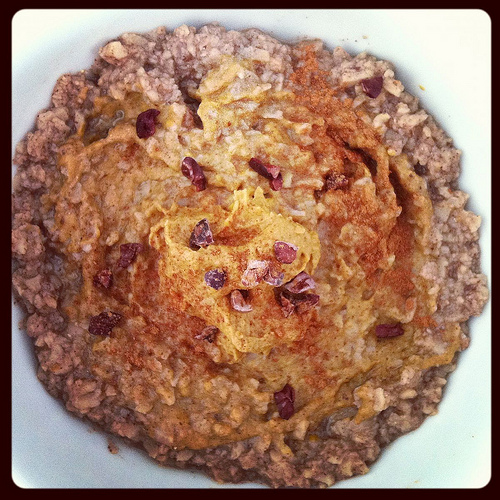 Pumpkin Pie TVP "Oatmeal"
1 serving

TVP Protein "Oatmeal"

(without the egg whites)
2 T pumpkin puree
1/2 scoop vanilla protein powder (1T)
1/2 tsp cinnamon
1/4 tsp ginger
Pinch of cloves
5-6 drops liquid stevia
1.5 T water (or other liquid)
Cook TVP oatmeal as instructed here.
Meanwhile, mix together remaining ingredients in a small bowl to make your pumpkin pie "filling."
Once TVP is cooked, transfer to a bowl and swirl in the pumpkin filling.  Top as desired (I used cinnamon and cacao nibs).
Serves 1.
***
The protein count for the day: 166.1g.  The all-important sodium count: 535.7mg (a little over, but I get some allowance for naturally occurring sodium in veggies).
Quick shameless plug: in case you missed it, check out yesterday's post for another way to vary your workout.  It's the 2nd in my "Work It Out" series!
Has anyone started tracking or cutting back on sodium since last week?  Is it harder than you expected?
What is your favorite food to pack for the road?