When you fail to plan, you plan to fail.
Not until I started competing did I realize how true this saying is.
My food prep is saving me this week, once again.  Starting a new job where I'm in the office every day (I used to work from home a lot) has forced me to be more structured and has tested me mentally.
Planning workouts and meals has become SO important.  Otherwise I'd never get out the door.  Preparation and constantly reminding myself of my goals and why I do this crazy thing is a necessity.
I feel more like I'm going it alone during this competition prep.  I'm adjusting my workouts to meet my needs/limitations post surgery, and I have more fat to cut than I did in the past.
It's new and it's scary.  It's also going to be awesome when I prove to myself that I can get out of my own way to reach a goal.
---
This is WIAW is a little glimpse into how I use my prep to stay in line, despite a new routine and later workouts.  It' not easy.  But it's not impossible.  I think.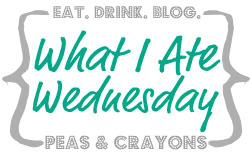 Read on for my San Francisco treats, and then check out Jenn's blog. for some more "normal" days of food.
---
Breakfast:
You may have seen me post on Instagram that I'm changing up my morning cocktail.  I decided to try out new aminos in my draaaank.  Why?  I still love the taste of the old one, but their customer service is so bad (read: non-existent) I can no longer use the product. Their ingredient list wasn't the *most* clean anyway.
This new one came highly recommended by my local nutrition store.  It is pretty good.  Doesn't mix quite as well, but I like the mild taste and it still provides good energy!
I went on a bulgur kick a while ago with this Blueberry-Green Tea Bulgur… then forgot about it.  It made a comeback in this week's food prep!
I mixed this delicious raspberry blend up to grab as a ran out the door to an early morning meeting.  It tasted like raspberry cream.
Raspberry Overnight Bulgur
1/4 C bulgur (raw)
1/2 C Greek yogurt
Water or almond milk, to mix (I think this was about 1/2 C… you can always add more in the AM)
1/4 C raspberries
1/2 tsp vanilla extract
1/2 tsp cinnamon
1/4 tsp ginger
6-7 drops orange liquid stevia (or other sweetener)
Mix everything together in a small bowl or jar and store in the fridge overnight.
Remove from fridge in the morning, add liquid if necessary, and enjoy!
Mid-Morning Snack:
This was Turbot with a random (salt-free!) Indian spice blend I found at the Asian market and a side of my tabbouleh with hummus.
I had just finished re-heating my fish in the break-room when two ladies walked in. One commented: "It smells like dead fish in here." #sorryimnotsorry
You may find it weird to eat fish before noon and/or at work.  I find it #strangebutgood. 
Lunch:
Turkey on a bed of spinach with my new lentil hummus, Ezekial bread, and raw zucchini sticks.  This was going to be a sandwich before I realized I had more stuffing than bread.  Typical…
Mid-Afternoon Snack:
This is like a treat meal to me.  If tuna is the chicken of the sea and swordfish is the steak of the sea… sea bass must be like the pork belly of the sea.  Without the fat (or the pig).  It's absolutely decadent!
The salad with it was broccoli slaw and radish mixed with a quick sauce: nutritional yeast, apple cider vinegar, cumin, turmeric, and smoked paprika.  And I ate it off of a Zoo Pals plate. 😉
Dinner:
Dinner has become snack-like on my new work/workout schedule.  I now have to workout right after work, so dinner actually is at 9pm and looks like dessert most days.
This is my chocolate-beet smoothie (it's become a serious addiction), extra spinach blended in.  I left out the coffee since it was late, and topped it with pre-roasted kabocha and granola.
Dessert:
A dessert-like dinner doesn't stop me from doing it again!  Since declaring this pumpkin pie protein bowl The Most Amazing Bowl of Deliciousness Ever, I've had it 3 nights in a row.  After the first night I began freezing it for an hour or so.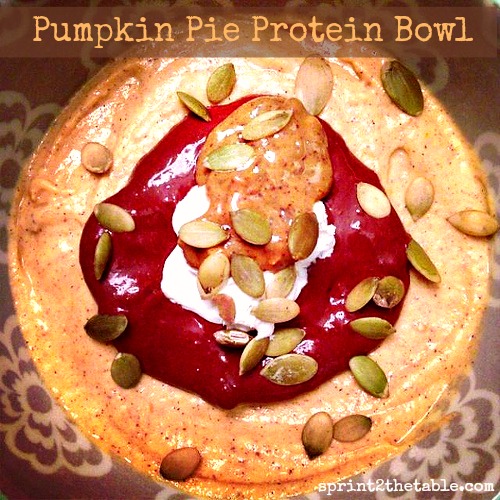 Pumpkin Pie Protein Bowl
1/2 C Greek yogurt
1/2 C pumpkin purée
1 scoop vanilla protein powder
1/2 tsp pumpkin spice
1/4 tsp butter extract (vanilla or almond would be good too)
Optional topping: cocoa sauce (cocoa powder, stevia, and almond milk), peanut butter, pumpkin seeds… etc.
 Place ingredients in a blender and mix until smooth.
Freeze for ~1 hour for a frozen custard, or enjoy right away for a more batter-like snack.
***
It's oddly motivating to be really sore post-workout today.  I guess it's like feeling the reward of hard work?!  #strangebutgood
Do you have any tips for staying focused and getting out of your own way?  Help.  Me.
What's the weirdest thing you've brought to work to eat?