Some things make being on the road all week a little better.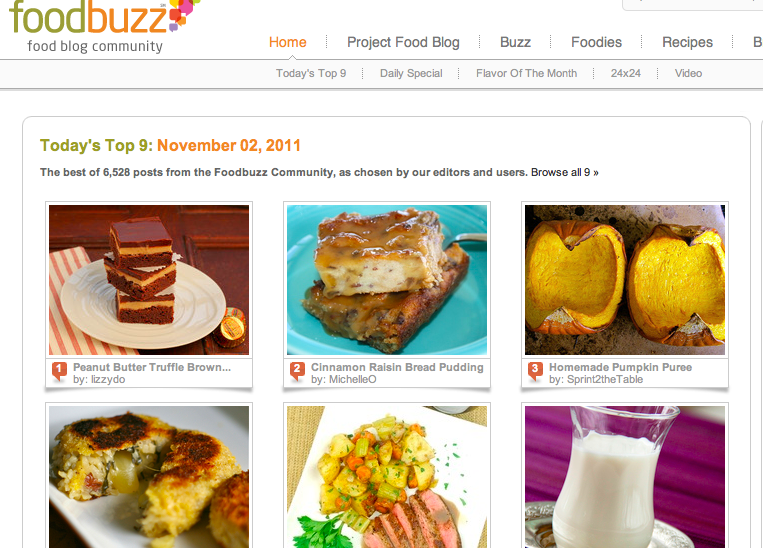 Check out the Roasted Pumpkin in the top left corner of this screen shot of today's FoodBuzz Top 9 – its my roasted pumpkin from this post!!!  🙂
Another thing that makes a long week brighter is my favorite weekly event – Jenn @ Peas and Crayons' What I ate Wednesday.  Here's my WIAW (technically Tuesday… but whatever).
Breakfast #1:
Breakfast #2:
Remember the Sweet Potato BYOB Greek Yogurt?  Same idea, same Sky mag (the new one wasn't out until the flight home – SJP looks amazing in it!), different flavors.
Pumpkin Greek Yogurt with Fage.  I think the secret is using a thick yogurt (this may also help when getting through security!) and not being afraid to add spices/flavors.  Shout out to almond extract and ginger in this cup.  YUM.
You should have see the guys next to me on the plane wondering WTF I was doing taking multiple pics of my BYOgurt. 🙂
Full recipe at the end of this post.
The St. Louis airport was especially festive after the Cardinals big World Series win!
Lunch:
Lunch today was from a deli in the bottom of an office building.  It is barely worth mentions and certainly not worth picturing.  Over-salted but otherwise flavorless vegetable soup and a dry roll.
I would have rather had my Wild Mushroom Soup from last week.
Snacks: 
Unpictured pretzels and an apple on the plane.  I did get a shot of a gorgeous sunset.
Dinner:
Totally made up for lunch.
My boss and I had to work late.  Since we were at the airport already, we decided to check out One Flew South in the ATL airport.  It was recently featured in Food & Wine!
There weren't any vegetarian options on the menu, but they did have tofu in a salmon dish.  I asked the server if they would make a tofu-only dish and they surprised with me an amazing tofu-veggie sauté.  It included sweet potato straws, butternut squash, snow peas, carrots, fennel, spinach, and shittake mushrooms over a parsnip puree.  Absolutely delicious.
Dessert was fantastic – Banana Pudding with 'Nilla Wafers.  So much so that I forgot to take a picture until there was barely a bite left in the jar.
I had NO idea airport food could be this good!
---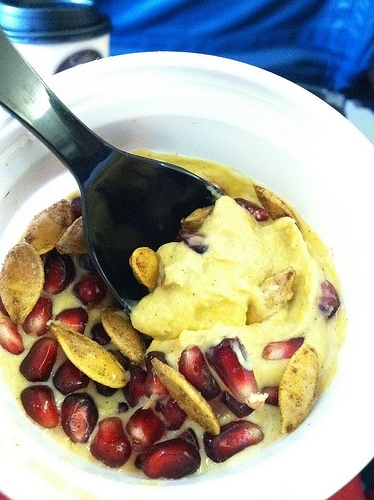 Pumpkin Pie Greek Yogurt
Mix all ingredients together in bowl or recycled yogurt container.  For best results, let refrigerate 1-2 hours or overnight to allow flavors to meld.
Add toppings as desired.  Mine included: pomegranate seeds and these Cardamom Roasted Pumpkin Seeds.
Get through security and enjoy your yogurt-pie as a reward!
As part of the Foodbuzz Featured Publisher program, I have been entered for the chance to win a trip to Greece courtesy of FAGE. You too can enter to win one of three trips to Greece by entering the FAGE Plain Extraordinary Greek Getaway here: http://www.fageusa.com/community/fage-greek-getaway
***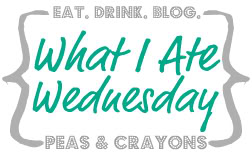 As always, check out Peas and Crayons to see the tastiness everyone else ate today!
What is your favorite seasonal flavor?  Eggnog?  Hot Chocolate?  A pie of sorts?
What airport do you think has the best food?