Previously I posted about a special soup delivery from my teammate/Local 3.  This week I was thrilled to try out the restaurant… errrrr… from inside the restaurant. 🙂
Our server, Lauren, was very nice and just the right amount of attentive.  She made a couple of fantastic wine recommendations and was knowledgable about the menu. She certainly didn't steer me wrong!
The duck fat-fried Hushpuppy + Sambal Aioli "snack" was good (mayyyybe a bit more solid than I could chew, but worth it!).  I love the crunchy flakes of salt sprinkled on top.
For dinner I ordered 2 appetizers: the Sweet Potato Soup (new on the menu and VERY good) and the Oven Roasted Mushrooms w/ Polenta and Truffle Jus.
The polenta was some of the best I have had.  Perfectly creamy, not even a hint of a lump to be found (often a problem with restaurant mass-production).  The truffle jus gave it a rich, decadent taste that played well with the perfectly roasted mushrooms.
Of course, I forgot to take pictures until dessert.
Banana Creme Brulee with a slice of sticky banana bread. It tasted like banana pudding.
We may or may not have made reservations for the below before we left… 3 weeks from now when I can fully chew… Don't judge me.
On Monday nights Local 3 will have "Chef & Coolio's Fantastic Monday Night Voyages*".  A 3-course family-style dinner with beer/wine pairings.  Only $35.  16 seatings.  Beat that, Atlanta restaurants.
*Apparently Coolio refers to a rubber chicken, not the rapper.
____________________________________________________________________________________________________________________________
This Christmas, Santa brought me an ice cream maker.  Despite not being able to chew, it has taken me this long to use it.  (Sad, I know.)
It was worth the wait for this pumpkin pie bowl.
I'm still amazed at how easy this was.  Just blend, cool, pour, mix, eat.
Now that I have that sequence down, the sky is the limit!  I love savory desserts, so I'll definitely be ice creaming up a bunch this spring!
Like pumpkin pie in a bowl.  On ice.  And vegan-ized.
You get the idea.  It was good.  Eat this: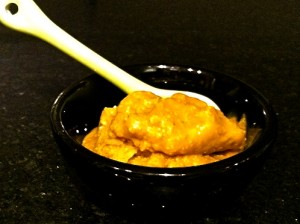 Pumpkin Pie Vegan Ice Cream
1/3 C raw cashews
1 15-oz can pure pumpkin puree
3/4 C water
1/2 C unsweetened coconut milk (a la So Delicious)
1 tsp pure maple syrup
1/2 Stevia packet
1 tsp vanilla
1 tsp cinnamon
1/4 tsp fresh grated nutmeg
1/4 tsp ginger
1/4 tsp guar gum
1/8 tsp kosher salt
Place all ingredients in blender and blend until smooth.  Refrigerate for 2-3 hours, until well-chilled.  Place in ice cream maker and process according to instructions.
Spoon out and enjoy!
Tasty toppings: dark chocolate syrup, caramel, crumbled ginger cookies (or Biscoff), cacao nibs, pumpkin seeds, etc.
Makes 3-4 servings.
***
What is your favorite dessert?  Do you like a salty-sweet?  Fruity?  Sugary?