Quick post before I run to work.  It was too delicious not to share!
I based the recipe on Kath's Pumpkin Oatmeal Pancake.  Actually, my only addition was Pumpkin Spice Greek Yogurt, blueberries and some pumpkin seeds.
Pumpkin Spice Greek Yogurt
1/4 C Greek yogurt
1/4 tsp Cinnamon
1/8 tsp Nutmeg
1/8 tsp Ginger
I turned the pancake into 2 pancakes (they were huge!), layered it with the yogurt, and sprinkled the blueberries and seeds on top.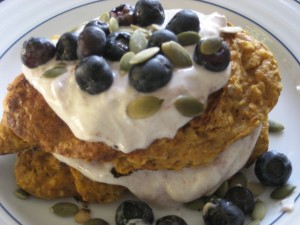 YUM!
I'm super excited for this weekend: lunch with a friend today at Souper Jenny, softball game tonight, tennis, GT Football, and the AIDS 5K run.  I'm going to need a recovery day for my weekend!
Happy Friday!