This Spiced Pumpkin Beer Bread is an incredibly easy homemade bread.  No yeast.  No rise time.  No kneading.  A warm slice is perfect on a cool fall morning!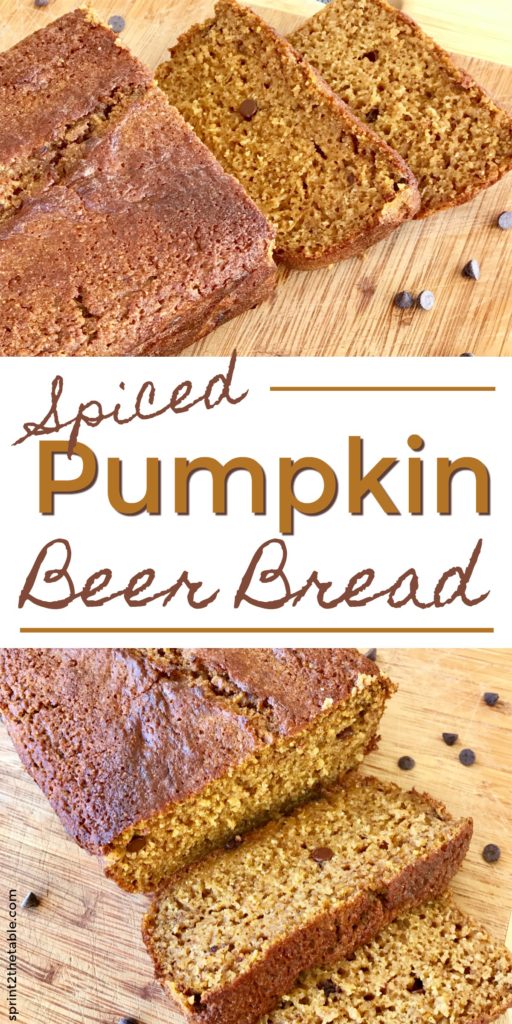 My mom is an incredible cook.  I know everyone says that, but this is legit.  Growing up, she used to make bread.  She did it the old-fashioned way from a starter that she had to feed.  When it baked, I could smell it all the way upstairs in my room.
The best part was that she brought it to me with coffee as I got ready in the morning… and the next day she used it to make french toast. (Which she also delivered to me… how spoiled was I?!  Thanks, Mom!)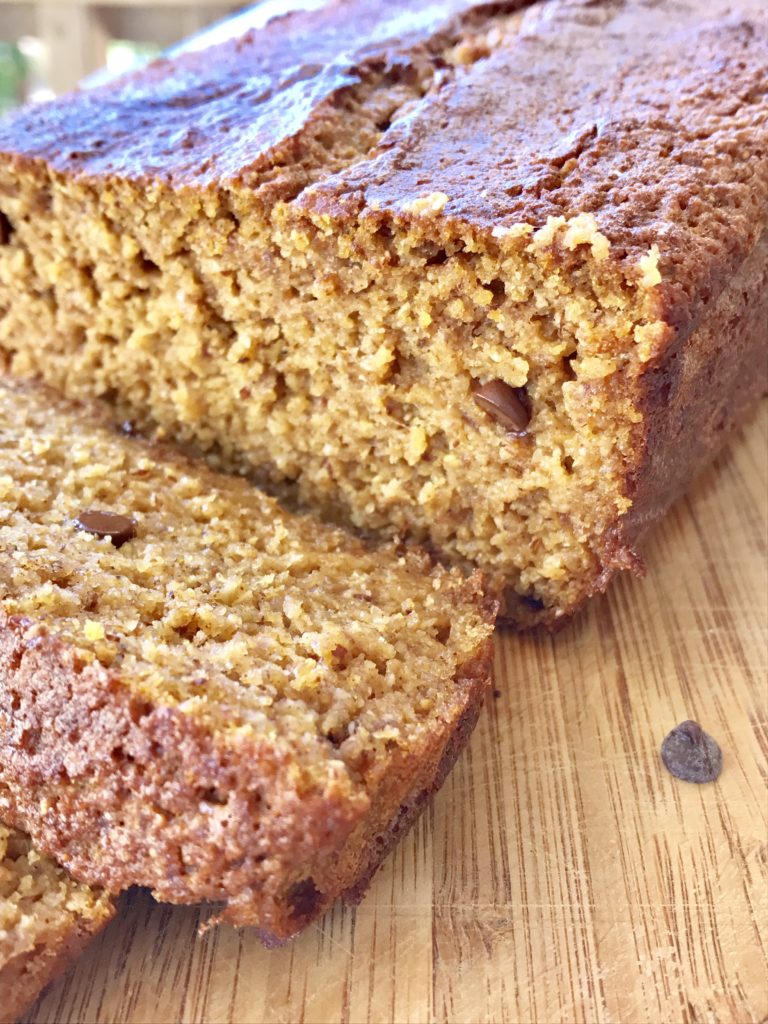 This post is not that bread.  My mother's daughter is impatient and more than a little scared of yeast.  No, this post is about another sort of bread.  My bread is baked with pumpkin beer!
This Spiced Pumpkin Beer Bread is easy to prepare.  No feeding a mother, no yeast, and no kneading required.  It's ready in under an hour, which is perfect for my instant gratification needs.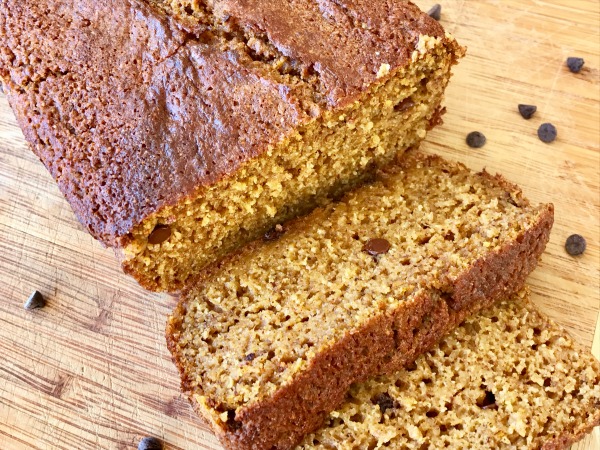 Of course, it wouldn't be me if I didn't try to make a dessert-like bread healthier.  This must be the healthiest beer bread in the world.  Here are some healthy baking hacks I used:
Egg whites and Greek yogurt replace some of the fat while keeping the bread moist. 

Xylitol

, a natural sugar alternative, cuts the sugar a bit.

Whole wheat flour and raw almond flour provide a cleaner and lower-carb base.
I love using NOW's almond flour, because it is 100% pure, unblanched, and (naturally) low in carbs.  How often do you see a lower carb beer bread?  Raw almond flour is a healthy, delicious alternative to bleached white flour.  Not to mention the incredible rich texture it adds to baked goods!
The beer, while not the healthiest ingredient in the world, is a fun seasonal add.  Using it for a Spiced Pumpkin Beer Bread makes total sense.  It's deep, savory qualities balance the typical sugar-y sweetness in traditional pumpkin breads.  With beer, there's a complexity mixed in.  It also eliminates the need to mess around with those little packets of yeast!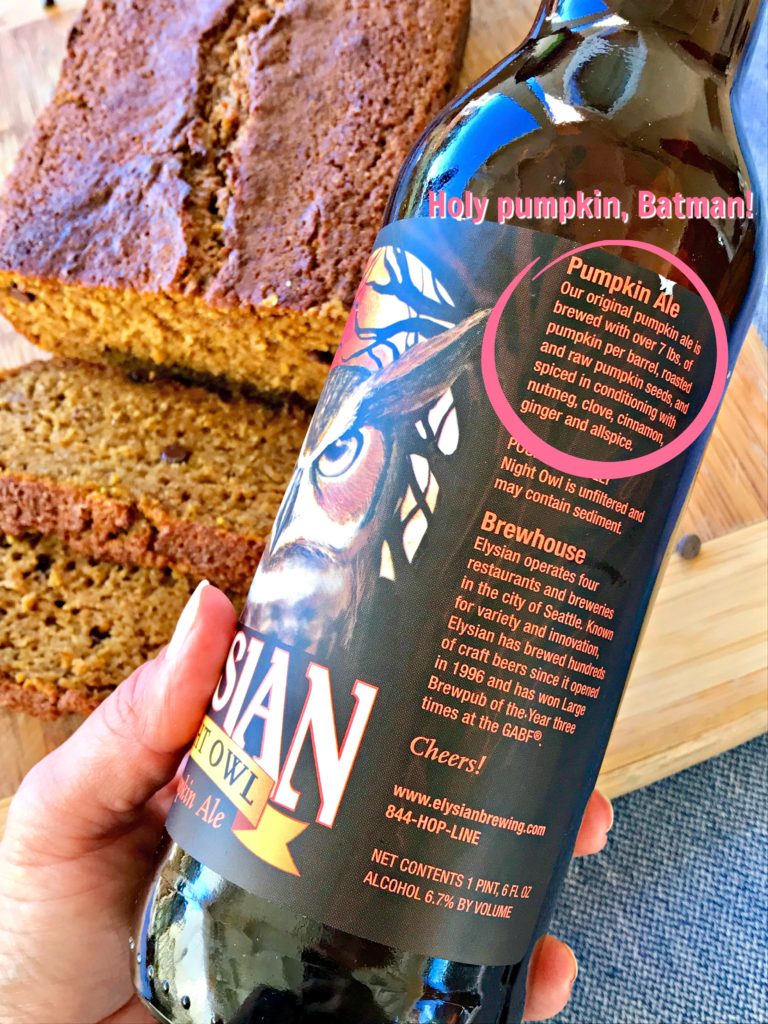 I used the Night Owl Pumpkin beer by Elsyian.  It's brewed with "seven and a half pounds of pumpkin per barrel and spiced in conditioning with ginger, cinnamon, nutmeg, cloves and allspice."  Thankfully, there was a little left over to entertain while the bread baked. 😉
The recipe will make two loaves, but I decided one was enough and used half of the batter for muffins.  Muffins freeze really well to keep on-hand for single-serving emergencies.  Also, the cooking time is much shorter… perfect for my impatient self.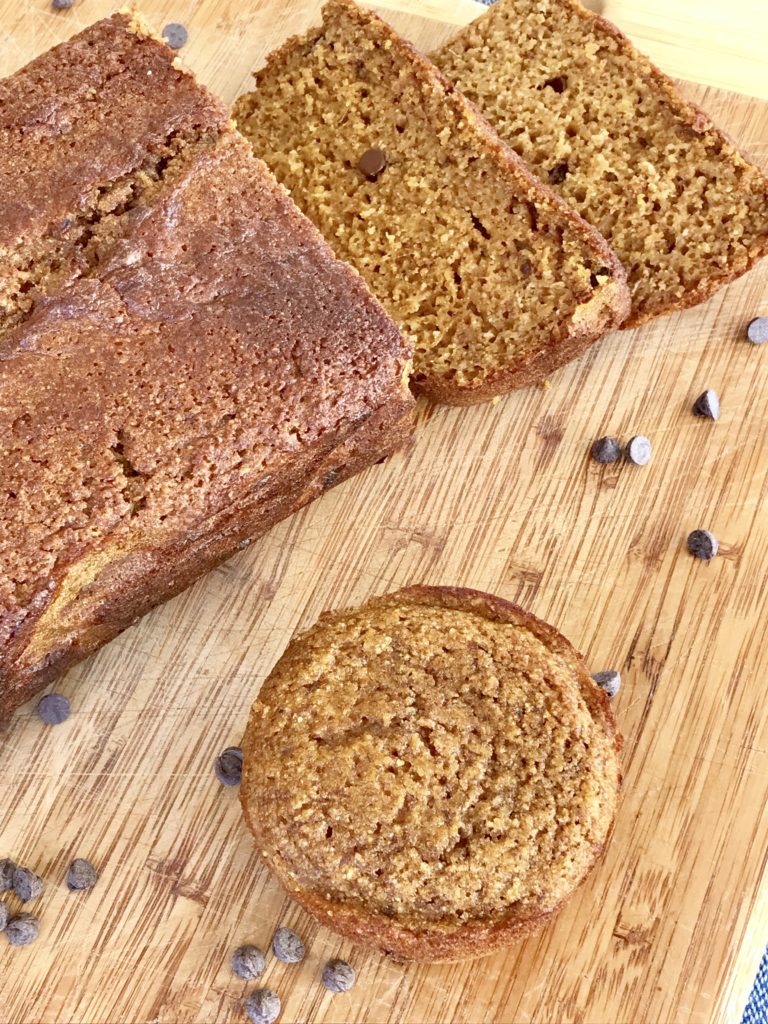 Serve it for breakfast with a schemer of cream cheese, or as a side dish with any of your favorite fall recipes (soups, chilis… sweet 'n savory is my favorite combo!).
I wonder if I could put beer in my pumpkin pancakes… 😈
---
Pumpkin Beer Bread (or Muffins)
24 muffins or 2 loaves
adjust servings
Ingredients
1.25

C raw almond flour

2

tsp baking soda

1

tsp baking powder

1.5

tsp ground cinnamon

1/2

tsp ginger

1/2

tsp nutmeg

1/4

tsp cloves

1/4

C water

1/4

C ground flaxseed

1/2

C sugar

1/2

C xylitol (or more plain sugar)

1/2

C brown sugar

1/3

C Greek yogurt

1/3

C canola oil

1

egg

3/4

C egg whites

1

– 15oz can of pumpkin

1.5

C Elsyian Night Owl Pumpkin Beer (or other spiced brew)

1/2

C chocolate chips (I used the stevia-sweetened chips)
Instructions
Preheat oven to 350°. Prepare 2 bread pans or muffin tins.
In small bowl, combine water and flaxseed. Set aside.
Combine flour, meal, baking soda, baking powder, and spices in a medium bowl.
Place sugars, yogurt, oil, and eggs in a large bowl; beat with a mixer at medium-high speed until well blended. Add flaxseed mixture, pumpkin, and beer; beat at low speed just until blended.
Add flour mixture; beat just until combined. Fold in chocolate chips. Divide batter between pans.
Bake bread for 1 hour, or until a wooden pick inserted in center comes out clean. Cool at least 10 mins in pan before removing. If making muffins, bake for 12-15 mins.
This is a re-make – the original was posted in December of 2013.  For 4 years I've been making this… time flies! 
Have you ever made bread the old-fashioned way?
Did your mom make you breakfast growing up?  After preschool… I'll assume you were fed as a baby. 😉