My mom should have been a chef.
Everyone says that, but this is legit.
Growing up, she used to make the best breakfasts.  Maybe that' where I get my love of the meal?  One of my favorites was her bread.  She mad it the old-fashioned way from a starter that she had to feed.  When it baked I could smell it all the way upstairs in my room.
As soon as she removed it from the over, mom brushed salted butter over the top, creating the perfect sweet-and salty crust.  The best part was that she brought it to me with coffee as I got ready in the morning… and the next day she used it to make french toast (which she also delivered to me… how spoiled was I?!  Thanks, Mom!)
This post is not that bread.  My mother's daughter is too lazy for starters.  My bread is baked with pumpkin beer.  Strange… but good.
I feel a little less ashamed about my bread-laziness because my mom did taste and love this bread.  She even had me send her the recipe the day after I brought it to Thanksgiving!  Maybe it was the beer talking?
This idea isn't my own – I saw Raven's recipe weeks ago and pinned it to try.  I couldn't help but to add my own spin after reading her recipe, and it's inspiration from Cooking Light.
This must be the healthiest beer bread in the world.  I'm always nervous when I start switching up flours, sugars, and fats to lighten up a dish, but I couldn't have been more proud when this came out perfectly… and when mom asked to keep the leftovers.
Egg whites and Greek yogurt replace some of the fat while keeping the bread moist, and give it an almost silk-y canvas.  Almond meal adds a great texture to that, and the spices compliment the pumpkin flavor perfectly.  And the beer?  It was a great yeast, but you wouldn't know it was there if I hadn't told you.
The original recipe makes two loaves, but I decided one was enough and used half of the batter for muffins.  I liked the muffins better because they are easier to freeze and keep on-hand for single-servings.  Also, the cooking time is much shorter… perfect for my impatient self.
---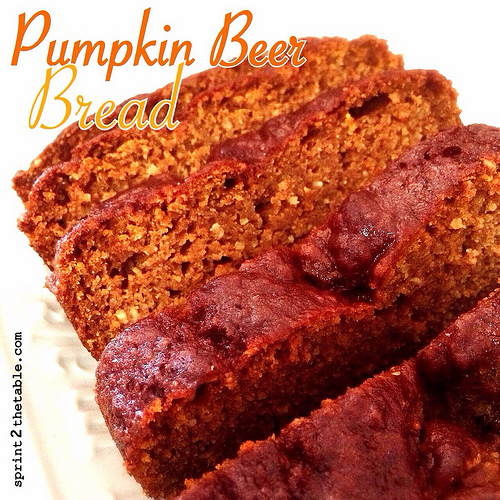 Pumpkin Beer Bread (or Muffins)
2 C whole wheat flour (unbleached)
1¼ C almond meal
2 tsp baking soda
1 tsp baking powder
1.5 tsp ground cinnamon
1/2 tsp ginger
1/2 tsp nutmeg
1/4 tsp cloves
1/4 C water
1/4 C ground flaxseed
1/2 C sugar
1/2 C xylitol (or more plain sugar)
1/2 C brown sugar
1/3 C Greek yogurt
1/3 C canola oil
1 egg
3/4 C egg whites
1 – 15oz can of pumpkin
3/4 C cup Anderson Valley Pumpkin beer
Preheat oven to 350°.  Prepare 2 bread pans or muffin tins.
Combine flour, meal, baking soda, baking powder, and spices in a medium bowl; stir with a whisk.
In small bowl, combine water and flaxseed.  Set aside.
Place sugars, yogurt, oil, and eggs in a large bowl; beat with a mixer at medium-high speed until well blended.  Add flaxseed mixture, pumpkin, and beer; beat at low speed just until blended.
Add flour mixture; beat just until combined.  Divide batter between pans.
Bake bread for 1 hour, muffins for 12-15 mins, or until a wooden pick inserted in center comes out clean.  Cool at least 10 mins in pan before removing.
Makes 2 loaves, or 24 muffins.
Approximate nutrition (for 1 muffin): 164 calories, 6.8 g fat, 8.8 mg cholesterol, 122.8 mg sodium, 23.7 g carbohydrates, 3.1 g fiber, 9 g sugar, 4.5 g protein
---
How have you enjoyed making co-workers, friends, or family stare with strange but good creations this week? The link up rules can be found here or by clicking on "Strange But Good" in the menu bar above. In short, I want to see what concoctions have earned you weird looks from co-workers, family and friends! Post your Strange But Good creations, grab the logo below for your blog, and link up here.
Remember to use #strangebutgood in any Tweets and Instagrams of your creations. 🙂

***
I know I didn't appreciate it enough as a kid, but I am so grateful to my mom for taking the time to prepare homemade food for my sisters and me.  It was an act of love, and continues to shape who I am today. 
Have you ever made bread?  The old-fashioned way?
Did your mom make you breakfast growing up?  After preschool… I'll assume you were fed as a baby. 😉