Apparently Halloween is the new Friday the 13th.
Yesterday I managed to:
Dump cinnamon all over the counter and floor
Grab a hot pan out of the oven without a mitt (Why?  I have no idea.)
Almost drop a weight on myself doing a shoulder press (no, it wasn't too heavy… just made an awkward move)
Run into a drawer is neglected to close
Get the Magic Bullet cup stuck in the blender
Just another Manic Monday…
One thing DID go right: I made some rockin' roasted pumpkin seeds.  Three ways, in fact.  Does that mean that 3 things went right? 
 _______________________________________________________________________________________
Yesterday I posted a "how to" for roasting pumpkin and making your own pumpkin puree (step away from the Libby's).  I cautioned you to save the seeds, and this post is the reason why.
I should preface this with the fact that you can roast any squash seeds.  Recently I roasted a butternut squash for my Curried Butternut Squash Dip, I roasted those seeds up like so.
Pumpkin seeds in particular make awesome snacks – they are great sources of fiber, magnesium, manganese, and iron.  Plus you can exercise your creative genius flavoring them with basically anything in your pantry.  Case and point:
1. Cardamom Pumpkin Seeds
1/4 C pumpkin seeds
1/2 tsp cardamom
1/2 tsp coconut oil
2. Smoked Soy Seeds
1/4 C pumpkin seeds
1 tsp Liquid Aminos (can use soy sauce or tamari)
5-6 drops liquid smoke
3. Salt & Pepper Pumpkin Seeds
1/4 C pumpkin seeds
1/2 tsp olive oil
1/4 tsp freshly ground sea salt
1/4 tsp freshly ground black pepper
Note: All measurements are approximations.  I free-handed these to my liking.
________________________________________________________________________________________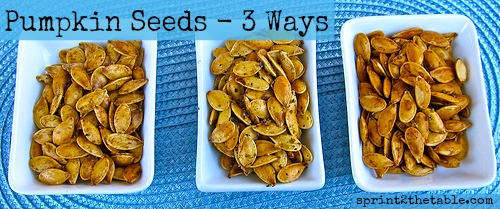 Roasted Pumpkin Seeds
Seeds from 1 pumpkin, separated from "guts"
Seasonings of your choosing
Rinse seeds from your gutted pumpkin to remove the goop.  Spread evenly across a sheet of wax paper or parchment (or other non-stick surface).  Allow to dry for 1-2 hours. 
Pre-heat oven to 300 degrees.
Toss seeds in desired seasonings and spread evenly across a foil-lined baking sheet.  Bake until beginning to brown (~15-20 mins), tossing half way through.  Allow to cool completely before storing in airtight container.
Enjoy as a snack or a tasty topping for soups, salads, yogurt, etc.
***
My hand is blistered from grabbing that pan… hopefully no one will want to shake my hand today.  LOL!
What is your favorite flavor combo for seeds/popcorn/chips?
Did you go trick-or-treating last night?