This protein-filled Pumpkin Frappuccino is perfect a post-workout snack any time of year! Bonus: it's sugar-free and packs a serving of greens.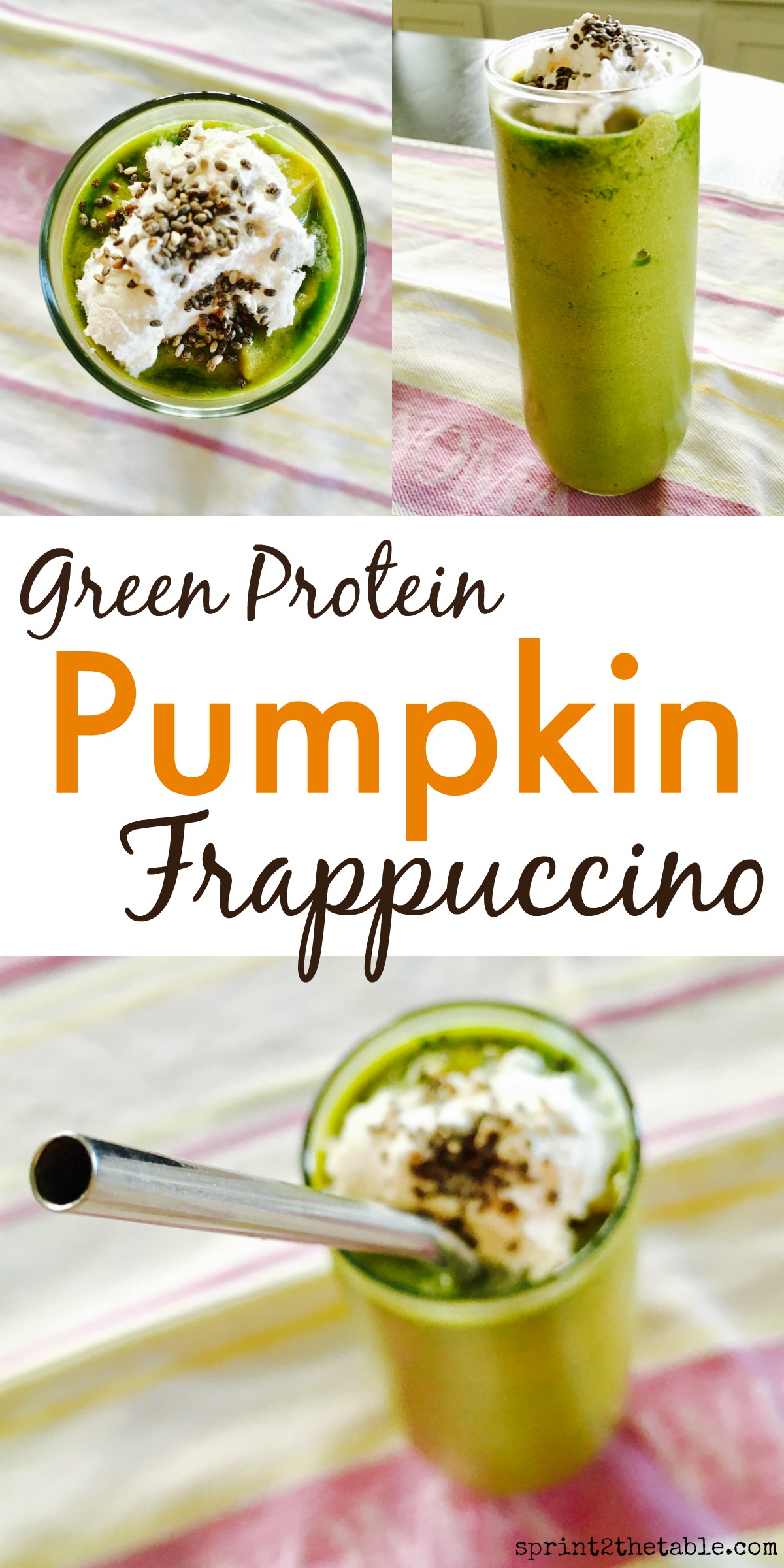 A couple of weeks ago I posted about Peet's coffee (and how to help a hangover).  I always brew mine strong and added a bit of cinnamon, which makes it the perfect add for homemade a Pumpkin Frappuccino.
People clamor to a certain coffee chain every fall for their Pumpkin Latte, but have you seen the nutrition info on those drinks?
The sugar content (38g in a tall… that equals 9.5 teaspoons!!!) is so high that you would be better off drinking a Coca-Cola (28 g in a 8.5 oz).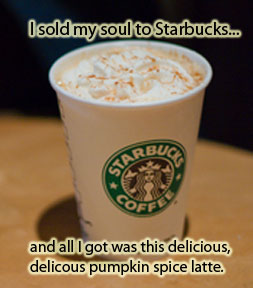 My pumpkin frapp?  Sugar free, my friends.
The holiday season means an increase in sugary baked goodies.  This pumpkin frapp is one way to save yourself some unnecessary sugar so you can have another cookie.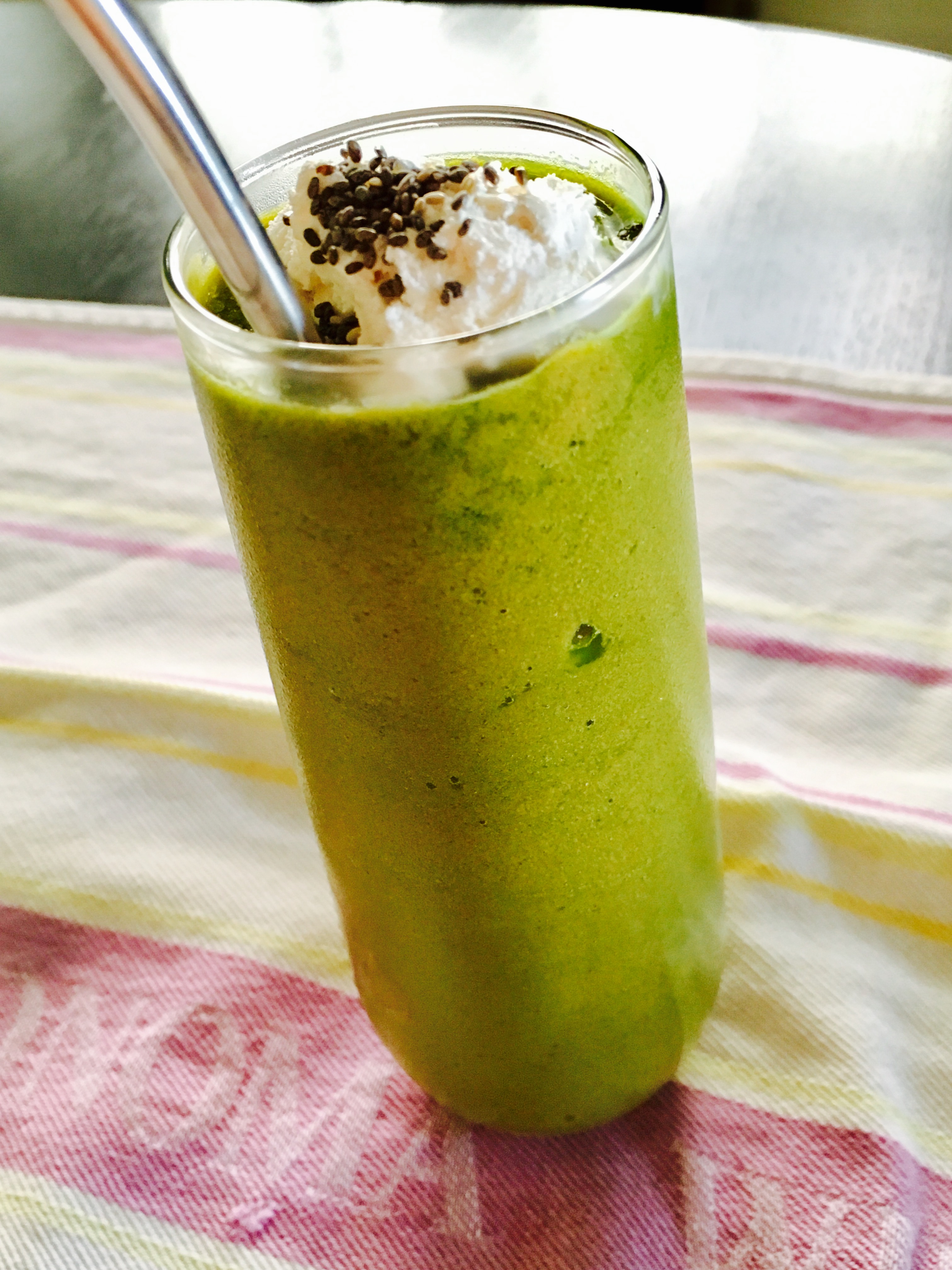 Not a coffee drinker?  Still tempted by treats?  Here are a few other ways to help.
Keep Your Sweet Tooth in Check:
Eat regular meals with healthy amounts of

protein

and

"good" fat

.  This will keep you full longer so you're less tempted to snack on treats.
Bring your own baked goods (BYOBG) to parties.  Use sugar alternatives in your treats (Stevia, Xylitol, bananas, pumpkin, dates, etc), or simply offer to bring a vegetable dish to ensure there is something healthy to nosh on.
Brush your teeth or pop a piece of gum when you are done.  That refreshing minty taste signals to your body the meal has ended.
Drink LOTS of water.  It makes you feel full and helps flush the junk out when you do indulge (you know we all will at least once).
Don't deprive yourself.  It will drive you crazy and can lead to over-eating.  Have tastes of "worthy" food items.  For me, worthy = homemade chocolate cake.  I'll have  a slice of that and pass on the grocery store cookies my lazy co-workers bring to the potluck.
Remember: the more sugar you eat, the more you crave it.  Try not to sugar-up in the morning and it will be easier to turn it down throughout the day.
Try these Pumpkin Zucchini Muffins for breakfast – only 5 g of sugar and they pair well with a certain frapp. 🙂
---
1SMOOTHIE
adjust servings
This protein-filled Pumpkin Frappuccino is perfect a post-workout snack any time of year! Bonus: it hides a serving of greens.
Ingredients
1/4

C pumpkin puree

1/2

C coffee (chilled)

1/4

C unsweetened vanilla almond milk

1

scoop vanilla protein powder

1

handful spinach (optional)

1/2

tsp vanilla extract

1/4-1/2

tsp cinnamon

1/4

tsp ginger

1/8

tsp nutmeg

4-5

drop vanilla stevia (or sweetener of choice)

Ice, to taste
Instructions
Put all ingredients in a blender and mix until smooth.
Top with your favorite. I used cool whip and a sprinkle of chia seeds.
Tip: Make it a mocha with chocolate protein or a tablespoon of cocoa powder!
***
This weekend I'm going on my last (and first) long run before the Thanksgiving Half.  #nervous
What are you up to this weekend?  Anyone running races?
How do you keep holiday (over) eating in check?  I'd love to hear your ideas!