I don't have a #strangebutgood recipe for you today.
Cankles are a good excuse, no?
Vegas and I came down from Big Bear and went directly to the doctor.  I didn't get injured – this time it was planned.  Remember when I was going to be an American Ninja Warrior?  Then I sprained my ankle so badly I couldn't walk properly for weeks?  Turns out it wasn't just a sprain.
My ankle has been bothering me ever since, but it got really bad last spring when I was playing ball.  I tried acupuncture, heat therapy, rest… nothing seemed to work.  Next step was an MRI.  The MRI showed that what I THOUGHT was a sprain was actually torn ligaments.  Since I didn't know what I'd done, I didn't heal it properly.  My choices now are either dealing with pain, surgery, or PRP therapy.
I chose PRP as my plan of action.  PRP stands for platelet-rich plasma.
They draw blood, separate it to create super-concentrated plasma, and re-inject it into the damaged area.  The whole thing took less than an hour.  I walked out of the office just fine, but with a warning there would be pain to come.  After a 15 minute drive home, I was limping badly.  By the time we got to dinner an hour later I was struggling to put any weight on it.
Dinner was fantastic, btw.  Sushi from a little place down the street called Azuki.
After the injection, platelets release special growth factors that lead to tissue healing and repair.  It sort of re-creates the injury which causes inflammation and pain.
They said it would hurt… but WOW!  I cracked myself out on pain pills and valium and still couldn't sleep for more than a few minutes at a time.  Apparently the pain and swelling will get better in another day or so.  In 3 months I hope to be good as new.  Knock on wood.
Check out my cankle though.  It wasn't swollen at all pre-injection.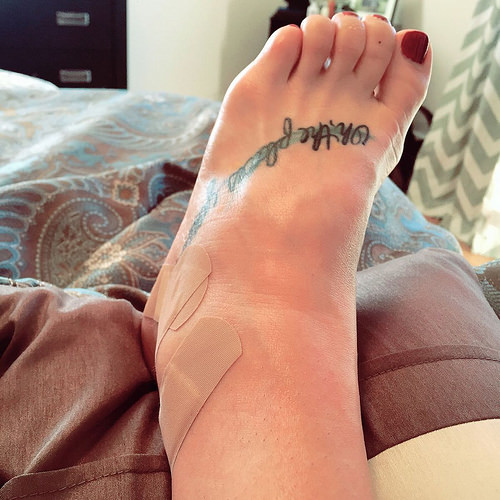 Vegas has been so good to me.  As I type this she's in the kitchen making chicken, brussels, and sweet potato for us.  She also just delivered a glass of red wine.  This is no time for sobriety.  
Obviously she thinks cankles are sexy.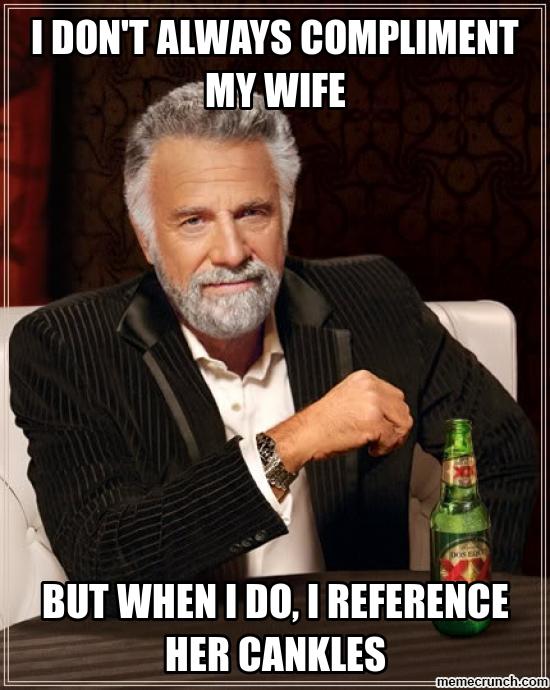 ***
For the record, that wasn't MY bruised ass Wednesday.  Ye of little faith…
Have you ever heard of PRP?
Does your spouse take care of you when you're incapacitated?