Is it just me…
or are more people are going plant-based?
I started reading restaurant menus (because that's what I do for fun) to see who has veg-friendly offerings and it has really impressed me that most restaurants offer some sort of vegetarian/vegan dish that is more than pasta drowning in oily stir-fried vegetables.
It warms my plant-based, cleansing heart.
Jenn has also warmed my heart by hosting this month's What I Ate Wednesday (WIAW) in the theme of  vegetable.

---
Breakfast:
I post a lot of smoothies… most of them are really good despite their color.  In case you ever questioned my honesty/sanity/taste-buds, I must admit to you that this smoothie was not great.
Blueberries do not go with avocado.  The.  End.
On happier note, I did get confirmation that my Valentine's Roasted Beet and Orange Smoothie was indeed good.  Check out this pic from reader Ashley, who tweeted: "The verdict is in… yummy!"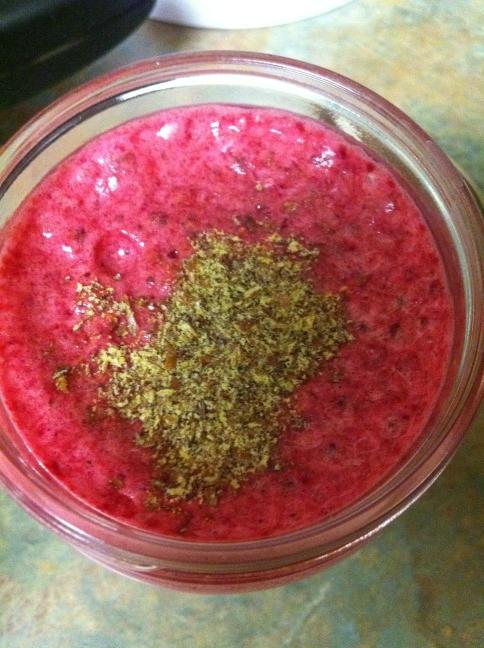 Thanks to Ashley for the feedback a lovely pic!
Lunch:
Monday night's french-themed book club left me with some leftovers (thank god because I woke up LATE).
See that pretty stuffed tomato?  I promise to share the recipe with you tomorrow.  It was really friggin' good… and deserving of it's very own post. 🙂
I ate that atop a leftover eggplant-seitan stir-fry and some lentils.
Snacks:
Kombucha!  Whole Foods was out of my favorite Buchi Fire, but they were having a sale on GT's.  I was sad to see this bottom of this bottle.
Snack time was a bag full of veggies with a simple, herb-y Provençal dip left over from the par-tay.  I loved the colors in this dish, and the briny saltiness from the capers and sun-dried tomatoes were perfect paired with crisp veggies for dipping.  (Recipe at the bottom of this post)
How cute is the reusable baggie?  My mom got it for me… it's from Snack Taxi, but I think she got it at The Container Store.  I'm going green left and right!
Dinner:
I felt like I needed more raw food in my life after a heavier lunch, so dinner was a colorful salad.  A massive, colorful salad.  This was not served on a tiny salad plate:
In my ensalada:
Arugula
Broccoli and radish sprouts
Shredded brussels (raw)
Grapefruit
Beets
French green beans
Cucumber
Red onion
Tempeh croutons 
Lemon-thyme vinaigrette
Sprinkle of cardamom, salt, and pepper
If you haven't eaten beets with grapefruit before, you should do so immediately.  I'm not talking those sour grapefruits – get the vibrant pink sweet 'fruits that are in season right now.  #Nom 
Dessert:
This Sweet Potato Pie Chia Pudding I posted earlier this month made an appearance.  I added a pinch of cardamom to the mix last night, which was fabulous.  However…
I didn't take a picture because I was too pissed at myself for doing this:
Another one bites the dust…
At least I'd just had a relaxing Hour of Happiness after work so the string of words that came outta my mouth weren't as bad as they could have been. 😉
---

Diffusion de Tomate Provençal (Provençal Tomato Spread)
Modified from this recipe by Kathleen Flynn
1 tsp olive oil
1 medium red bell pepper, finely chopped
1 medium yellow onion, finely chopped
5 cloves of garlic, pressed or finely chopped
2 tomatoes, seeded and chopped
1/2 cup sun-dried tomatoes, rehydrated and chopped
15 Nicoise olives (or Kalamata), chopped
2 tsp capers, chopped
2 T rosemary
1/2 -1 tsp red pepper flakes
1/2 tsp white wine vinegar
Freshly ground black pepper
1 C fresh basil, chiffonade (cut into thin strips)
Warm olive oil over medium heat in a small pan.  Add bell pepper and onions, and sauté until soft.  Add garlic and cook a minute more until fragrant.  Add chopped tomatoes, sun-dried tomatoes, olives, capers, rosemary, red pepper flakes, and vinegar and cook over low heat for another 7-8 mins.  Remove from heat.
When cool, add basil.  Add pepper to taste.
Note: This can be made up to 2 days in advance.  If making in advance, do not add basil until just before serving.  Taste again and adjust spices as they settle.
This is delicious with crackers, veggie sticks, or even atop grilled tofu or chicken.
Serves 8-10 as an appetizer/dip.
***
The floor is still sticky from that spill.  I swear I'll clean it up before the next dinner at my house tonight.
Can anyone relate.. any recent mishaps?
Do you find that the world is becoming more vegetarian and/or vegan-friendly?