There is a saying I'm sure you've heard: "Never trust a skinny cook."

I must call BS.  Look at Giada – she resembles a bobble head and she makes a killer cheesecake!
Despite my best efforts, I'm probably not the largest cook around.  But you can trust me.  If you don't trust me, you can certainly trust Lauren and Alicia, who both trusted my Spaghetti Squash Pie this week: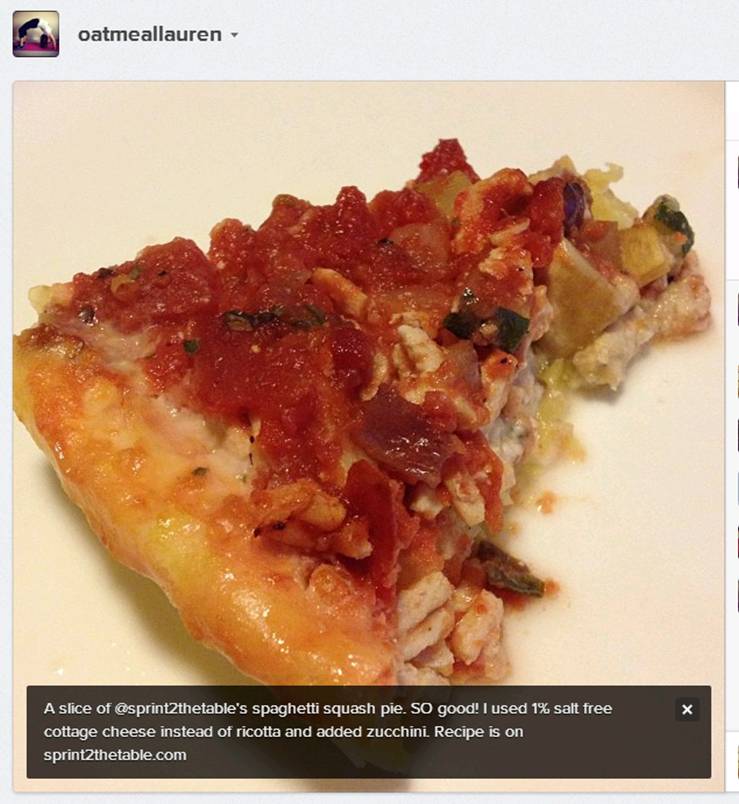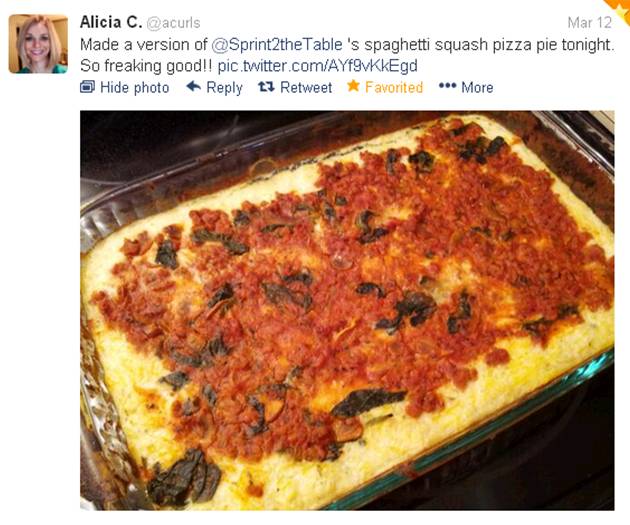 I'm especially excited to make a Mexican version of this one.  I bought all of the stuff, but then went for Indian food last night.  Whoops!  It was tasty though.  Maybe I should make a curry version…
In case you're wondering what spaghetti pie has to do with the title of this post… well, I forgot… Skinny cooks… trusting me… tasty healthy oatmeal bars!  Ok, I'm back with you.
---
Today's Oatmeal Cookie Bars started out as cookies, hence the name.  Months ago my trainer requested a protein oatmeal cookie.  Unfortunately, the hard part about baking with protein powder is that is make the batter quite thin unless you add a lot of flour, which make them really high in carbs.  This lesson presented itself to me again as I went to scoop my batter onto the baking sheet.  Souper-runny.
No matter, that's why I bought a bar baking pan.  If you don't have a bar pan a muffin tin will work just fine, or you can make one big cookie cake!
I added a little more flour, mixed the thing up again, and poured it into the pan.  And by some pope-tacular miracle of God, it worked.  And it was good.
These aren't overly sweet, which was my goal.  It is a deep oatmeal and cinnamon flavored bar, with bites of earthy chocolate from the carob chips.
Despite wanting cookies, I appreciated the moist, cake-like quality of these bars.  It worked well with the oatmeal texture and at just 128 calories, you can slather a generous amount of nut butter on top of a warm bar as "icing."
Not that I've been doing that. 😉
The best part came when I took the fresh batch to the gym.  Lee Haney (8x Mr. Olympia!) was there finishiing up a session and he took a bar to try… and he said they were DELICIOUS!  I die.
In conclusion: If you don't trust this cook, trust an 8x Mr Olympia and try these. 😉
---

Protein Oatmeal Cookie Bars
1/4 C (1/2 stick) butter or Earth Balance, softened
1/4 C unsweetened applesauce
2/3 C

tagatose

(or other sweetener)

1 flax egg (1 T ground flax + 3 T water), or 1 regular egg
1 tsp vanilla extract
1/2 tsp brown sugar extract (optional)
1/4 C whole wheat flour
1/2 C protein powder (I used 1.5 scoops of Designer Whey White Chocolate)
1/2 tsp baking soda
1/2 tsp ground cinnamon
1/2 C rolled oats
1/2 C Scottish oats
1/4 C carob chips (or chocolate chips)
1/2 C walnuts, chopped
Preheat oven to 350°F.
In a large bowl, cream together butter, applesauce, sugar, egg, and extracts until smooth. In a separate bowl, whisk flour, protein powder, baking soda, and cinnamon together. Stir this into the butter/sugar mixture. Stir in the oats, carob chips, and walnuts.
Scoop batter onto grease square tine (or muffin tin). Bake them for 10-12 mins, until golden. Let sit on baking sheet for ~5 mins before transferring to a rack to cool.
Makes 12 bars.
Approximate nutrition: 128 calories, 6.6g fat, 14.3g carbohydrates, 2.7g fiber, 2.2g sugar, 6.8g protein.
Note: These can easily be made vegan by using a vegan protein powder.
***
I am especially grateful to Lauren and Alicia because they gave me a pie to post about on Pi Day! 😉
Are you celebrating Pi Day?
Skinny cooks.  Can you trust 'em?