Learning lessons is a theme in my life lately. 
Some I'd rather not learn, but that's another story.
Despite having done this cleanse 3 times before, I'm learning a whole new lesson with this one.  It's about protein.  I had NO idea how much energy and strength I was getting from all the protein I took in!  The first 10 days of the cleanse are meat-free.  It also eliminates common allergens, so I can't even replace that protein with soy, dairy or eggs.
I have a delicious, clean pea protein powder from Growing Naturals that accounts for most of my intake.  I also have some from quinoa, lentils, and seeds… but that's really not much.  With the "rules" of the cleanse, I end up eating about half my normal amount of protein and twice the carbs.  Carbs give energy, right?  Notsomuch.  I'm tired.  I'm sleeping more and having to lift lighter.  Apparently carbs give energy when you have enough protein.
I did get through my back and tri workout.  Fueled by dates and tahini, I took a moment to twerk in the empty squat rack for Arman and Lucie.  Refueled with a protein smoothie made with strawberries, raspberries, basil, coconut, and spinach.
Lesson two is hunger.  I'm a bottomless veggie pit.  I eat stacks of vegetables (and fruit), but they don't have the same staying power that protein does.  Kudos to the vegan body builders out there… I have no idea how they do it!
Curious about protein?  Click here for a piece I wrote for Growing Naturals on the importance of protein before and after a workout.  And then check out these 30 High Protein Breakfasts from many of my FitFluential friends!
---
This WIAW is the end of my first week on the 21 day cleanse.  I'm definitely in a good groove, but anxious to add some lean protein in on Friday!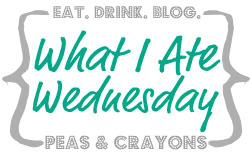 Read on for my eats, and then check out Jenn's blog for everyone else's delicious creations!
---
Breakfast:
My morning cocktail continues to be modified.  The Aminos I use aren't 100% clean, so I modified by using ACV and juice from half a lemon.  I'm getting used to it, but miss my amino boost!
I've really been loving chia pudding for breakfast.  It's especially great since you make it the night before – one less thing to do in the morning!  I've been adding my favorite pea protein to keep me full longer, and even started mixing in sweet potato for creaminess and carbs.  It also helps that purple sweet potatoes make for a pretty breakfast!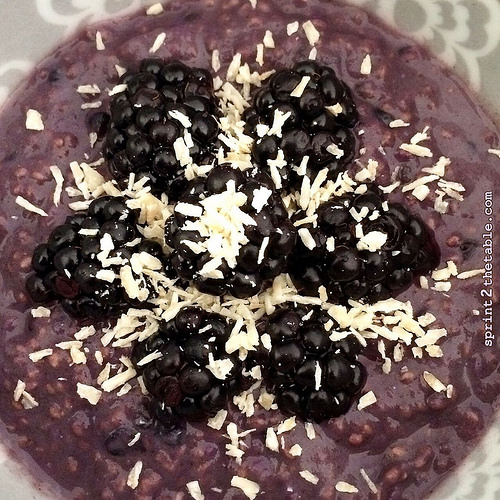 Purple Sweet Chia Pudding
 1/4 C mashed purple sweet potato
1 T chia seeds
1/2 scoop

protein powder

1/2 tsp cinnamon
1/8 tsp cardamom
1/4 C blackberries
Toppings: more blackberries, shredded unsweetened coconut
In a small bowl, mash sweet potato to a chunky puree.  Stir in remaining ingredients.  Cover and refrigerate over night (or at least 2-3 hours).
In the morning, uncover and stir.  Add additional liquid or sweetener as needed.
Mid-Morning Snack:
Lentil salad with mango, celery, shitakke mushrooms, and orange bell pepper.  I've loving fruit in unexpected places lately.  #twss
Followed that up with my pre-workout of dates and tahini, and then with a protein shake post-workout (see intro).
Lunch:
Spaghetti squash tossed with olive oil, oyster mushrooms, yellow bell peppers, parsley, and pepitas (a.k.a. pumpkin seeds, but pepitas is more fun to say).
Afternoon Snack:
Roasted veggies.  My co-workers have grown used to the smell.  Brussels, baby bellas, cauliflower, and eggplant with avocado oil, thyme, cumin, garlic, and cayenne.  Side of carrot fries roasted in coconut oil and cinnamon.
Dinner:
I needed a drink when I got home from work… so I poured myself a glass of kombucha.  I home-brew, but repurpose empty GT's bottles to house my concoctions.  This flavor is grapefruit and ginger.
I enjoyed that while prepping a #strangebutgood dinner.  I started with a bed of parsnip rice.  Then I placed a roasted portobello in the center.  Eggplant chips on the side.
Then the real fun began – I roasted brussles, fennel, cherry tomatoes, jalapeño, and mango in rosemary olive oil and herbs to top all that.  The whole thing was flanked with sliced avocado.
Died of happiness.  Thank you to Davida for the #strangebutgood inspiration. 
Check out the money shot in Instagram. 😉
Dessert:
Never enough kabocha.  Cubed and roasted with coconut oil and cinnamon.  Topped with Onnit Choco Maca Hemp Protein sauce (mixed with coconut milk), coconut fluff (coconut flour, cinnamon, ginger, and water), pepitas, and cacao nibs.
And then I was full. 
***
Week 1 done.  2 to go.
Do you notice when you don't have enough protein?
What lesson have you learned lately?